There were three stand out things that happened at the American Airlines Center during Friday night's match up between the Golden State Warriors and the Dallas Mavericks – three things that managed to stop the hearts briefly of all those watching and made them literally utter "What the absolute fu…"
Chandler Parsons walking to the locker room with an apparent injury.
Wesley Matthews going down grasping his knee within the throes of déjà vu.
And finally… the Warriors themselves.
The freaking, not human, ever entertaining Warriors.
Whispers spread quickly around the center (and off the lips of sports analysts left and right) that bounced from ear to ear. Unsubtle talks of a blow out revolving around the best team in the league, and a team struggling desperately to hold onto a place in the playoffs, a place that is clearly slipping away with each passing second.
The Mavericks had just come off a heart shattering loss in Cleveland against the Cavaliers where Dallas came up one point shy of nabbing a game in the win column (no thanks to the poor officiating… OH HEY, BIG SHOCKER THERE), and were prepared to shake it off and taking on the Warriors, a team they had beaten once this year and stood in place with only five other teams that had done so.
Then again, they beat them without one Stephen Curry.
That wouldn't be the case going into Friday's game.
While the final score of 130-112 (Dubs over Dallas) looked pretty drastic, the Mavericks managed to hold their own for three quarters of the game against the reigning champions. Unfortunately, an NBA game lasts four quarters. With the loss, Dallas slipped below .500 and are now 34-35 and hold a one-half game lead over the Utah Jazz, loosely clinging to that final eighth spot in the Western Conference.
While the Mavs looked ever bit as worthy against the visitors, coach Rick Carlisle didn't see the loss as a moral victory.
"It's a loss where we played with great effort," he begrudgingly told the press when asked if he actually considered it a moral victory. "We needed to make a few more shots at key times. We needed to get a little luckier with them missing a few. With a team that good, things have kind of got to go a certain way."
People had filled up the entire arena just to be mystified by the Warriors, and they certain didn't disappoint – especially with Curry's 31 points and Klay Thompson's 39.
But fear struck in the third when Parsons was pulled and headed to the locker room with a sore right hamstring. While Carlisle doesn't think that the injury is too serious, he noted Parsons' obvious absence in those crucial final minutes.
"It takes away one of our main weapons," the coach said during his post game presser. "It takes away not only a guy that has a lot of skill and can attack, but one of our rebounders, one of our defenders, one of our playmakers. That was a hit. A lot of guys stepped forward and played their butts off, but we just couldn't quite get there."
Speaking of coach Carlisle, the man seems to love sticking to his small ball lineup, even though it appears to slap him and fans in the face at certain times. While it appeared to be working in the first quarter with Raymond Felton coming out guns blazing which ended up giving the Mavs an early 20-12 lead, it unraveled with the Warriors began raining down a series of unstoppable three pointers.
One of the most unbelievable moments of the night came when Curry, in all his glory and wizardry, nailed a 3-pointer that managed to bounce off the side of the backboard before banking in.
[youtube]https://youtu.be/-Mm1fc1k6oA[/youtube]
"When Curry hit the one that hit the side of the backboard and went in from the right corner, you got to keep fighting through that stuff, and I thought our guys did," Carlisle sighed.
Another frightening moment came when Matthews looked to have gone down with yet ANOTHER ACL injury, the same injury that took him out of the game with the Portland Trail Blazers last year. Matthews leg buckled traumatically-appearing and went down hard and didn't get up during the entire rest of the play. Flashbacks of the same image came whizzing back as the replay reflected everyone's worst fears.
[youtube]https://youtu.be/Rqw1Gh8hDeM[/youtube]
"It was my knee," Matthews said following the loss, as he sat at his locker, nearly muffled by the heard of reporters. "I don't know exactly what it is and I am sure I will start treatment, but that is really it."
Matthews slowly rose from the court and moved gingerly over to the bench on his own. He took a few minutes to walk around before, yes, entering back into the game.
There's a reason why his nickname is Ironman.
"I'm walking around and it's fine," Matthews modestly said. "Had I rolled over and seen the replay I may have been a little more nervous. But, I am thankful about the way my team fought tonight and if we play like that for the remaining 13 games we will beat 80 percent of the teams."
The fall seemed to bring about the douche-hat fans of the Mavericks, some of who tweeted out that a career ending injury with Matthews might do their team some good. Matthews caught wind of this, and responded to those people accordingly.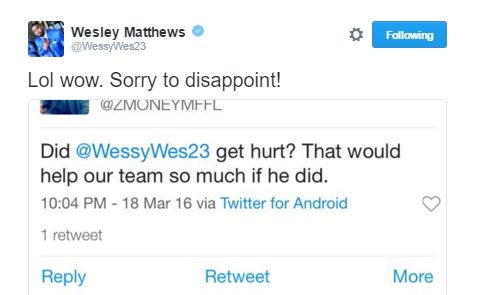 Since Wes is a gentleman and won't say it himself, I'll say if for him… but, you know, in the most lady-like way possible:
Some "fans" don't seem to understand that these players are actual human beings (HOLY CRAP, REALLY?!), not some virtual reality image in a goddamn gaming world geeks go to in order to escape their own pathetic little lives because they'll forever remain middle-aged virgins living in their mother's basement. They're not here for your f***ing amusement.
This isn't the Roman Empire where the loudness of the crowd's gleeful cheers depended on how badly the gladiator was hurt. When you do that in this day and age, you're just considered a bonafide dick flipper.
Get over yourselves, you mouth-breathing morons and disappear into your hand lotion and tissues and try not to wish harm on actual people when doing so.
Oh, and don't call yourself a "fan" either if you tweet out trash like that.
The Mavericks move on to face Matthews' old team, the Portland Trail Blazers on Sunday night in Dallas.
[youtube]https://youtu.be/Wz75yAki8Yg[/youtube]