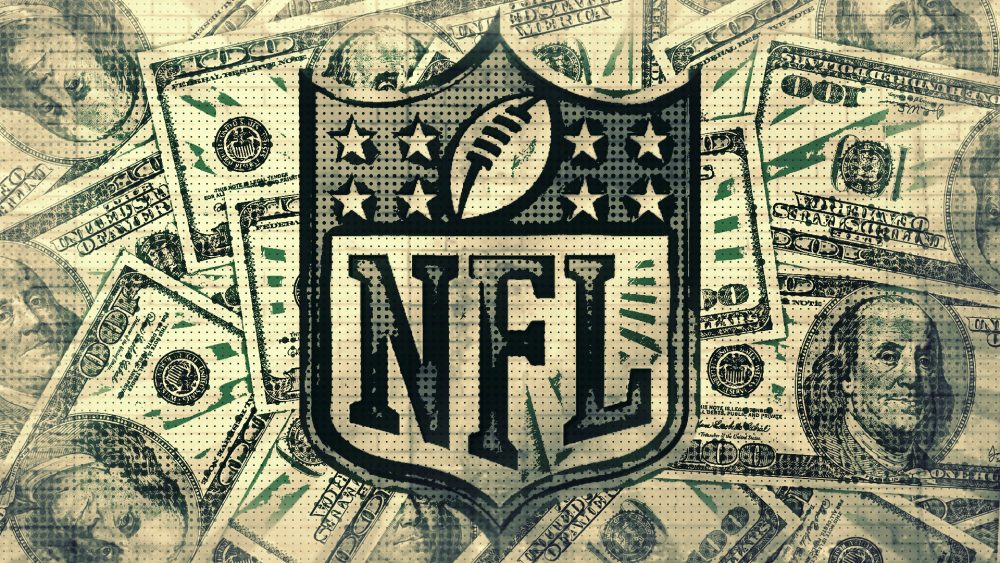 Let's start here: there's going to be a time and a place where I'll be writing about the shit swamp in which the NFL is furiously doggy-paddling in order to keep it's collective head above the surface, and why it's a complicated process to both acknowledge this grim future and also remain excited about the present. I considered twisting that topic into a season preview of sorts, but the tone of a piece like that wouldn't have matched up with my level of excitement for the upcoming NFL season.
For the record, I'm VERY excited for the upcoming 2018 NFL Season. That's precisely why "very" was capitalized, emboldened, italicized and underlined just one line above this line. That's also why I created a new podcast and recorded eight 30-minute division preview podcasts over the course of two nights, already picked the Week 1 games on the aforementioned podcast, decided to write this gambling-themed season preview, and did god knows how many hours of NFL research throughout July and August to get prepared for all of this.
Below are 12 Prop Bets for the upcoming NFL Season. Most you can actually place wagers on if you're at a casino, or if you have an account with an online bookie, or (gasp) if you're placing bets illegally with a neighborhood bookie … others (marked by an asterisk in case you couldn't figure out their legitimacy) you cannot bet on, unless your Uncle the bookie can be talked into taking action on things like ACL tears and my Twitter habits.
1. Jaguars to win AFC South AND Patriots to win AFC East AND Steelers to win AFC North (+425 Odds)
2. Saints over 9.5 wins AND Falcons over 9.5 wins AND Panthers over 8.5 wins (+500 odds) 
I'd like to start with two three-team parlays, both which are bound to be screwed up by one of the three teams involved. I've made very few parlay bets in my life, and none of them have won, so proceed with extreme caution here friends.
As for Bet #1, it would take something very out of the ordinary for the New England Patriots or Pittsburgh Steelers to not win their Divisions. The Patriots have won the AFC East every year since 2003 except for 2008 when Tom Brady tore his ACL — New England still won 11 games that year by the way. Pittsburgh has won the AFC North three of the last four years, and the trendiest pick to push the Steelers for that top spot in the AFC North this year are the Cleveland Browns, who won as many games last season as the professional football team that I own did.
Therefore, it would likely take the Jacksonville Jaguars to screw this up, and folks, I'm all the way in on the Jaguars this year. The Jags were a 10-win team last year that by the metrics should've won 12 games … that's how good they actually were. There's no reason their Defense shouldn't remain one of the three best units in the league, and despite an injury to Marqise Lee, the sometimes shaky Jags offense should be improved.
Jacksonville is +200 to win the AFC South. If you like the Jags, throw the Patriots and Steelers in there to just to get a better payout when Jacksonville wins 12 games this year.
Now to Bet #2 … Listen, I know it's a risky proposition to bet three teams from one division to go over their projected win totals in a given season, but the trio that makes up the class of the NFC South all won ten games or more last year, and the only strong case for any of those three teams to regress this year is schedule and Conference dependent. The NFC as a whole is loaded; it's approaching a West over East in the NBA lack of parity. The six teams that make the Playoffs in the NFC will have earned it.
Even still, the NFC South matches up with the NFC East and AFC North this year, two of the weaker divisions in the NFL, so the schedule could be more challenging. It's entirely possible, and I'd even argue likely, that the Saints, Falcons and Panthers all crack double-digits in the win column yet again.
3. All Division Winners have at least 9 wins (-250 odds) 
At first glance, even having to put down $250 to get a Benjamin back, this seemed like a bet that would be foolish to pass up. All I need is for every division winner to finish only one game over .500? That's free money! Who can take this wager for me? 
Then I dug deeper — in fairness, it wasn't like I was trying to get to China; it was as simple as checking yearly standings on Pro Football Reference — and I saw that this bet would've won only five times in the last ten years. Surprising, right? The Chargers and Broncos (TEBOW TIME!) each have won the AFC West with 8-8 records in the last decade. The Packers won the NFC North on the final day of the season at Soldier Field in 2013 with an 8-7-1 record. Twice in the last ten years a team has won their division with a losing record: the Panthers in 2014 (7-8-1) and the Seahawks in 2010 (7-9).
Even though the odds aren't exactly in my favor for the price I'm paying, I still love this bet in 2018. The one or two teams near the top of each division feel pretty steady, so it feels like some very wonky shit would have to happen in order for this bet not to pay out … I'm talking something like Tom Brady tearing his ACL again, or Ben Roethlisberger suddenly turning into 2015 Peyton Manning, or the Jags defense regressing to league average, or Carson Wentz not being remotely the same guy he was last year once he returns from injury. You get what I'm saying, right? There's a reason the odds are -250 even though a ten-year sample size suggests this should be even money.
*4. Under 14.5 times I'll tell Skip Bayless to "Eat a Dick" on Twitter during NFL Season (+125 odds) 
The expected total for this prop will be significantly higher during NBA season due to Skip's never-ending flow of shit head takes on LeBron James, but FS1's poster boy isn't immune from "EAD's" on Sunday's either. I mean, this is the guy who throughout the Summer has repeatedly suggested that Bill Belichick has been actively trying to sabotage the New England Patriots to make Tom Brady look bad, continues to claim that Dak Prescott is a superior Quarterback than Carson Wentz, and even went as far as tweeting "Who needs LeBron when you have Baker Mayfield?!" Congratulations FS1, this is who you've hitched your wagon to.
Anyway, you're getting some insider knowledge here, so place this imaginary bet quickly before the odds change … For the sake of my own health and sanity, I'm going to try to tone back my one-sided Twitter interactions with Skip "Fox Sports 1 Should Be Paying Him Way Less" Bayless this year unless he's going after my President of the United States.
5. Over 9.5 Total Touchdowns for DeAndre Hopkins (-130 odds)
6. Over 7.5 Receiving Touchdowns for Julio Jones (-120 odds) 
You could make a strong case that along with Antonio Brown and Odell Beckham Jr., Hopkins and Jones are the other two pass catchers on the Mount Rushmore of Wide Receivers currently in the NFL, so naturally when I saw projected touchdown numbers that initially come across as suspiciously low, my interest was piqued.
Hopkins catches absolutely everything that's thrown to him, he's been incredibly durable, and he's twice scored double-digit touchdowns in his five year career despite playing with an assortment of Quarterbacks that has been so uninspiring that even I, a Chicago Bears fan, can't help but wince. Before the Houston Texans were saved by Deshaun Watson, Hopkins had caught touchdown passes from Matt Schaub (bad Matt Schaub), Case Keenum (bad Case Keenum), Ryan Fitzpatrick, Brian Hoyer, Ryan Mallett, T.J. Yates, Brandon Weeden, Brock Osweiler, and Tom Savage. Even with Watson injured for over half of the season in 2017, Hopkins led the NFL in Receiving TD's with 13, so 9.5 felt low with Watson coming back.
When healthy, Julio Jones has been a yardage machine, but his inability to get in the end zone at the rate a player of his caliber should get there has become a running joke at this point. Jones has only topped ten touchdowns once in his career, and he's only surpassed 7.5 three times in his seven year career. It's like that one season when Calvin Johnson led the league in catches, nearly reached 2,000 yards receiving, and he only had five touchdowns … only with Jones it's been something we've had to talk about every year.
Even though it's been seven years now, I still think this is a mildly fluky development. Jones should be consistently scoring ten or more TD's, and I think he (and Hopkins) get there this year.
7. Over 900.5 Rushing Yards AND Over 755.5 Receiving Yards for Alvin Kamara (+250 odds) 
It was just eleven years ago when Reggie Bush came into his second NFL season with sky-high expectations after a promising Rookie year. The year prior, Bush split time in the Saints backfield with bruising runner Deuce McAllister, and though McAllister was the lone 1,000 yard rusher that season, Bush was the prospect who turned heads. Bush ran for 565 yards and scored 6 touchdowns on the ground, but he also caught 88 balls for 742 yards. He was the kind of dual-threat running back that was still rare in 2006.
Fast forward to 2018, and Alvin Kamara is in a similar spot as Bush was in 2007. Mark Ingram was the Saints bell-cow back in 2017, rushing for a career best 1,124 yards and 12 touchdowns, but it's Kamara who enters 2018 as one of the most intriguing offensive players in the league. Kamara, a 3rd Round pick in 2017, was third on the Saints running back depth chart to begin the year but won Offensive Rookie of the Year at season's end. He rushed for 728 yards (a league best 6.1 yards per carry) and eight touchdowns, and he also 81 receptions for 826 yards and an additional five touchdowns. Translation: Kamara's Rookie season blew Bush's out of the water.
Had someone suggested in 2007 that the best season of Reggie Bush's career would be his Rookie year, nearly everyone would've thought that person was nutty. But this proved to the case. Bush wouldn't be able to replicate that sort of rushing/receiving impact ever again. He remained a mainstay in the Saints offense for the next few years, had back-to-back productive seasons in Miami, and had a cup of coffee as a thousand yard rusher in Detroit, but he didn't reach the ceiling we assigned for him before the 2007 season.
Kamara will get there. I have very few doubts about that. You see the way he moves and you know he's going to be an all-timer if he stays healthy; the speed, the burst, the strength, the elusiveness … it's all there. And when I saw I had a chance to parlay two Kamara-related bets, I knew I had to do it, even if it means Kamara becoming the 11th player in NFL history to join the 900-755 club.
8. No Quarterback throws 22 Interceptions or More (-130 odds) 
We haven't seen a Quarterback hit this dubious mark since 2013, and that is no accident. Not only do very few QB's have a leash this long, but very few play-callers are putting their QB's in a position schematically where they are throwing so many passes at risk of being intercepted. When you take into consideration the increased usage of RPO offenses, the emphasis on quick and easy throws, and how accessible the middle of the field will be, I'd be willing to bet that there isn't a Quarterback who gets to 20 interceptions, let alone 22.
Depending on how quickly and how poorly some of the Rookie Quarterbacks play, maybe 22 is within reach. Say Sam Bradford goes down in Week 1 (not an impossibility given Bradford's state of fragility) and Josh Rosen is thrust into the starting job in Arizona … once that starting job goes to Rosen, he's not losing it even if Bradford is able to come back healthy. The Cards, or any team for that matter, aren't going to jerk around their Rookie QB, so if Rosen throws pick after pick, Arizona will just call it growing pains.
Even still, in today's NFL I don't think it's going to be that painful for any Quarterback to get a feel for the pro game. Bet "No" here.
9. Over 16.5 Players suspended during the 2018 NFL Season (-115 odds)
*10. Over 51 ACL Tears in the NFL this season (-150 odds)  
In relation to the NFL's controversial new Helmet Rule, and in addition to the two bets above, here are five predictions for the upcoming NFL season.
I. Due to the influx of young and talented skill position players, the increased understanding of how an efficient NFL offense should be ran, and the aforementioned accessibility of the middle of the field because Linebackers and Safeties will be mindful of incoming penalty flags every time they attempt to hit a crossing Receiver, the league scoring average rises from 21.7 in 2017 to 24.0 in 2018.
II. The number of diagnosed concussions during the 2018 NFL Season will drop by at least 25 from 281 in 2017, a development that the NFL will tout as a success and use to claim that the league is not facing a head injury crisis that could single-handedly change the way football is played at all levels.
III. In news that the league will claim is wholly unrelated to their Helmet Rule, the amount of ACL tears will increase by at least 15 from 51 in 2017.
IV. Multiple NFL players will say exactly what smart football fans are thinking … OF COURSE THIS HELMET RULE IS GOING TO LEAD TO AN INCREASE IN ACL TEARS AND LOWER BODY INJURIES, AND NO, FOOTBALL IS NOT SIGNIFICANTLY SAFER BECAUSE OF THERE IS NINE PERCENT DECREASE IN DIAGNOSED CONCUSSIONS!
V. A portion of the NFL fanbase will continue to complain that the game is becoming too soft, yet almost no one will factor in these borderline barbaric complaints when talking about why the league's viewership and attendance are down.
11. Super Bowl Match-Up: Los Angeles Rams vs. Jacksonville Jaguars (+6000 odds)
12. Los Angeles Rams to Win the Super Bowl (+1100 odds) 
Every year when I make my Super Bowl pick I end up feeling like it's either too out of left field, or too predictable. I've never been more pleased with my prediction than I am this year. Other teams were considered — most notably the Saints and Vikings in the NFC, and the Patriots and Chargers in the AFC — but I'm not here to second guess my choices.
The Jags were 15 minutes away from playing in the Super Bowl last year, which means they would've upset Pittsburgh and New England on the road on the way there. In theory I understand why people are hesitant to count on a similar amount of success this year; it was quite the surprise that the Jags turned into a Final Four team overnight. But it makes all practical sense to me that they would actually be better in 2018 than they were in 2017. The best defense in the league that returns six players who were either a Pro Bowl selection or made the All-Pro team last year and a slimmer Leonard Fournette should be able to shoulder enough of the burden where Blake Bortles won't be put in the position to have win many games by himself. Remember, the Chicago Bears made the Super Bowl with Rex Grossman as the starting Quarterback. I loved that Bears team and I can confidently say I would've rather had Bortles starting Super Bowl XLI.
As for the Rams … there's no regression case here other than concerns about chemistry, but that kind of stuff is often overstated. This is an absolutely loaded roster that got better on the defensive line (Ndamukong Suh), in the secondary (Marcus Peters and Aqib Talib) and at Wide Receiver (Brandin Cooks). Their Head Coach (Sean McVay) is so handsome and well-groomed and an offensive mastermind, and he's proven he can get the most out of Jared Goff and Todd Gurley, the building blocks of what should be an elite offensive for at least the next six years. The best player in all of football (Aaron Donald) signed one of the richest contracts in NFL history and is back with the team, and there are six other players on the roster that I haven't even mentioned who made the All-Pro team last year.
The Rams are loaded and well-coached, and in my opinion they'll be the ones partying with the Lombardi Trophy in Atlanta on February 3rd. There is nothing complicated about that.
Enjoy the Season.