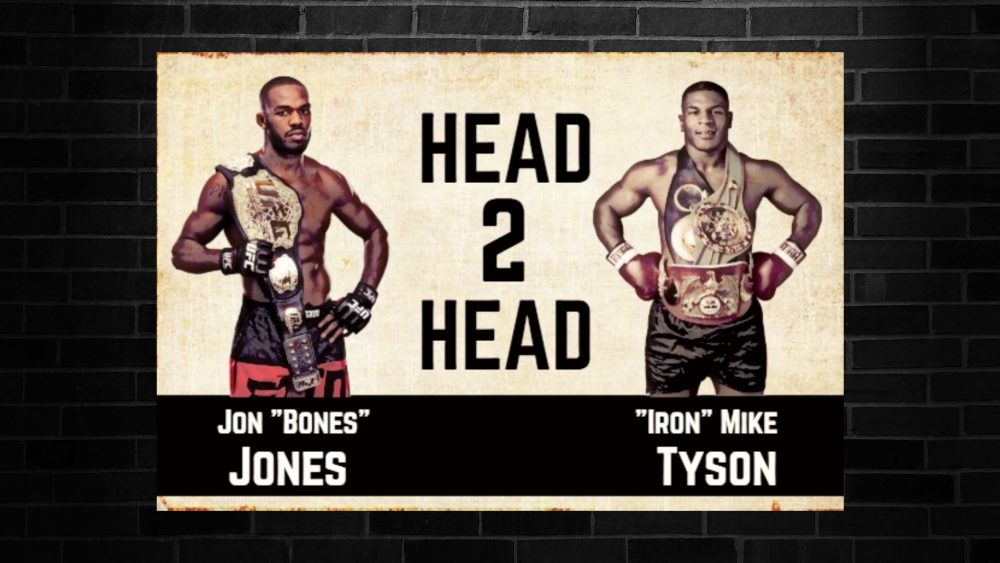 What is this? … Welcome to Head 2 Head, a new ten-part sports and pop culture series that will be published right here on Hardwood and Hollywood. Over the next year, I will be taking the longest possible route on the quest to find the answer to ten simple Who Is Better prompts.
How will a conclusion be reached? … In each edition of Head 2 Head, I'll be asking and answering seven questions. Each of these questions are designed to help determine the winner of the Head 2 Head.
Are the questions always going to be the same? … Nah, the questions will be specific to the match-up. Let's keep things fresh, ya know?
Who will be going Head 2 Head today? … Today Jon Jones and Mike Tyson will be going Head 2 Head to determine who had the more impressive fighting career.
Question #1: How much did the state of Boxing in the 1980's help to create the Mike Tyson hype machine?  
Allow me to set the table here: When Mike Tyson made his Professional Boxing debut in March 1985, the dynamic in the Boxing world had changed in a major way from just five years earlier. One of the greatest icons in all of sports (Muhammad Ali) and his chief rival (Joe Frazier) had both retired for good, and really, the last truly great fight either of the two had was ten years earlier when they met for the third time, in the "Thrilla in Manila." Ali officially (and sadly) retired in 1980. Frazier fought for the final time in 1981. George Foreman, who famously beat Joe Frazier twice and lost to Ali in the "Rumble in the Jungle," was still two years away from returning from what would end up being a ten-year Professional Boxing hiatus – improbably, Foreman would go on to win the Heavyweight Title in 1994 at the age of 45. By 1985, nobody had yet to step up and grab the baton to carry the Heavyweight Division, Boxing's marquee weight class.
However, Boxing remained in the national consciousness in the early 80's thanks to an influx of stars in lower weight classes, such as 1976 Olympian "Sugar" Ray Leonard, Marvin Hagler, Thomas Hearns, Roberto Duran and Aaron Pryor. The most compelling bouts and rivalries of the decade were fought at somewhere between 147 and 168 lbs., but fans were chomping at the bit, eager for a Heavyweight contender that could captivate the sports world as Dempsey, Marciano and Ali had in the past.
Enter Mike Tyson, a small (for a Heavyweight), squeaky 18-year-old prodigy with a noticeable lisp and an ungodly combination of punching power and speed. Tyson made his professional debut on March 6, 1985, a 1st Round TKO victory over Hector Mercedes. 626 days and 28 wins (26 by knockout) later, Tyson won the WBC Heavyweight Title. Less than two years after that, Tyson knocked out Michael Spinks in 91 seconds and was crowned the Undisputed Heavyweight Champion, the first Heavyweight boxer to simultaneously hold the WBA, WBC and IBF Championships. He was three days away from turning 22 years old.
Had Tyson come around fifteen years earlier there's no telling if he could've bulldozed through the Heavyweight Division the same way he did in the mid-eighties. A bout with Ali, Frazier, Foreman, or any of the other Hall of Fame Heavyweight fighters who came up in the sixties and seventies could've ended Tyson's undefeated streak earlier, or at the very least tested him in a way where the aura of invincibility disappeared sooner. Had he shown up in the late-nineties or early-2000's, when Boxing had already entered a decline in the public's eye, his star wouldn't have shone so brightly. He may have been regarded as a more devastating/more controversial version of someone like Deontay Wilder.
Just like The Beatles, Michael Jordan and countless other pop culture phenomenon's, Mike Tyson was the product of transcendent talent and perfect timing.
Question #2: Does Jon Jones deserve more credit for his rapid rise in the UFC?
Without a doubt. Tyson hopped on a rocket ship and took that sumbitch to the top of the Heavyweight Division in Boxing in the mid-eighties. Jones later borrowed that same rocket ship to blast his way up the Light Heavyweight ranks in the UFC. Jones defeated Mauricio "Shogun" Rua in convincing fashion to win the UFC Light Heavyweight just 1,071 days after his pro debut – this victory came hours after Jones chased down and apprehended a man who had robbed woman in Newark, New Jersey. To put this into context, Mike Tyson knocked out Michael Spinks 1,209 days after his first pro fight. And Tyson didn't play cops and robbers with any criminals before the fight, either.
Jones has never come close to establishing the sort of name recognition that Tyson was able to two decades earlier. This is partly because the popularity of the UFC hasn't reached the level of Boxing at its apex, but Jones hasn't even been one of the three most bankable stars in the UFC over the last ten years. Conor McGregor, Ronda Rousey and Brock Lesnar will be remembered as bigger draws – these three have main evented the ten most purchased UFC pay-per-views in the company's history – who had more cross-over pop culture appeal.
Rousey was a pioneer of women's MMA, and the first female super-duper star of combat sports. McGregor had a Tyson-esque rise in the sport, became the "Champ-Champ" and reminded everybody about it whenever he had the chance to. He ran his mouth to the point that he conned fight fans into believing he could defeat Floyd Mayweather Jr. in a Boxing match. Brock Lesnar parlayed his success in WWE to earn a UFC Heavyweight Title shot in only his fourth professional fight … and he won.
Here's the thing though: Rousey, McGregor and Lesnar have all been humbled multiple times. Jones has never lost cleanly; the lone blemish on Jones's professional record was a dubious disqualification loss against Matt Hammill in 2009, a fight that Jones was dominating. That's it though. Jones has toppled every challenger he's stepped into the Octagon with since then, and it's not like he has Mayweather'd his way to wins (i.e., winning in boring fashion). Jones has displayed a savant-level array of mixed martial arts skills. He's widely considered to be the most talented fighter ever and he's absolutely electric in the cage … calculating, but electric.
It's just never clicked with Jones and the UFC fanbase, and I have my theories as to why, but I'll hold off on those for now.
Question #3: Who was more dominant at the peak of their powers?  
The mania surrounding Tyson's peak will skew the perception in his favor, but Jones is closer here than most people would think, so before I give a definitive answer to this particular question, I want to acknowledge two things:
1. The quality of opponent that Jon Jones has faced during his career is noticeably more impressive than that of Mike Tyson. The most impressive wins on Mike Tyson's resume are over Michael Spinks (in the final fight of Spinks' career), Larry Holmes (when Holmes was 39 and coming off of two losses to Michael Spinks), Trevor Berbick (the fighter who Tyson defeated for the WBC Championship; Muhammad Ali's final opponent), and then we're getting into Razor Ruddock, Frank Bruno, Tony Tucker and Pinklon Thomas tier of fighters. You know how people making the case for LeBron over MJ joke about how MJ played against plumbers and truck drivers. Well, Tyson actually fought against dudes who may have been plumbers and truck drivers before pursuing a Boxing career.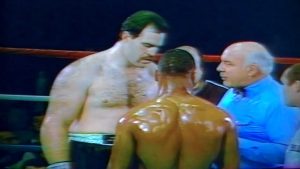 Meanwhile, Jon Jones has run the gauntlet of the UFC's Light Heavyweight Division over the past eight years. In 2011 Jones dismantled Brazilian stars Shogun Rua and Lyoto Machida, and became the first man to make Quinton Jackson tap out. He's defeated accomplished veterans like Rashad Evans and Vitor Belfort, and gone a combined 4-0 versus Daniel Cormier and Alexander Gustafsson. At least half of those guys will end up being UFC Hall of Famers.
And again, aside for the DQ against Hammill, Jones has never been beaten. He's had his share of close calls – most notably in the first match-up versus Gustafsson, but Jones also nearly had his arm broken in the 1st Round of his fight against Belfort, and he was fortunate to secure a TKO victory over Chael Sonnen in Round 1 at UFC 159 because a badly dislocated big toe would've forced the Official to stop the fight and award the win to Sonnen before the start of the 2nd Round – but each time he's come out on top.
2. Without considering the level of competition, Tyson's "dominance" over his opponent was more impressive than Jones's. With Tyson, it reached a point that it was utterly unthinkable that he could lose. He had risen to a level beyond his competition; it was the sort of one-sided dominance that had yet to be seen in Boxing, and frankly, it hasn't been seen since. Floyd Mayweather is undefeated, and he has typically outclassed his opponent, but there's never been a time where a Boxing fan said to himself, "Oh man, Money Mayweather is gonna brutalize this poor sap." Not even against the "Champ-Champ."
Go back and watch some of those early Tyson fights. You'll see that some of the guys lined up across the ring from Tyson knew that they had absolutely no chance of beating him. I imagine this was around the time announcers started using the expression "it was over before it started." If they did have confidence heading in, most lost it as soon as Tyson landed one of those powerful, Cus D'Amato/Kevin Rooney inspired three punch combos that penetrated your body and soul in a split second. They stopped fighting and went into survival mode. The guys who lasted beyond a few rounds versus Tyson in the mid to late eighties deserved a championship belt or a trophy or maybe the Medal of Valor. I don't know, something.
Even after Tyson was knocked out by Buster Douglas (a 42-1 underdog) in Tokyo, everyone assumed that Tyson would remain the same guy. Even after Tyson was away for four years because of a rape conviction, he was still considered invincible. Evander Holyfield, a former Heavyweight Champion, opened as a 25-1 underdog versus Tyson before their first meeting in 1996. Holyfield knocked Tyson out in the 11th Round. When they had their rematch nearly eight months later, Tyson bit a chunk of Holyfield's ear off. It was only when Tyson jumped the shark that people realized this Tyson wasn't peak Tyson. It may have been Peak Crazy Tyson, but not Peak Tyson.
But Peak Tyson was the most dominant athlete of the last forty years, and by far the most dominant combat sports athlete ever. Apologies to Jonny Bones.
Question #4: Who would win in an actual fight – Peak Jones or Peak Tyson? 
It's not a boxing match, it's not a mixed martial arts bout … it's just a fight. We'll assume that there are a set of rules that prevent any sort of foul play – low blows, eye gouges, use of weaponry, etc. – but that's as far as I'm willing to go in establishing the parameters of this fight. Since this is the case, I guess this naturally resembles an MMA match, so there's that.
If that's all we're working with, I'm confident in saying that Jones would win rather convincingly. Here's why:
Fighting against Mike Tyson would be like getting into a bathtub that has a running chainsaw in it. At his peak, he was a more precise and powerful puncher than anybody on the planet, and in a fight like the one we're considering, he'd likely resemble the human embodiment of a bull in a China shop, only that bull was specifically instructed on what pieces of China to destroy and he was able to comprehend those directions. It would still be reckless, but there'd be some degree of calculation to what he was doing.
Fighting against Jon Jones would be like entering into a duel versus world's foremost authority in sword fighting, only he has two swords and both of his feet are swords too, and his elbows are swords and so are his knees, and you are holding a dull steak knife. He's going to pick you apart with precision, cutting you up from angles a normal human being doesn't even see. And also, his arms and legs are boa constrictors that can wrap around you and snap your bones and squeeze the life out of you in the most damaging ways possible, because they've been trained in wrestling and jiu-jitsu.
I'm taking the fighter with multiple swords and boa constrictors over the bull with the chainsaw. Advantage Jones.
Question #5: How were the legacies of both Jones and Tyson impacted by their erratic behavior? 
I paired Jones and Tyson for this Head 2 Head because I thought that they were similar in a lot of ways, but it turns out they are actually quite different. Obviously they are both incredibly gifted, dangerous fighters who had a great deal of success in their respective careers. They both achieved this success very young and you could argue that having too much too soon was the main reason why each of them eventually ended up in various states of legal trouble. But on the topic of their legal/PR woes and how those snafu's impact their respective legacies, there's one big difference between the two.
Let's start with Jones, clearly a very smart, good-looking, personable young man who comes from a family that has also produced two NFL players – his older brother Arthur and his younger brother Chandler. A lot of the early pieces on Jones, ones that came prior to his Championship win over Shogun Rua or immediately following it, focus on how Jones was built for this kind of success: He was a man of faith who had his head on straight. He had a good home life and was married to a woman whom he had two daughters with. He was cheap and hadn't splurged for new jewelry or cars. Jones himself said in one 2011 Sports Illustrated profile, "I don't want people to say, 'I want to fight like Jon Jones.' I want them to say, 'I want to be Jon Jones.' I want to transcend the sport, to inspire people."
Of course, there was plenty of backlash to Jones early on. Comments like that by a 23-year-old can rub people the wrong way. Many analysts, other fighters and a fair share of fans believed this was all an act. There was no way this guy could be so squeaky clean. Jones was called smug, disingenuous, and holier than thou.
It turns out these people were right. Whether Jones was fake from the beginning or just susceptible to getting caught up in the lifestyle that typically comes with being the best in the world at what you do, he suffered a very public fall. A DUI, failed drug tests, a hit-and-run, probation violation. After each slip-up a smiling Jones would claim he had figured stuff out. He'd be better now. He was a new man.
The biggest difference between Jones and Tyson is that Mike would never put on this sort of show. He would never hide who he was or how he felt. He never tried to be the good guy. He was always just Mike fucking Tyson. Here's a good example: In August 2014 Jones and Daniel Cormier were interviewed split screen on SportsCenter. After the interview was over the cameras continued rolling, and when Cormier claimed he wished he could spit in Jones's face, Jones responded by saying, "I would literally kill you if you spit in my face. Literally kill you. I'm not saying I would fight you, I'm saying I would kill you if you did some stupid shit like that."
Maybe I'm stating the obvious here, but this is not something Jones would have said if he knew the cameras were rolling. Jones is no stranger to trash talk, but it would've been much more calculated than this. This was the most human we've seen him.
In contrast, we've seen Tyson proudly direct these sorts of threats toward his opponents:
Tyson's brashness and unpredictable nature ended up making him a folk hero; someone whose missteps have been forgiven and forgotten because goddamn he was fun to follow when he was in his prime straight-up punking dudes. Even after retirement he's maintained celebrity status, a rarity for Boxers. Thirteen years after he lost the Heavyweight Title for good, Tyson made a cameo appearance in The Hangover and it was a big deal that he was in it. His presence raised the profile of the movie.
There is a zero percent chance that Jon Jones will have a cameo in the biggest comedy of the year in 2030. Unless he undergoes a complete persona makeover it wouldn't make any sense, and let's face it, Jones might tell us he's changed, but it's hard to believe he will.
Question #6: If Jon Jones retires as the UFC's undisputed GOAT, does that wrap this up in his favor?
Few knowledgeable Boxing minds would dare make the case that Tyson is the Greatest Boxer, or even the Greatest Heavyweight of All-Time. Maybe in 1989 this would've been a popular argument, but Tyson has a 13-6 record since 1990. It's just not how the Greatest of All Time should go out.
At this moment, it's not a stretch to say that Jones is arguably the most talented, well-rounded and accomplished Mixed Martial Artist ever. He's defeated every great Light Heavyweight fighter of his era, and he's only 31 years old. Anderson Silva remained dominant his late 30s. Daniel Cormier turns 40 on March 20th and he's the Heavyweight Champion. It's possible that if (a Big If) Jones really has turned a corner in his personal life that he could remain atop the Light Heavyweight Division well into the 2020's. And if that's the case, Jones will have the most impressive win/loss resume in the history of the UFC. And let it be known, as harsh as I've been talking about Jones's character, I really hope he makes it. I was on the Jon Jones bandwagon before he was the Light Heavyweight Champion. It genuinely bums me out that he's had such a difficult time dealing with fame.
Even though Jones could likely beat Tyson in a fight, and even though he has the inside track in establishing himself as the UFC's GOAT, the perception will always be that Tyson meant more to Boxing than Jones meant to the UFC. In this case, the perception is true. Tyson did mean more to Boxing than Jones means to the UFC, and that's all that people will hang on to if there is ever a Tyson/Jones debate after this one.
Question #7: Alright, so there's no way Jones could swing this in his favor then?
Jones either needs to go the McGregor route or he needs to go the Tyson route. By this I mean he needs to either move up to Heavyweight and become the "Champ-Champ" and then parlay that success into a Boxing mega-fight. Or he needs to embrace the craziness, ramp up the theatrics at the weigh-ins and post-fight interviews, and maybe even bite somebody's ear off mid-fight. And he needs to do all of this while continuing to kick the ass of every Light Heavyweight he crosses paths with.
Who is the Winner of the Head 2 Head? 
March 1st.  Mike Tyson. Jon Jones. Jon Jones doesn't die, but even though he doesn't die, it still counts. Mike Tyson is the winner.