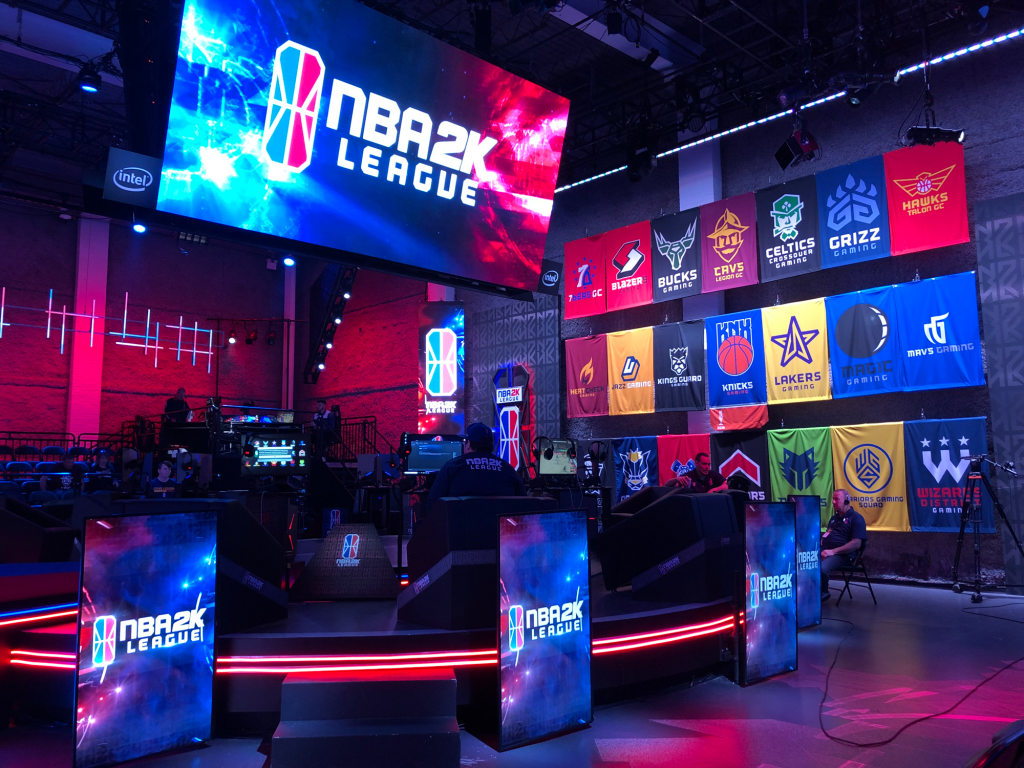 The esports industry has dramatically grown since the early 2000s. Professional gamers compete as individuals or teams. The development of exciting esports games has expanded the esports market. Take-Two Interactive and the National Basketball League (NBA) partnered to create the NBA 2K League. It was the first basketball league in the esports industry. In this article, we discuss the NBA 2K League and its participants.
The Development of NBA 2K League
The NBA 2K League is the first basketball league to have a draft in the esports industry. Adam Silver, the NBA Commissioner, conducted the first draft of basketball players who cannot dribble or shoot threes in real life in April 2018. Many basketball fans expected professional basketball players like Marvin Bagley III, Luka Doncic, and Deandre Ayton in the draft. Instead, Adam picked players such as Albano Thomallari, Dayne Downey, and Mitchell Franklin.
Boyd got a hat with his team's logo after greeting Adam on stage. It was shortly after the National Basketball Association inducted its first basketballer in its fourth league after G League and the WNBA. Adam said in a press conference that Take-Two Interactive and the NBA were treating the NBA 2K League as a professional league.
The NBA 2K League is the first esports basketball league that attracted fans from all over the world. The global esports industry generated over $655 million in 2017. It will generate a revenue of $1.4billion by December, according to estimates by Newzoo, an Amsterdam-based market research company. Ticket sales and league sponsorships generate most of the revenue in esports.
The number of sports enthusiasts who like playing esports such as virtual basketball has steadily increased since 2018. The NBA has a global fan base of over 1.4 billion people. Celebrities who play virtual sports have played a vital role in increasing their popularity. For example, Twitch broke its previous record in March 2018 when Travis Scott, Juju Smith-Schuster, and Drake played Fortnite with Ninja. They attracted 635,000 viewers. Besides, the celebrities helped Ninja to have more than two million subscriptions on Twitch and YouTube.
Participants in the NBA 2K League
The NBA 2K League features top virtual basketball players who play a minimum of 19 games in the five-on-five format. The game has three tournaments and regular seasons made of 14 games. Gamers chose attributes, skills, and a position that suit their playing style. Dimez is a tall point guard who made 55 assists in one game in the past.
Over 70,000 players tried the NBA 2K League in 2018. But 102 gamers were drafted in the 17 teams. Various NBA franchises back each basketball team. The NBA 2K League teams have general managers like Shaquille O'Neal and scouts like Jerry Ferrara. Team executives spend long hours planning to create six-man rosters. First-round pick players earned $35,000 and extra benefits while other players received $32,000 per month, in the first six months.
Esports has rapidly gained popularity globally. Players from different countries compete in different esports leagues. The NBA and Take-Two Interactive have partnered with various video live services to promote the NBA 2K League. The league has balanced gameplay and complex game aspects that need participants to train vigorously to defeat opponents.