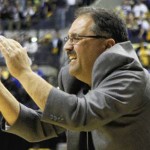 Adrian Wojnarowski: Van Gundy and Pelicans EVP David Griffin have been meeting regularly to discuss the future and ending this partnership after just one season started to feel like an inevitable result around the organization, sources said.
– via Twitter wojespn
Will Guillory: Can confirm that Stan Van Gundy is out as Pelicans coach, first reported by ESPN. Sources say Pelicans assistant Teresa Weatherspoon is a serious candidate to be the next head coach in New Orleans.
Scott Kushner: A disappointing season left Stan Van Gundy with tenuous relationships across the Pelicans organization. For months, sources around the team have noted tension was obvious with players, front office and there was almost no relationship with ownership.