Long before he was keeping the streets of Mapleton, NY safe and sound (or soundless, in the case of the Guilty Remnant) on HBO's The Leftovers, Justin Theroux has been making a name for himself in Hollywood both on and off screen.
First, let's talk about stage credits: he appeared in the Roundabout Theatre's 1997 production of Chekov's Three Sisters alongside such heavy hitters as Paul Giamatti, David Strathairn, Lili Taylor, Jeanne Tripplehorn, Billy Crudup, and Amy Irving.
That same year he appeared in Romy and Michele's High School Reunion, in the role of "Cowboy":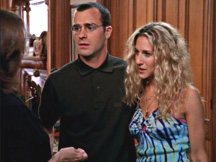 In 1999 Theroux was added as another notch on Carrie Bradshaw's bedpost on Sex & the City. In the episode "Shortcomings" he played Vaughn, one of those deep-thinking author types from a quirky family that seems straight out of a Wes Anderson movie. The episode's title refers to how he was a Quick Draw McGraw in the sack, thus making the love story of Carrie and Vaughn a short one.
The year 2000 saw Theroux in one of my favorite movies and featured in one of its greatest scenes. In American Psycho he played Timothy Bryce, one of Patrick Bateman's fellow VPs at Pierce and Pierce. The one who Bateman can't believe prefers Van Patten's card to Bateman's own.
2001 was a busy year for Theroux, appearing in both Zoolander and David Lynch's Mulholland Drive, as well as landing the role of Nick Pierce on the CBS drama The District. It's funny, I watched that entire series, which ran four seasons, but had zero recollection about the Craig T. Nelson-fronted drama until I started compiling this list. I'm sorry to say I still I can't recall Justin Theroux from this show, but I do remember that it co-starred Lynne Thigpen, who passed away during the series' run.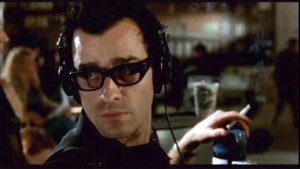 I DO remember him, quite fondly actually, from Mulholland Drive. It was the centerpiece film at the 2001 New York Film Festival, and the page in the Playbill (which I edited) used this picture of him as the featured image for the film, which is a really interesting promotional choice when you think about how ridiculously attractive Naomi Watts and Laura Elena Harring were in that movie. Theroux played Adam Kesher, a director whose hand is forced, by both mobsters and a mysterious cowboy, to make artistic decisions contrary to his own when casting his film.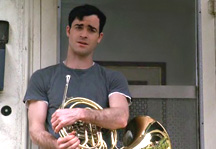 Theroux later turned up in the 2003–04 season of Six Feet Under, playing Brenda's (Rachel Griffiths) neighbor-turned-boyfriend, who helps her to deal with her sexual hang-ups…that is until she hooks up again with Nate Fisher, and then it's bye-bye Joe. Too bad, since he played a mean French Horn.
Also in 2003, Theroux starred in the music video for Muse's song "Hysteria." It doesn't get much cooler than this.
In 2007's comedy The Ten, David Wain's send-up on The Ten Commandments, Theroux plays Jesus. Yes, THAT Jesus. In a terrible wig. And Jesus falls in love with a librarian (played by Gretchen Mol). It's all part of the vignette "Thou Shall Not Take the Lord's Name in Vain," which you can watch here.
Theroux then donned another bad rug for the 2008 HBO miniseries John Adams, in which he played John Hancock alongside his old stage buddy Paul Giamatti. We all know what John Hancock did, right? So I don't really need to get into the plot for this one.

2008 also saw the release of Tropic Thunder, for which Theroux wrote the screenplay. He also appeared in the Tropic Thunder mockumentary trailer, Rain of Madness.
Jumping ahead to 2010, Theroux wrote the screenplay to Iron Man 2, pairing him up again with Tropic Thunder's Robert Downey, Jr. This was a missed opportunity for yet another movie villain to put Gwyneth Paltrow's head in a box, but I digress.
He also had a four-episode stint on NBC's Parks and Recreation, playing Justin Anderson—friend of Ann (Ann Perkins!), and brief boyfriend of Leslie. Ironically, in the "Galentine's Day" episode, Leslie waxes poetic about reuniting such lovers as Romeo and Juliet, or Jennifer Aniston and Brad Pitt, and then addresses the camera/Jennifer Aniston to "stay away from John Mayer" (who Aniston was reportedly dating at the time).
Speaking of Aniston, we move ahead to 2012, the year Theroux co-starred with his future fiancée in the movie Wanderlust, which was also written and directed by David Wain (The Ten). He plays Seth, a member of a hippie commune who falls in love with Linda (Aniston), much to the disappointment of Linda's husband George (Paul Rudd).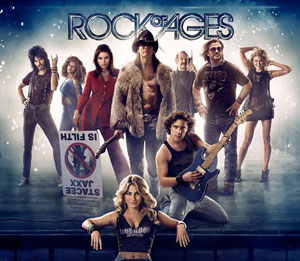 Theroux donned his writing cap again in 2012, helping to pen the film adaptation of the Broadway musical Rock of Ages, starring Tom Cruise and featuring Wanderlust co-star, Malin Akerman. We'll kindly leave it at that.
Which brings us to present-day Theroux, now starring on the HBO series The Leftovers. And you know how much we're loving that show.