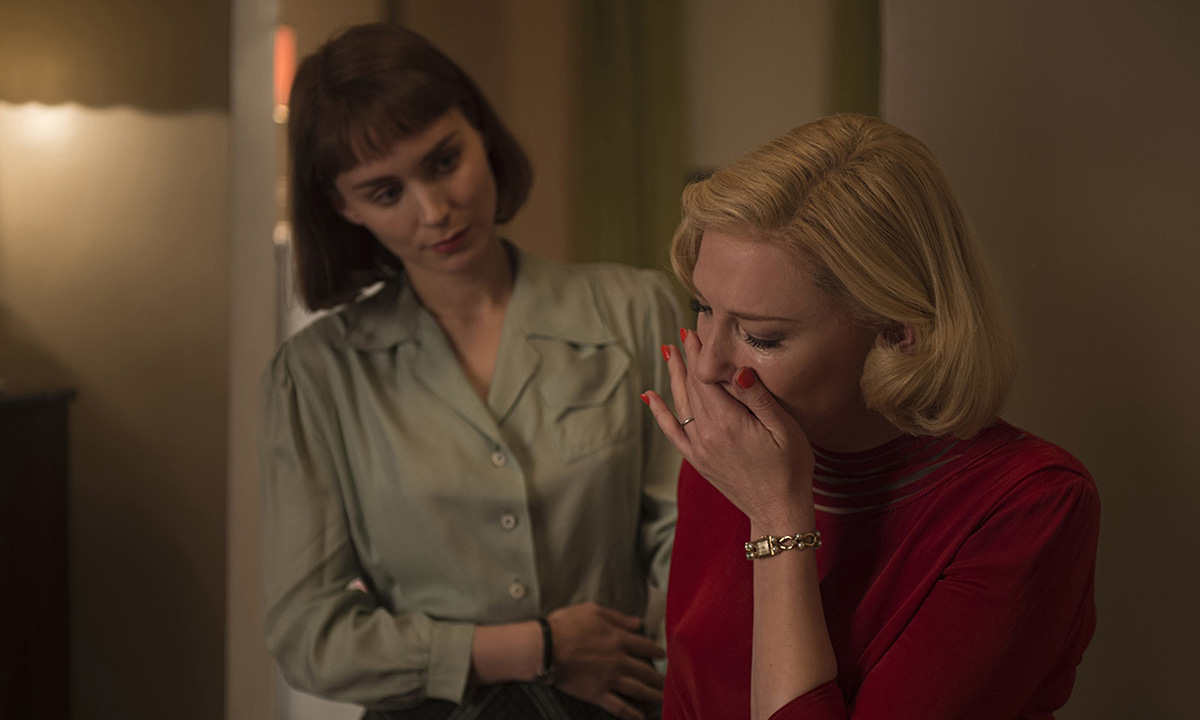 Carol was a critic's delight and a showcase of brilliance for Cate Blanchett and Rooney Mara in 2015. I had the pleasure of reviewing Carol for a Pop Culture Spin article, and my remarks were relentlessly positive. The only downside to the movie would be a potential subjective taste disinterest of the audience, not a shortcoming of the film itself.
The pace is slow and the directing style is precise, however, for anything Carol lacks in the speed department, it compensates for with the strength of its leading ladies. For this article, I will be examining the chances of Blanchett taking home Oscar hardware in the Best Actress category, and Mara doing the same in the Best Supporting Actress category.
Because of my support for Carol as a movie, I suppose my thoughts are inherently partial toward selecting these two actresses as winners in their respective areas. Regardless of personal involvement, I see Blanchett and Mara each having a prime source of competition in their categories that classify as toss ups. No one can sensibly frame any of these competitions as clear and predetermined outcomes. The biggest threat to Blanchett is Brie Larson for Room, while the largest competitor for Mara is Alicia Vikander for The Danish Girl.
Coincidence, anyone? To any fans of The Girl with the Dragon Tattoo series, you'll know that Vikander has been rumored to be the next Lisbeth Salander in a future American spinoff despite Mara's interest in reprising her role. In spite of Vikander's power as a performer, Mara was so gripping and transcendent that giving her role away would be a slap in the face. No matter how it's sliced, the Oscars have an interesting subplot with two possible Lisbeth Salander actresses squaring off in the same category.
For now, let's focus on Blanchett versus Larson. I would actually use my gut to suggest Larson has the early edge on winning this honor. Even though she's shined in Short Term 12, The Spectacular Now, and others, Larson has never amassed a major buzz despite a respectable resume. Room has without argument been her defining and public viewpoint shifting role. She has the luxury of being the newcomer to the party and being that lovable star of one of the year's top indie gems. On top of all that, her newfound attention is totally the product of beautiful work. Larson is great enough in Room to warrant acclaim.
Blanchett's chances shouldn't wear off simply because she's been there before, though. Her Carol role is remarkable in its balance of restraint to maintain her normalcy and motherly responsibilities, but also anger and frustration over society's inability to accept her attraction to females. The sex scene between her and Mara feels like an authentic moment of fulfillment rather than the garbage wastes of screen time made solely to appease male audiences. This is the only scene of Carol that places a heavy emphasis on the physical, most of it values the sensitive and the subtle rather anything else. The beauty of Blanchett is that she encapsulates Carol as a movie perfectly – truthful and unapologetic.
The verdict? You can go either way. I say Larson wins the honor due to the bigger buzz behind Room and a more unique performance, but don't be surprised if Blanchett ends up taking the hardware home, either. I would prefer Blanchett as the winner – Larson simply feels like the eventual choice.
Now to Vikander versus Mara. I'm going to switch my style up and name the verdict now prior to my methodology. Mara will prevail and win on Oscar night, a proud moment for her personally and a defeat over her The Girl with the Dragon Tattoo competition.
I'm largely playing to this subplot because of my interest in the literary and film series. The truth is that Vikander is a wonderful actress who would play Salander admirably. I have no doubt that she would slay it in this role. However, Mara is already attached to my mind when it comes to the American version, and I don't want that to change. For the Best Supporting Actress honor, there's a parallel present. Vikander is massively impressive next to Eddie Redmayne in The Danish Girl, but she's not strong enough to outweigh the power pulled by Mara in Carol. No matter how hard Vikander tries, she doesn't surpass Mara in terms of the ability to impress on screen.
My favorite aspect of Mara's persona aside Blanchett is the unmistakable innocence. Mara is both naïve and inexperienced, making her a perfect contrast to the older and sometimes cynical character she falls for. As stated earlier, the contrast between the two and the emphasis on subtle and unspoken chemistry makes the built up love scene a beautiful moment rather than a sensationalized one. Carol is a movie of grace, and this component is never understood better than when watching Mara. It's something of an injustice that Carol wasn't selected for Best Picture honors, but at least the understated feature received some recognition. I doubt that I'm alone in feeling Carol left its audiences emotionally impacted and moved by what was presented.
In the end, Carol could easily take home hardware courtesy of Blanchett and Mara. I would applaud the Academy if each actress emerged with a win. That odds of this are unlikely, however, and Blanchett's category presents the more difficult competition. Due mostly to odds and the strength of other competitors, I see Blanchett taking a slight loss as Mara grabs the win. As long as someone from Carol wins, I'll be happy. If they both do, I'll be ecstatic.