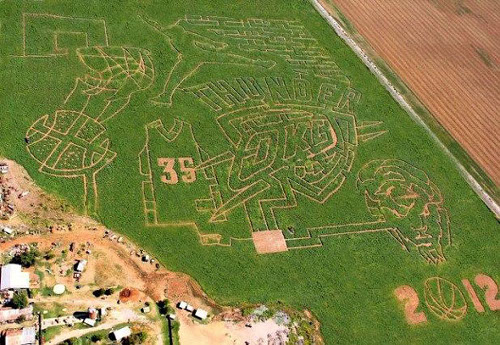 If you ever find yourself in Chickasha, Oklahoma, be sure to check out Reding Farm's Oklahoma City Thunder themed corn maize! For a measly ten dollars per person, you can try to get through the basketball and adjoining hoop as quickly as possible. Don't forget the Michael Jordan Jumpman logo, the Oklahoma City Thunder logo, the Kevin Durant jersey, and what looks like a very angry farm animal that I will guess is a sheep.
In any case, it's amazing to think of how large this corn maize is, especially when you try to figure out its scale compared to what looks like a parking lot to the left and a huge barn. According to the website, the maize area covers 35 acres. If I'm ever down south and near Chickasha, I'm definitely hitting up Reding Farm because now it just seems like a natural basketball destination for any road trip.
The Oklahoma City Thunder have some of the best fans in the NBA, if not the best. Did you see the Thunder playing during the NBA Playoffs? Loud City, indeed! I'm not even sure if anyone sat during the NBA Finals. In any case, this Thunder themed corn maize is just one more piece of proof that the Thunder have great (and creative) fans!
(H/T to Thunderous Intentions)