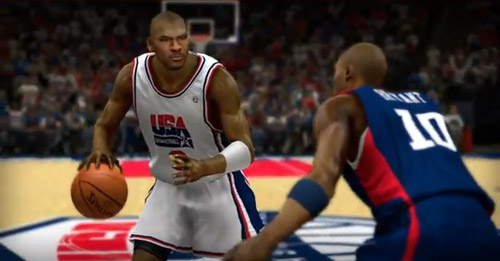 NBA 2K13 will be coming out in a few weeks and their trailers for the game have me jacked up. Not just to buy the game for the greatness that it is by itself, but for "virtually" watching the old school players I grew up with – Magic Johnson, Larry Bird, Charles Barkley, David Robinson, and of course Michael Jordan battling the current crop of NBA superstars. But, can we see Jon Koncak is this thing or what? Maybe he can go up against Rashard Lewis.
Anyway, in this NBA 2K13 battle of the 1992 Dream Team and 2012 Olympic gold medal champions, 2K Sports gives the viewer a lot of good looks. We see Barkley taking it hard to the hole, Bird with his iconic jumpshot, Deron Williams blowing by Magic with a crossover, LeBron James and Chris Paul saluting each other, and a bevy of other cool things we've all come to love as NBA fans.
However, the best is definitely saved for last and I won't ruin it for you. You just have to see it, but I will say, you can't end this trailer any better:
Jordan working on Kobe. For. The. Game. Classic. We've seen this before in previous versions of NBA 2K, but there will always be an aura about this since one is the icon and the other as close to that vaulted status as one can get. Plus, their game is the same.
Regardless, the question still remains… who wins? Well, that's why you have to buy and then play the game. October 2nd can't come soon enough!