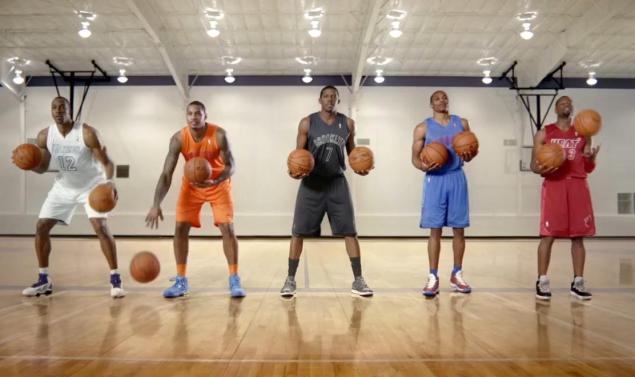 We're more than a week out from the Christmas games, and wow, what a look. As if NBA Commissioner David Stern isn't already a mastermind at marketing his players (just look at NBA Cares and their myriad commercials), he's begun to make Christmas an actual aesthetic holidays for players and fans. After slowly distinguishing the Christmas Day games from others with embroidered snowflakes behind the NBA logo on the players' jerseys, he's tried out something new entirely that works beautifully – the festive BIG COLOR uniforms.
They are exactly that, as teams that were fortunate enough to play on Christmas were issued uniforms that highlighted one dominant color of their own color schemes, major and minor colors included. All teams took on said color that was tinted just so to differentiate the uniforms from their regular season unis. 10 teams played and participated, so let's take a look at who really did it big and looked great doing it, and the remaining others who could've used a better hue to play in – Christmas' Fortunate and Less Fortunate List.
—
Fortunate
Brooklyn Nets – The Nets didn't have much room to play with, considering that the team's official colors are literally just black and white; however, the dark graphite gray was very interesting and gave the team really interesting monochrome depth. It wasn't black, so you had to look harder to see what the hue exactly was. Very classy.
Boston Celtics – I really like seeing kelly green, and the Celtics took it up a notch in a slightly different shade. It's very old-school, even more so from what they normally wear, and that made their Christmas uniforms successful (however, I'd love to see Boston use the black, brown, and yellow leprechaun trim colors in a future uniform).
New York Knicks – Orange as a primary color for the Knicks made all the sense in the world and I enjoyed it thoroughly. After removing black from their former sets (which made no sense to add as a feature color in the first place), seeing the Knickerbockers in orange and blue was a welcome sight.
Miami Heat – The maroon-tinted Heat uniforms definitely gave the team a true yuletide look. Taking black off and just keeping the trim white did it for me, along with the dazzle mesh insets.
Oklahoma City Thunder – The Thunder's even brighter blue than usual with the trim orange was exciting just to see. A very dynamic set, the Thunder actually looked more like a young, energetic team in the bright light blue.
Houston Rockets – Houston's matte and metallic silver set was the hands-down winner of all 10 teams. I absolutely loved them and would adore it if the team were actually able to make them a canon part of their uniform set, effective immediately.
Denver Nuggets – One of the worst things that happened to the Denver Nuggets, in one sense, was Kiki Vandeweghe. I say that, because he took over as general manager of the Nuggets just before Carmelo Anthony came to town, and because of Vandeweghe's UCLA roots, changed the Nuggets from wearing navy, metallic gold, and burgundy to the powder blue, yellow gold, and white, which I've long disdained. The Nuggets' Christmas set, however, righted all wrongs with the all-navy blue uniforms with the gold trim.
Less Fortunate
Los Angeles Lakers – The all-white set was even more bland than their regular Sunday set. While the Lakers reminded of snow, they also washed out and were generally boring in appearance. FAIL.
Chicago Bulls & Los Angeles Clippers – In all truth, I enjoy the uniforms being all-red, but the trim on both jerseys made numbers and names indistinguishable, which was a great disappointment to me.