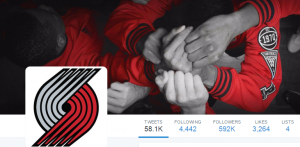 The NBA, a multi-billion dollar product and world's best basketball league, has tons to offer for new and existing fans. Not just fans of basketball, fans of entertainment and the full in-game experience.
The growth of the league is not unknown, but in the past five to ten years teams and the league have really taken off. It's not just Golden State and the polarizing play from Stephen Curry, the league has seen incredible growth in league-pass subscribers, views, hits, clicks, and all other key indicators for continued growth and success.
But the main reason for this success is the league's original, unique marketing strategies. Not just the Christmas day jerseys, star power, or global branding. Since the beginning of social media, the NBA and it's 30 teams have been extremely important to individual teams, as well as the league's, popularity and growth.
One of the most influential social media teams within the league is the Portland Trail Blazers.
Ranked in the top-five of social media accounts in the league from the likes of Complex and Sports Illustrated, they've "blazed the trail" for social media in the NBA. Ranked number one from Complex media in the 2015-2016 campaign, they've been continuing to build innovative ideas, creating a social media and digital team like no-other.
Although a smaller market team, they've outpaced their market size through their social media presence. And it starts with Dewayne, current Senior Vice President of Brand Strategy and Digital at the Trail Blazers.
Dewayne is most notably famous for his ground-breaking social media work with the L.A. Kings. But has since then moved onto the Portland Trail Blazers staff and has helped them create a winning culture on the social media court.
Beyond Dewayne, the whole digital team in Portland has worked to build a unqiue, innovative, and trendsetting atmosphere. The team includes TJ Ansley, Director of Digital Media, Brian Matzat, Digital Designer who creates their graphics, Kris Koivisto, Managing Editor, Casey Hodahl, Digital Beat Reporter (travels to all games, home and away), Cody Sharrett, Digital Specialist who does a little bit of everything, Justin Molter, Digital Video Producer who cuts in-game highlights, and Koji Matsumoto who does motion graphics.
Kris, the managing editor of digital with the Trail Blazers, said it all begins with "a well-rounded, hard-working, and passionate digital staff". Watching the team, it's clearly deep and talented as well, which makes for the perfect combination in the digital realm. He said "people could just do their job and go home, but we're passionate about our work and we're always communicating and looking to improve".
In a world run by social media, teams have to be on the cutting edge of trendsetting ways to keep and entertain their audiences. With over 511 thousand followers on twitter, the Blazers are continuing to grow. The organization as a whole has been very invested in growing team popularity and fans.
Specifically, the Trail Blazers team are known for their creative, funny, and trolling GIF's. It was the preseason of last year when Kris and his team started really using GIF's as a fun and different way to entertain followers. Starting with one per game, Kris and his team were set on using the short clips more. An in-genius way of capturing timeless reactions to plays or in game actions, the Blazers were one of the first teams to really use it in this fashion.
A calling card of sorts, they've become the poster child for team social media accounts for things like the GIF's. This season, they took it to another level adding a celebrity of each city they played into the repertoire. "When we we played Detroit, we used Eminem GIFs, in Cleveland it was 'Major League', the Pacers it was 'Hoosiers'. We try and find a celebrity from each city that we can use" Kris told me.
In essence, the team tweets out small clips of glorious reactions based on the city they're in. Just a part of the many hidden gems that the Trail Blazers digital team conjure up.
Not only is it creative and funny two second clips, it's the innovative ways that the Trail Blazers team use to gather interest, make it entertaining, and inform fans around the world, that really intrigues.
The digital team doesn't just tweet, they tumble (if that's what you call it), facebook, snapchat, and more. "We do research constantly, to help access every demographic. Which post works the best for such demographic, where to put certain content, and at what time, just some of the things we look at" Kris mentioned.
Not only is it the digital staff, but the Portland players are also involved with the digital team. Kris added to this and said "It starts with Damian, C.J., and Meyers, they're the leaders on this young team and really understand why we're here. I think because they've been so open with us about doing features and pieces on them, the other players have all bought in and really appreciated the work we do with them".
In recent memory, the Trail Blazers have had many players "take over" their Snapchat, do exclusive interviews and fun features, all a part of the experience for fans, and another example into the Portland ball club's success as a juggernaut in the digital sports world.
In their office, the team has assembled all sorts of unique memorabilia that showcases their passion and originality. It helps paint a picture for understanding why their great at what they do. A wooden, signed, hashtag symbol is just one of the many things that makes you see the vision and passion revolving around their office. I think it symbolizes the collaboration and creation of new ideas with the digital team. They all work seemingly flawless together and that helps in the product through all facets of the Blazers social media feeds.
Laptops and screens placed around the room, their constantly working to update, inform, and entertain fans. It's a fun environment, where Kris says "we see it as more of a hobby, than a job. We all love what we do and that's why I think we're good at it". He's cutting himself and the team short with the word hobby because of how hard they all work, but nonetheless, they all really love what they do.
As for the goal of their digital content? "To become the place people go for Blazers content. We want to show fans more than the box scores, wins, and losses" Kris added. That's what it's all about with this group, it's about supporting the team.
They all genuinely work around the clock to come up with ways to revolutionize digital content, while making it digestible, entertaining, and informing, something that is way easier said then done.
A picture of the starting line-up, a clip or video, a quirky tweet, or funny GIF's, this team does a lot that most would take for granted. Preparation and being current in digital media is an extremely hard task, but for the Trail Blazers digital team, they've seemingly got it down.
A long with their website, social media accounts, and video content, they've got a new podcast for all Trail Blazer enthusiasts. It'll be called "The Trail" and will go through a lot of evergreen topics on Trail Blazers moments and history. Just another reason they're blazing the trail for digital content across all teams and really helping set the NBA apart from other sports.
Follow Trail Blazers on twitter or via their website here at www.trailblazers.com