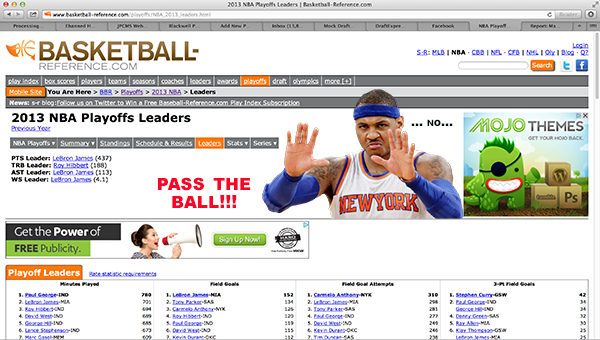 Carmelo Anthony definitely raised his level of play this past regular season and it kind of transitioned in the NBA playoffs. I say "kind of" because Melo seemed to play like his former self, taking shot after shot, just straight-up chucking. He scored a lot of points and was definitely getting buckets. However, it didn't prevent the second-seeded New York Knicks from exiting in the second round versus the Indiana Pacers.
But, I really had no idea just how much Carmelo Anthony was shooting. DIME just blew it up:
Ready to have your mind blown? As of today, June 9th, Carmelo STILL LEADS all players in 2013 playoff field goal attempts! 'Melo put up 310 shots in just 12 games. The next closest is LeBron James with 298 FGAs in 17 games – and he's averaging 38 minutes and 26.8 points. It's not like he's sitting idly by; James is putting up numbers.

So yeah, that means 'Melo was going along at a pace of almost two shots per minute that he was on the court. Green light/no conscience indeed…
BOOM!