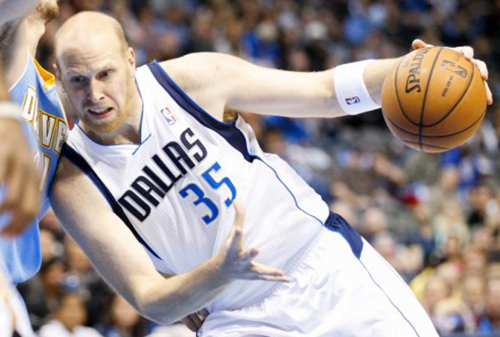 The Los Angeles Lakers have reached a one-year deal with center Chris Kaman, according to ESPN. Despite having to pay the former Los Angeles Clippers star big man $3.2 million, this addition might be just what the Lakers need after failing to bring center Dwight Howard back to Hollywood.
Kaman has averaged nearly 12 points and 8 rebounds a game throughout his career. In his time with the Clippers, the former NBA All-Star managed to be the focal point of an offense that had Baron Davis at point guard and a young Eric Gordon.
With the exception of last year with the Dallas Mavericks, Kaman put together five straight seasons of 12-plus points per game and has a knack for snagging rebounds. Combined with Lakers' forward Pau Gasol's 11.5 RPG last season, the two can keep and get the ball in the hands of guard Steve Nash and a healing Kobe Bryant.
Up to this point in the NBA free agency circus, a lineup of Nash, Bryant, Metta World Peace (who may be amnestied) or Lamar Odom (who may be signed), Gasol, and Kaman won't be the worst starting five in the NBA. It's up to the Lakers to pick up role players that can fill out a bench that only really has significant contributions from small forward Devin Ebanks and backup center Jordan Hill.
Since Kaman's contract is reportedly only a one-year deal, the Lakers seemingly have a rental in Kaman that can stave off a horrid 2013-2014 NBA season in anticipation of a big free agent frenzy that will commence next summer with players like LeBron James and Carmelo Anthony up for grabs. With the sting of losing Dwight Howard to the Houston Rockets still fresh in the Laker faithful's minds, Kaman will surprise the fans and media of Los Angeles, but this time wearing the purple and gold.