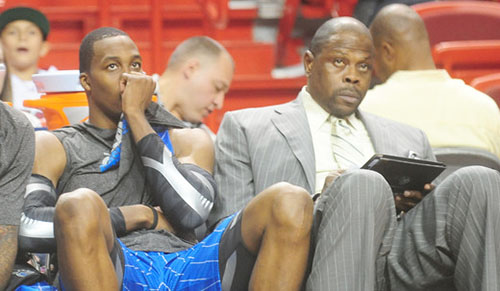 The easiest way to troll fans of the New York Knicks, aged 30+, is saying that Patrick Ewing really wasn't that amazing of a player – and that he definitely wasn't a player worth fixing the 1985 NBA Lottery in order to obtain. Could Dwight Howard be considered in the same manner after signing with the Houston Rockets?
Both players are impressive to look at as Howard and Ewing cut distinct profiles, in a league of men who have to duck in order to gain entry into a room, these centers dwarf their contemporaries. Ewing at 7'0″ 240 pounds appears abnormally tall and lanky betraying the freakish athleticism of his youth and in later years only seemed matched when battling Rik Smits in the paint. Howard is 6'11" 240, but unlike his former coach, Howard is a ball of fast-twitch muscle; he's not tall in the classic willowy center style a la Kareem Abdul-Jabbar, but a chiseled behemoth that rightfully should be nicknamed, "Superman."
What the two share is possibly being extremely overrated. The NBA's infatuation with size is understandable; evaluations of the greatness of big men often leads to extremes: they are either the most dominant force in the game (Shaquille O'Neal) or spastic punchlines with a penchant for shot-blocking (Shawn Bradley).
Ewing is a Hall of Famer, named one of the 50 greatest players in NBA history (that list seems to get funnier as time marches on). Ewing's peak coincided with the peaks of Dikembe Mutombo, David Robinson and Hakeem Olajuwon. Consider the career honors for these 4 players (NBA championships omitted deliberately):
Player 1: 1x MVP, 1x Defensive Player of the Year, Rookie of the Year, 4x All-NBA First Team, 2x All-NBA Second Team, 4x All-NBA Third Team, 4x All-NBA Defensive First Team, 4x All-NBA Defensive Second Team, 10x NBA All-Star
Player 2: Rookie of the Year, 1x All-NBA First Team, 6x All-NBA Second Team, 3x All-NBA Defensive Second Team, 11x NBA All-Star
Player 3: 1x MVP, 2x Defensive Player of the Year, 6x All-NBA First Team, 3x All-NBA Second Team, 3x All-NBA Third Team, 5x All-NBA Defensive First Team, 4x All-NBA Defensive Second Team, 12x NBA All-Star
Player 4: 4x NBA Defensive Player of the Year, 1x All-NBA Second Team, 2x All-NBA Third Team, 3x All-NBA Defensive First Team, 3x All-NBA Defensive Second Team, 8x NBA All-Star.
Now take Howard's current honors: 3x Defensive Player of the Year, 5x All-NBA First Team, 2x All-NBA Third Team, 4x All-NBA Defensive First Team, 1x All-NBA Defensive Second Team, 7x NBA All-Star.
Player 1 is Robinson, Player 2 is Ewing, Player 3 is Olajuwon and Player 4 is Mutombo.
Howard compares most with Ewing, needing one more All-NBA selection to eclipse Ewing and four more All-Star selections; he's been to the NBA Finals and broke Ewing's blocks record in the Finals, and was the best player on a team that was far over-matched in 2009. The Lakers team that defeated Howard's Magic boasted Andrew Bynum and Pau Gasol as foils to Orlando's star. Dwight and his merry band of perimeter shooters couldn't match the firepower of the Lakers. Similar to Ewing, Howard was not enough of a force to neutralize the Lakers' stars and advantage.
Ewing's two NBA Finals appearances were largely disappointing. Against Ewing, Olajuwon cemented his greatness in 1994 and Robinson did the same in 1999. When the 1994 NBA Finals wasn't interrupted by the O.J. Chase, Ewing was clearly a class below Olajuwon. The Eyeball Test never lies. Watch any game of the 1994 Finals, the chasm between Ewing and Olajuwon is apparent even to Stevie Wonder. Olajuwon's dominance put to rest any notion of Ewing being a transcendent superstar. Ewing was an imposter to the throne, he declared the 1994 Knicks would be NBA champions after Michael Jordan's retirement, readying himself to snatch the baton of "best player in the game." Instead Olajuwon quietly dominated during Jordan's hiatus. The Knicks of 1999 were a feel good story, Ewing hobbled by an Achilles injury. Robinson had help; Tim Duncan entered the league a year earlier and quickly became the player the Knicks thought they had in Ewing. The Spurs eviscerated the Knicks. Just as Ewing was set to take over Jordan's post as "best player in the game," nearly 20 years later Howard was set to inherit the title of "next great Lakers center."
Howard's time in Los Angeles was a disaster. The addition of Steve Nash and the combination of Kobe Bryant, Pau Gasol and Metta World Peace should have ended any talk of a Miami Heat dynasty. Howard's defensive prowess combined with Nash's ability to set up teammates and the sublime Kobe should have ruled the NBA in 2013 and maybe 2014. Howard's petulance grated on Nash, Kobe couldn't prod the big man towards being a winner, and after Kobe's devastating Achilles injury, Howard's immaturity was the biggest cause of the Lakers' demise.
Howard's choice of signing with the Houston Rockets was the smart play. Howard is 27 years old, conceivably over the next four years he will be able to accumulate more honors, but make no mistake – he's been playing in the NBA since the age of 19, he's coming off back surgery, his shoulder is clearly troublesome and he's taken a great amount of physical punishment over his career. Olajuwon earned his first title with the assistance of Sam Cassell, Vernon Maxwell and John Starks (the second best way to troll Knick fans is invoking Starks) and The Dream's second title was won with the assistance of Clyde Drexler. Howard teams up with a Drexler-like player in James Harden except Drexler was at the end of his career in Houston, Harden's career has barely begun.
Ewing defenders reasonably argue the Knicks never had the same supporting cast that Olajuwon's Rockets or Robinson's Spurs possessed. Ewing's best teammates were the aforementioned Starks, Charles Oakley, Mark Jackson, Larry Johnson, Allan Houston, and Latrell Sprewell. However those players proved not to be great sidekicks, but complementary parts – the players mentioned totaled a combined six NBA All-Star appearances during their years with Ewing and none earned All-NBA honors. This can be the key difference for Howard.
Houston's statistical mastermind and general manager Daryl Morey specializes in finding value overlooked by 29 other NBA teams. Morey gazed Howard's way during the "trade-me, trade-me-not" days of Orlando and set his mind to acquiring the center. The Harden trade allowed Houston to make a serious run at Howard. Chandler Parsons is an exciting young talent. Jeremy Lin's meteoric rise has been well-documented, but his contract is excessive. Omer Asik grumbled about wanting to be traded, but the Rockets have no plans to do so and head coach Kevin McHale noted the Rockets played a similar "twin towers" lineup with Olajuwon and Ralph Sampson. On paper, the Rockets have an interesting roster that is more competitive than at any time in Ewing's career. Morey also promised Howard to add pieces.
Today's NBA is different than Ewing's NBA. Gone are the days of the hand-check and brutal defense. Ewing's career is marred by a perception that he was greater than he was and alternately Knicks' fans are left wondering what might have been had the Knicks surrounded Ewing with true All-Star sidekicks. Rockets fans will have no such questions about Howard at the conclusion of his 4-year, $88 million contract.
The choice to excel is solely Howard's, use McHale and Olajuwon's models for success in the paint, truly commit himself to being the best center in the game, then Howard can easily rebut the barbs of Shaq and other critics. Unfortunately for Howard, the past has proven that he is famously indecisive, prone to whims and fancies. By taking his talents to Houston, Howard finally made a choice to seemingly advance himself beyond the label affixed to Ewing: Good, but not great.