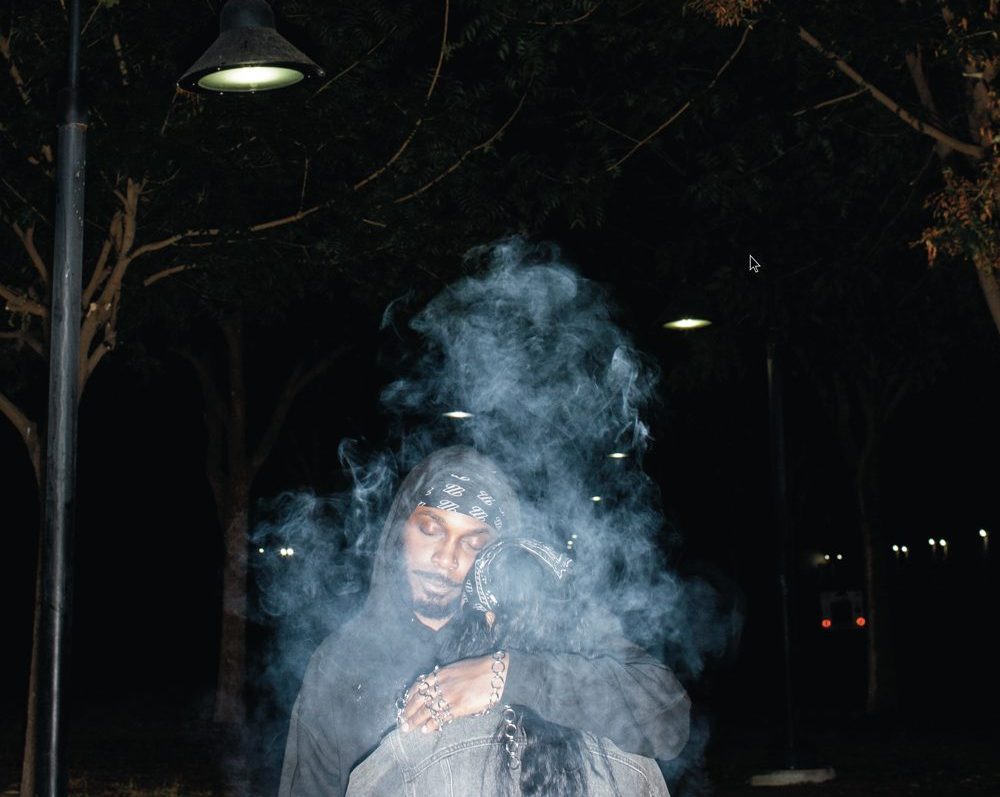 After a two-year break from releasing a full project, Barrington DeVaughn Hendricks, better known as JPEGMAFIA, is back with his 4th studio album LP! In between these studio albums, JPEGMAFIA was very active as he released two EPs, titled EP! And EP2! Some highlight tracks from these EPs include "BALD! REMIX" with Denzel Curry, "COVERED IN MONEY!," and "FIX URSELF!" This is JPEGMAFIA's last release with his label, and it is something he wasn't shy about expressing his thoughts on, as he repeatedly expressed his excitement about being completed with his contract in the leadup to the release of LP! It is also worth noting that there are two versions of this project: an online version released on all streaming services, and an offline one made for sale on Bandcamp. The offline one features five extra tracks, as well as several extended songs, and this is the version I will be discussing in my review.
One thing I noticed about this project right away is the lack of collaborators, which is very common in Peggy's work. There are only two features on all 20 tracks, and only one other producer is credited on LP! Another thing that became apparent to me throughout my listens of LP! is the slight change in production style. It felt like the majority of Peggy's two previous studio albums, Veteran and All My Heroes Are Cornballs, had a very glitchy style of production with a clear goal of disrupting the rhythm of tracks at times, which I thought was executed very well and was an awesome aspect of these two projects. However, throughout LP!, we hear production that flows and stays on-beat more, which I think Peggy does a great job of pulling off. But don't worry, LP! is still full of strange vocal samples, experimental production, and great Peggy rapping.
The offline version of LP! begins with the previously released single "TRUST!" On this track, we hear Peggy confidently boasting about his appearance, saying "I won't even lie, I'm looking good, I won't even fib, I'm feeling nice." A fast-paced spacey beat allows Peggy to skate freely over this instrumental. The album's next track, "DIRTY!," features some stellar rapping from Peggy, as well as a beat that flows between having steady drums and a lack of rhythm when they disappear. "NEMO!" is a similar track to "DIRTY!," as we are treated to another glitchy beat and some more strong rapping from Peggy.
"END CREDITS" is a sharp vibe switch from the previous two tracks, as the energy-filled track begins with an Arn Anderson AWE Dynamite speech, which helps set the stage for this banger of a track. The intense production provides the perfect space for Peggy to rap furiously, talking to his haters with the lines "Them tweets cost you a life, You ain't had a hand in the hype." Following this track on the offline version is "HAZARD DUTY PAY!," which is one of the best tracks Peggy has ever created. Over a gorgeous slowed Anita Baker sample, Peggy delivers one of the best verses of his career, matching the beat's energy beautifully and creating one of my favorite tracks of 2021.
Following the short track "GOD DON'T LIKE UGLY," Peggy delivers two gems in "WHAT KINDA RAPPIN' IS THIS?" and "THOTS PRAYER!" On "WHAT KINDA RAPPIN' IS THIS?," Peggy utilizes another smooth vocal sample to throw out references to past songs and projects like the aforementioned "COVERED IN MONEY!" and The Ghost~Pop Tape (released under his former name DeVon Hendryx in 2013). Meanwhile, "THOTS PRAYER!" allows Peggy to show off his vocals, interpolating Britney Spears' "…Baby One More Time" with his auto-tuned vocals. Peggy also delivers another strong verse over the laid-back instrumental.
After "ARE U HAPPY?," we hear the first guest verse on the track "REBOUND!" featuring DATPIFFMAFIA. Peggy and DATPIFFMAFIA play well off of each other's energy and deliver some solid bars, but the highlight has to be Peggy's arrogant hook, in which he yells "Why would I pray for your health? Baby, I pray for myself." Following two tracks crafted on top of two more vocal samples (seeing a theme here?), "100" and "OG!," Peggy delivers another energetic highlight in "DIKEMBE!" On this track, a jazz sample is combined with some fast-paced drums to create another strong instrumental, and Peggy delivers some fast-paced bars, including references to NBA Hall of Famer Dikembe Mutombo (who the track is named after.)
The longest track on LP! is by far "TIRED, NERVOUS AND BROKE!," which features two Peggy verses, two choruses, and an outro sung with Kimbra. The next track, "KISSY, FACE EMOJI!," features another spacey, futuristic beat, and even more fantastic rapping from Peggy. My favorite line on this track is easily "Baby Reagan, I'm crack on this case," as this line always makes me chuckle. There are also some well-sung vocals on this track from Peggy, which should be expected at this point in his career.
Following the chant-filled track "NICE!," "BMT!" carries over the energy nicely. Built on yet another well-chopped vocal sample, Peggy raps with loads of precision and energy, which has been a common theme throughout LP! The slow track "THE GHOST OF RANKING DREAD!" changes the vibe of the project, but Peggy's precision in his bars does not change. This theme continues on "DAM! DAM! DAM!," as we see Peggy continuing to spit bars at a high level over another futuristic, slow beat. From shouting out NBA players to throwing shots at his label, Peggy packs the verses full of content on this track and still manages to not lose a step in terms of flow and precision. The offline version of LP! ends with another slow track titled "UNTITLED," which features Peggy rapping extremely well yet again.
Throughout LP!, I kept finding myself impressed by JPEGMAFIA in every aspect of this project. Peggy has done a stand-up job on every one of his projects in terms of production, and this one is no different. He found great samples, weaved them together with other sounds and elements of his beats, and kept me entertained with each new beat I heard. The samples were a heavy standout to me, as he was able to repeatedly borrow sound from others and tweak it to match his ideas for every track. Another aspect of this tape I found impressive was the variety of this project. There were energy-filled bangers, slower songs with spacey production, and laid-back tracks featuring heavy rapping from Peggy. Peggy's rapping was another highlight of LP!, as Peggy combined precision, shots at his label, pop culture references, and great rhyme schemes into some of his best verses yet.
Following EP2!, which I found to be a bit disappointing in terms of Peggy's standards, I was very curious to see where JPEGMAFIA was going to go with his next full-length project. It's safe to say I was very pleased with every facet of this project, as the production, the variety in tracks, the sampling, and Peggy's rapping all meshed extremely well to create my favorite album of 2021 thus far. I'd give this project a 9.6/10, with my favorite tracks being "HAZARD DUTY PAY!," "END CREDITS," "THOTS PRAYER!" and "REBOUND!" I'm not sure where I would put this album in Peggy's discography, but it is for sure up there with All My Heroes Are Cornballs and The Ghost~Pop Tape. If you like experimental hip-hop and JPEGMAFIA, this album is for you, as Peggy delivers another outstanding project, further cementing himself as one of the best rappers (and producers) of his generation.