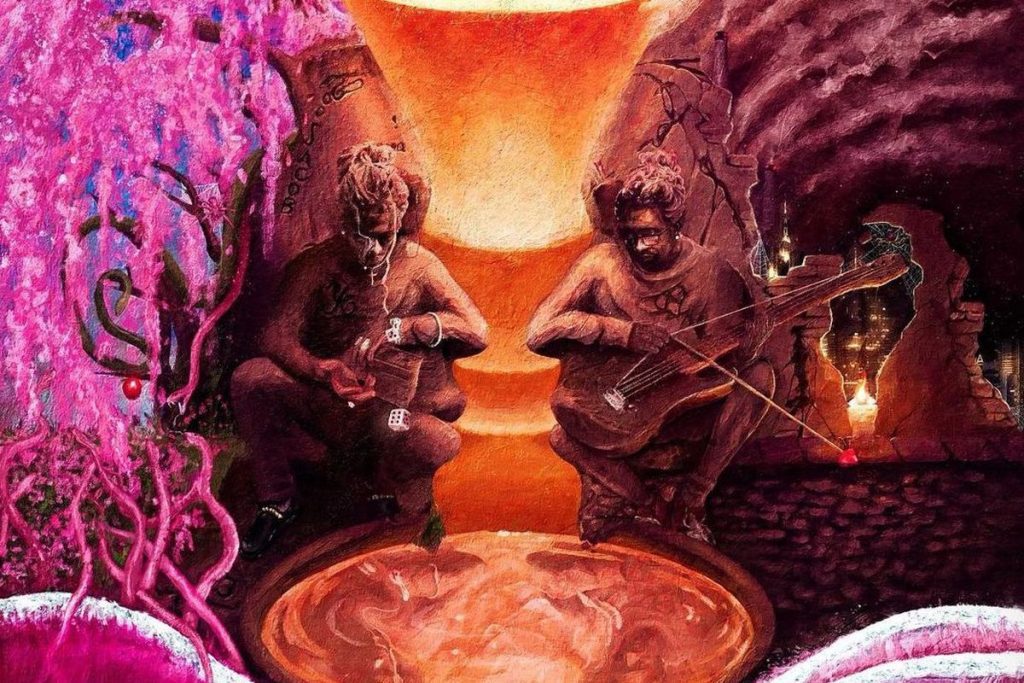 Atlanta's doer of all things, Young Thug, is back with his second studio album, Punk. This comes three years after his first, So Much Fun, but Thugger has been more than active in the music industry since that gap. He executively produced the release of Slime Language 2, a collaboration album with the members of his record label, Young Stoner Life. He was also featured on many high charting albums such as Drake's Certified Lover Boy and Kanye West's Donda. Yes, it shocks me too that Thugger only has two studio albums. His discography is filled with classic albums like Beautiful Thugger Girls, Jeffery, and Barter 6. But these of all classify as commercial mixtapes, but who really knows the difference. Nonetheless, a new studio album from Young Thug is a huge deal regardless considering the impact he's created on the trap rap community.
His debut album, So Much Fun, is one of Jeffery's best in his entire discography. The reason being is because it's one of his most cohesive albums, where there is a clear and impactful theme flowing through the entire album rather than just having a bunch of tracks thrown together. Not to say that isn't bad or the wrong thing to do. But it certainly doesn't help propel a album to the next level of quality needed for an album-of-the-year type project. So Much Fun brings a joyful and light energy mood that is different than one would expect. Young Thug also did a great job with his features on So Much Fun. He did some experimenting by putting artists like Machine Gun Kelly and others while also sticking to some common names he's closer with like Gunna, Lil Duke, Lil Baby, etc. So the expectations are set high for Punk in hopes it follows a similar quality that So Much Fun did.
Everything off Punk down to the tracklist is similar to what was presented off So Much Fun. Thugger includes his fair share of his own artists from YSL such as Strick, T-Shyne, BSlime, and Lil Double 0. Of course, Thugger couldn't drop this album without having at least one surprising name on the feature list. The lead singer of the band "fun." is featured on the track "Love You More". Nate Reuss created hits from the 2010s like "We Are Young" and "Some Nights" back on their 2012 hit album Some Nights. However, the band has not released any music since then but claims they are not splitting either. More popular names who've worked with Thugger in the past like J. Cole, Drake, Travis Scott, Gunna, and Future also have their own features. Fans are also treated with two posthumous features from Juice WRLD and Mac Miller.
The first four tracks on Punk feature an entirely different theme compared to recent projects. Thugger opens up about his dark past growing up and his relationship with his parents. All this comes over a calm but slick guitar beat that hits hard. His soft and open tone gives a real emotional hitting touch. "Stressed" brings the same atmosphere but with different instrumentals. T-Minus's productions make a perfect blend for J. Cole's feature that also pops despite the awkward combination with Thugger's vocals. "Stupid/Asking" goes back to the low-energy acoustic guitars that open up sentiment and deep thoughts. The transition is also well-done to a more trap-themed chill beat. Thugger does a phenomenal job keeping the energy seamless between the two parts of the track. "Recognize Real" also brings the same guitar instrumental as "Stupid/Asking". As a feature, Gunna also has some solid vocals without much auto-tune either. "Contagious" and "Peepin Out The Window" follow a similar motif. This first is a solid strong point for Punk.
Where things start to change is when the track "Rich N***a Shit" comes around. The entire theme from the first third of the album is completely thrown out the window and instead, Thugger brings on a Pi'erre Bourne beat with a ton of high energy and booming bass. However, the delivery is awful. The chicken/bird noises on the hook are completely unnecessary. The Juice WRLD feature doesn't save the track at all and instead this completely ruins the statement that was built through the first leg of the album.  On the next track, Thugger returns with acoustic guitars and quality features from Post Malone and A$AP Rocky on "Livin It Up". "Insure My Wrist" was an enjoyable track. The piano and female vocals throughout the instrumental bring a nice down-to-earth energy. Gunna's voice also continues to carry. It might not be the worst idea for him to ditch auto-tune going forward.
"Scoliosis" takes another twist on Punk, but not one anywhere near as bad as the first. This track almost sounds like it could have been on So Much Fun with the fun sequence, including a flute in the instrumental and a groovy Lil Double 0 feature. The same can be said for "Bubbly". This was definitely made to be a party track and the energy would agree. The emergency horn in the background and the bop sounds make it hard not to dance to. The Travis Scott feature carries the same energy, as he's always known to be best for tracks like this. The main problem with this is the second leg where Drake comes on. There was no reason to change to something more toned down and Drake's mediocre rapping doesn't help keep the track alive either, an absolute dud. "Droppin Jewels" has a nice piano melody throughout the song. "Icy Hot" with Doja cat is another absolute miss on Punk. While I still don't understand why she receives feature opportunities despite multiple reports of her making racist remarks, her vocals on this don't swing me at all. It just creates an embarrassing listen about more sexualized content. Young Thug's verses aren't any better. This is certainly one that should have been left off the album.
The best song on the album is easily "Love You More". The vocals from Nate Reuss right off the bat make it hard-hitting and easily bring out emotions. "Cause I love you more than anything" is hard to shy away from. Young Thug also brings in phenomenal vocals to keep the spirit the same, listing the things he loves that a particular woman does for him. The mellow instrumental with trap mixture creates a great combination. "Hate The Game" is a great follow-up track. Thugger's vocals are versatile and upbeat while keeping the softened consistency throughout. I did enjoy the track "Day Before" with Mac Miller. The instrumental ends on similar terms we saw with the first leg of the album. However, Mac's verse sounds out of place and the lyrics don't really match the theme of what's been discussed throughout. This is definitely one of the leftover verses Mac left behind for artists to sort through.
Overall, I would give Punk a 6.3/10 with my favorite tracks being "Love You More", "Hate The Game", and "Stupid/Asking". The first leg of this album is great with a consistent and cohesive theme that attempts to make an emotional connection with listeners. A lot of these tracks in the first stretch could have been seen on Beautiful Thugger Girls. However, it'll always confuse me why Young Thug just didn't stick with the theme for the rest of the album. He still could have left some of these out-of-place tracks on the album like "Rich N**a Shit" especially and "Bubbly". But the order in which they were placed made it confusing to follow. The back and forth between styles didn't help either. While this album will have some commercial success for Young Thug, there isn't too much to take away from this compared to what So Much Fun offered to fans. Compared to expectations, this is considered somewhat disappointing. None of the high-end features really blew away their opportunity either, other than, maybe Travis Scott. But there are a lot of solid tracks throughout, just nothing that really moves the needle for Thugger as an artist. It'll be fascinating to see what's next for Young Thug as he is always heavily involved in other projects while keeping his style and production as versatile as possible.