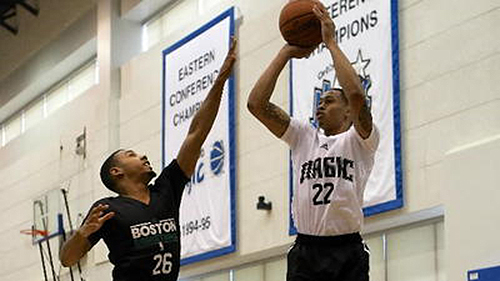 While most players looking to make an NBA roster still have time in the Las Vegas Summer League, others have already finished their tryouts in the Orlando Pro Summer League, where many players impressed, and maybe, one might have made a good enough case to make a roster. Playing for the host Orlando Magic, former Western Kentucky guard A.J. Slaughter made the most of his playing time throughout the week.
After going undrafted out of college, Slaughter took his talents overseas to a trio of teams, bouncing from the Italian league with Angelico Biella, to the Belgian league with Mons-Hainaut and finally the French league team Cholet, Slaughter has yet to find a permanent home. After a solid performance for the Magic last week, Slaughter should have his next team on tap.
In four years with the WKU Hilltoppers, Slaughter averaged 11.7 points and 2.5 assists per game. During his senior season with the school, the 6'3" guard averaged career-highs in points, assists, rebounds and steals. In his one season with Cholet, Slaughter put up averages of 13.9 points and 3.9 assists. After his four year run in college, Slaughter worked on his game and has shined as a score-first point guard.
While Slaughter's Summer League numbers were less than stellar, only averaging 9.3 points and 2.8 assists per game, he went out with a bang on the last day. Seeing his most playing time of the week, Slaughter led the team against the Boston Celtics in points and assists, finishing with 25 and nine, respectively.
Jameer Nelson is the only "official" point guard on the Magic's roster, and with his previous injury woes, the odds of making the team could be in Slaughter's favor. Reports surfaced that the team would not retain veteran point guard Beno Udrih, who was acquired at the trade deadline from the Milwaukee Bucks. With combo guards E'Twaun Moore and Doron Lamb returning, it could be hard for Slaughter to find playing time if he were to make the roster.
Slaughter is a low risk/high reward type of player for the Magic, but they have other things to consider as well. The team currently has a log jam at the shooting guard position, with Arron Afflalo, Moore, Lamb and first round pick Victor Oladipo. The team tried Oladipo out at point guard during Summer League, but a better fit for the Indiana product would be at his natural shooting guard position. While Moore and Lamb can both play the point guard position, it's less than ideal for the team to use one or both as Nelson's backup.
If Slaughter were to make the team, he would not only give them another point guard, but he would also give an abysmal bench a scoring punch. While "winning now" is not important to the Magic, who are in midst of a rebuild, competing night-in and night-out is important to the players' future confidence and fan support. Last season, the Magic ranked 23rd in the league in bench scoring, averaging only 29 points per game. Slaughter's sharpshooting and ability to create off the dribble for himself and teammates would help bolster an abysmal bench.
Currently with only two roster spots open, and second round pick Romero Osby still to be signed, Slaughter shouldn't find much trouble securing a roster spot. If the team chooses to bring him back for camp and the preseason, don't be surprised to see Slaughter's name on the Magic's opening night roster.