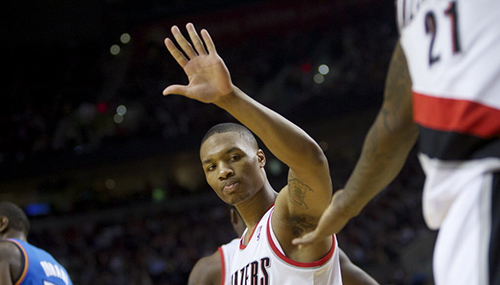 "Humanity is won by playing in the face of certain defeat." -Ralph Ellison
Once again, it seems Rip City is trail blazing a path to mediocrity. Looking at the roster (which is pretty much complete), the Portland Trail Blazers will field a team that is just good enough to miss a lottery pick. Because it was so much fun the first time, they'll continue to overpay the ultra-slow European tandem of Victor Claver and Joel Freeland to slug down the lane in the final minutes of a game that we'd already lost midway through the second quarter. We'll watch the doe-eyed Meyers Leonard, the second year center who wears a look of perpetual surprise and often plays with a forgetfulness which confirms his countenance, disappear over and over again from the paint. While he seems like he's hustling, he'll get six rebounds a game, and he'll only score from inside the restricted area. Add journeyman Earl Watson and the defensively inept Will Barton to the bench, and you'll see that GM Neil Olshey has failed to rid the bench from these lovable underachievers. Anybody who watched last season can tell you why we lost so many games in the second quarter. Because Ronnie Price was our back-up point guard, and the Blazers bench wasn't very good at playing basketball.
Still, it's really not as bad as it sounds. Despite the loss of J.J. Hickson (my favorite player to watch last year), the Blazers will be better this season. The acquisitions of Robin Lopez, Dorell Wright and Thomas Robinson will improve the Blazers front court–even if Wright comes off the bench in a Travis Outlaw, small-forward type role. I say this not because Lopez is better than Hickson. He's not. But serviceable depth is better than the gaping hole in the paint last year whenever J.J. was on the bench. Actually, aside from the Boston Celtics pillaging the Nets organization and the Golden State Warriors' last-minute play for Andre Iguodala, the Lopez trade might be the steal of the offseason. Come December as we watch Jeff Withey become Greg Stiemsma 2.0, Blazer fans will be relishing in the daily doubles that Lopez will post.*
Additionally, I think Olshey drafted well. C.J. McCollum and Allen Crabbe should both be solid contributors off the bench, and they both have a chance to be reliable guards in the NBA. Couple these guys with Nicolas Batum and Damian Lillard, as well as an aging, but still productive LaMarcus Aldridge, and the Blazers could contend in three years.
However, as all Blazers fan know–anything can happen in three years. Big market teams will overpay Batum and Aldridge won't re-sign unless they've got a viable chance to make a run in the playoffs. It seems that a roster overhaul is in order as we speak. At the very least, glean the medicority from the bench and take a chance on some other players.
As it stands now, the Trail Blazers will be good enough. They'll be a hard-working, likable team that can hang with anyone on any given night. They'll make unbelievable comebacks, and Lillard will thrive in the pick and roll with Lopez. They'll play charming small-ball and aptly fill their underdog role. They'll win our hearts with selflessness and hustle. They'll be good enough to finish 42-40, and they'll lose in the first round of the playoffs.
*These sentences are contingent upon the unlikely health of Robin Lopez. Given the Blazer's luck with injuries, he probably just broke his leg in his sleep.