7/31/2013 – Wade ordered to surrender children to their mother: Miami Heat star Dwyane Wade was ordered Tuesday by a family judge in Miami-Dade County to surrender his two boys to their mother, his ex-wife Siohvaughn Funches. Wade was supposed to make his sons Zaire and Zion available to Funches last week as part of their routine summer visitations.But instead, the ballplayer's Miami lawyers filed an emergency motion to prevent the boys from visiting Funches and questioning her mental stability. Miami Herald
USA Basketball will relocate to Tempe sometime in the fall of 2015.

— Jeff Zillgitt (@JeffZillgitt) July 31, 2013
USA Basketball's $350 millon project includes headquarters, training center, 4,500-seat arena, hotel, conference center, apartments, retail.

— Jeff Zillgitt (@JeffZillgitt) July 31, 2013
Vegas leftover morsel: USA Basketball still covets Roy Hibbert but all FIBA signals lead USAB to believe @Hoya2aPacer locked into Jamaica

— Marc Stein (@ESPNSteinLine) July 31, 2013
7/31/2013 – Gasol welcomes larger role with Howard gone: With Dwight Howard gone and Kobe Bryant injured, Pau Gasol is looking to reassert himself as a leader of the Los Angeles Lakers. Knees allowing, he wants to be the dominant player of old who helped Bryant & Co. win NBA titles in 2009 and 2010. "I think I have the most uncertain period behind me," Gasol told The Associated Press. "The team has suffered a lot of changes, but as far as me, I am back in the position of a lot of responsibility, which I like, and I'm just going to focus on getting healthy. "Now with Dwight gone I am the reference inside and I am more like I was a couple of years back when we made the finals three straight times and won two straight championships," he added. USA Today
7/31/2013 – Nash expects to be 100 percent by training camp:The fact that Nash, 39, is running around a soccer pitch and even considering extending his career further into his 40s than the two years remaining on his contract is an encouraging sign for the veteran who missed 32 regular-season games plus two playoff games last season because of a fractured fibula in his left leg followed by lingering nerve discomfort. "It's coming along nicely," Nash said of his health. "I'm not 100 percent, but it's getting close. In the next two months for sure, but I imagine in the next two to three weeks I'll be 100 percent and that gives me another month [before training camp] to get even better. The fortunate thing about it is it's been mostly a nerve situation I'm dealing with and nerves take time, but I've been able to work around it and work to strengthen different areas. So, it's not like I've been waiting and waiting for something to heal. I've been waiting in one respect for the nerves to settle down, but I've also been strengthening in other areas and I've been on the court, too. So, I had a really good summer." Nash says he does not believe that any further invasive procedures will be necessary. "We tried the two epidurals during the playoffs and there was some release, but not completely," Nash said. "We're hoping to get to a point where we don't need to try that again because it's a little bit of a hit and hope with the epidural. There is release, so I shouldn't say hit and hope — the doctors will be pissed at me — there is release but it's not the cure. So, I think they'd like to settle it completely down and then work with my biomechanics to keep that nerve from being compromised again." ESPN.com
7/31/2013 – Aldridge interested in playing for Team USA: USA Basketball chairman Jerry Colangelo has left the door open for Portland Trail Blazers All-Star LaMarcus Aldridge to represent his country if he has interest in doing so. However, Colangelo reiterates that he is not reaching out to players. He only wants players who are willing to make the necessary commitment to going through the entire process. When asked about Aldridge's chances of being added to the USA Basketball program, Colangelo's response was basically that he needed to hear from Aldridge, himself. "I am always interested in players who seek to compete," Colangelo told CSNNW.com Tuesday night. "My phone is always available. Unless one is hungry and passionate about USA Basketball, there is little chance. "Certainly we won't solicit." In mid-April, Aldridge informed CSNNW.com that he would participate if requested. It is unknown at this time if Aldridge will contact Colangelo. Aldridge, 28, has the perfect game for international competition. At 6-10, he's excellent at running the floor, he can shoot the outside jump-shot with consistency and range. But most importantly h can guard multiple positions. On Sunday, @Sean_Collins23 tweeted a question to Aldridge asking him if he had thought about playing for Team USA. Aldridge replied back, "Yeah, I want to." CSNNW.com
He still know he has to play for Portland too, right? – FB
Hearing: Knicks can only offer minimum, but I'm told they're trying hard to convince free-agent PG Beno Udrih to take it and come to NYC— Marc Stein (@ESPNSteinLine) July 31, 2013
————————————————————————————————————————————————————
Austin Daye has reached agreement on two-year, $2 million deal with Toronto, league source tells Y! Sports.
— Adrian Wojnarowski (@WojYahooNBA) July 30, 2013
7/30/2013 – Pistons and Bucks switch point guards: The Detroit Pistons have reached an agreement in principle to acquire Brandon Jennings in a sign-and-trade deal with the Milwaukee Bucks, league sources told Yahoo! Sports. The Pistons are finalizing a three-year, $24 million contract with Jennings, sources told Y! Sports. Detroit will send guard Brandon Knight, forward Khris Middleton and center Slava Kravtsov to the Bucks, sources said. Jennings, 23, averaged 17.5 points and 6.5 assists in 80 games for the Bucks last season. He was the 10th overall pick in the 2009 NBA draft and has spent his first four seasons with the Bucks. Yahoo! Sports
Surprise development in Mavs' big man search: Hearing Dallas in serious talks on signing DeJuan Blair. Told deal looks "promising"

— Marc Stein (@ESPNSteinLine) July 30, 2013
7/30/2013 – Mavs eyeing DeJuan Blair:The Mavericks are closing in on the signing of free-agent big man DeJuan Blair, according to sources with knowledge of the talks. Sources told ESPN.com that the Mavericks — who remain one of six finalists for the services of Greg Oden — are in advanced talks to add Blair to a revamped rotation of frontcourt sidekicks for Dirk Nowitzki.The deal, expected to be a one-year contract at the league mininum $1.4 million, has not yet been officially announced. ESPN.com
Denver's Erick Green, the 46th pick in the NBA Draft, has reached agreement on a one-year deal with Siena of Italian League, sources tell Y!

— Adrian Wojnarowski (@WojYahooNBA) July 30, 2013
7/30/2013 – Mike Miller officially signs with the Grizzleis: The Memphis Grizzlies signed two-time NBA champion Mike Miller, the team announced today. Per team policy, terms of the deal were not disclosed. The signing reunites the Grizzlies with the sharpshooter, who still owns eight major franchise records after playing five-plus seasons in Memphis from 2002-08."We are extraordinarily pleased to welcome Mike Miller back to Memphis," Grizzlies Chief Executive Officer Jason Levien said. "Mike is a special figure in our community due to his contributions both on and off the court. Mike is an elite three-point shooter, as Grizzlies fans know first-hand, and we expect his shooting, play-making, hustle and leadership to be a key component in our team competing with the best in the NBA next season." Miller (6-8, 218) has spent the last three seasons with the Miami Heat, where he helped the club to three consecutive NBA Finals and win back-to-back NBA championships in 2012 and 2013. Miller scored 23 points and went 7-of-8 from three-point range against the Oklahoma City Thunder in the championship-clinching Game 5 of the 2012 NBA Finals. He made 9-of-10 from beyond the arc in the first three games against the San Antonio Spurs in the 2013 NBA Finals, which Miami won in seven games. In 25 career NBA Finals games, Miller has shot 25-of-47 from long range (.532). NBA.com
7/30/2013 – Rons Artets's brother Daniel wanted him in black and grey: Daniel has been an ardent Spurs fan since he was 10 and tried to orchestrate his brother to San Antonio. Their father, Ron Artest Sr., was in the Navy and always trumped up Spurs legend David Robinson. And Daniel knew fellow New Yorker Lloyd Daniels, who wound up in San Antonio. Daniel said Spurs coach Gregg Popovich expressed interest in his brother during the playoffs. "I finally met Popovich, told him I was a big Spurs fan and he said he always liked Ron on his team,'' Daniel said. "I relayed the message, tried to convince [World Peace], but my brother didn't believe me.'' As it was, Daniel feels his brother was miscast by Lakers coach Mike D'Antoni. "Personally, I don't think D'Antoni used him right,'' Daniel said. "He should have posted him up more and catered to Dwight [Howard]. They were running and running. Nobody was happy there. That's why they had the season they had.'' Will World Peace fit in with Knicks coach Mike Woodson? "He's a defensive coach,'' Daniel said. "He always talks defense first. And he's never had enough guys like Metta on his team.'' New York Post
Steve Nash is working out w/ Inter Milan today in NJ. Milan is in town for inaugural Guinness International Champions Cup, starting July 31.

— Jared Zwerling (@JaredZwerling) July 30, 2013
#NBA source: #Sixers not working on any buyouts. Likely they'll buy out final year of Kwame Brown deal (he picked up option) or waive him.

— Tom Moore (@tmoorepburbs) July 30, 2013
7/30/2013 – Ryan Gomes signs with OKC: Free-agent forward Ryan Gomes has agreed to a one-year deal with the Oklahoma City Thunder, league sources told Yahoo! Sports. Gomes, 30, gives the Thunder a versatile forward with the ability to spread the floor with his shooting. The deal is short of a full guaranteed salary at the veteran's minimum, league sources said. A seven-year NBA veteran, Gomes was out of the league for the past year after the Los Angeles Clippers used the amnesty provision on him. After failing to capture a job in the NBA a season ago, Gomes played briefly in Germany before parting ways and returning to the United States. For his career across stops in Boston, Minnesota and Los Angeles, Gomes has averaged 10.2 points and 4.6 rebounds. Yahoo! Sports
————————————————————————————————————————————————————
7/29/2013 – Thunder low-balling Andre Roberson: Almost always, rookies are quickly offered and sign near the maximum, like Steven Adams did last week, reaching a deal with the Thunder that will pay him $2.09 million next season, nearly $400,000 more than the suggested value of the 12th pick. So that's why it was a bit surprising when, late last week, word also surfaced that the Thunder brass had lowballed its other first-round pick, signing Andre Roberson to only 80 percent of his first-year value. The 2013-14 pay scale suggests the 26th pick make $925,700 next season. Its maximum value is around $1.1 million. But Roberson will only bring in $740,560. On the surface, the move is a frugal one. Some have even grumbled that it was cheap, a small market franchise going against standard NBA thinking to save a couple hundred thousand dollars. Oklahoman
7/29/2013 – Carmelo can pick his teamates in 2015: On the Anthony front, there is a chance he looks at greener pastures in 2014, but sources close to the process say the Knicks have already let Anthony know that their books will be basically clear in 2015 and he can pick his teammates much as Wade did in Miami. With the New York market behind him and the almost unlimited checkbook of the Knicks, Anthony will have a lot of options in 2015 and while teams like the Chicago Bulls and Los Angeles Lakers might be tempting in 2014, Anthony has a lot of influence in New York and they are willing to let him build his own team in NYC in 2015. If James and Anthony stay where they are next summer, the free agent class of 2014 takes a huge step backwards, mainly because the next tier of available guys could be the likes of Chris Bosh, Rudy Gay and potentially Brandon Jennings; none of those looks to be the franchise changers that the Lakers or the Bulls were banking on. HoopsWorld
7/29/2013 – Hawks claim Ayon off waivers: The Hawks claimed forward/center Gustavo Ayon off waivers, the team announced Monday. Ayon, 6-foot-10, 250 pounds, was waived by the Bucks last week prior to his $1.5 million salary becoming guaranteed. Ayon played 55 games last season with the Bucks and Magic and averaged 3.7 points and 3.6 rebounds. "I am very excited to join the Atlanta Hawks," Ayon said in a statement released by the team. "I had a great conversation with Coach (Mike) Budenholzer and can't wait to get to the city, meet my teammates and get to work." Ayon, 28, was acquired by the Bucks on Feb. 21 as part of the trade involving J.J. Redick. He came to the NBA in 2011-12 and played for the Hornets after professional stints in his native Mexico, Spain and Venezuela. Atlanta Journal-Constitution
7/29/2013 – Kelly Olynyk, Anthony Bennet, Andrew Wiggins won't be attending Canada's basketball camp: Canada's senior men's basketball team will be without two key players for its short summer season. A shoulder injury will sideline NBA No. 1 draft pick Anthony Bennett while Canada's second 2013 lottery pick, Kelly Olynyk has been forced out of the qualification tournament for the 2014 basketball World Cup. "He's so keen about wanting to play but the Celtics had some concerns," national team head coach Jay Triano said of Olynyk, who has been with senior program since 2010. Other than those two omissions, the 18-man camp roster suits Triano and general manager Steve Nash just fine. They have mix of international experience in long-time European pro Carl English, young NBA talent in San Antonio guard Cory Joseph and intriguing young pros like Tristan Thompson. Presumptive 2014 No. 1 NBA pick Andrew Wiggins is not among the invitees; he's at Kansas getting ready for his first and likely only NCAA season. Toronto Star
7/29/2013 – Tyreke Evans "Shamgods" Seattle Mayor:
[youtube]http://youtu.be/Yp1IknjO2d0[/youtube]
7/29/2013 – LeBron free agency rumors persist: Despite James winning consecutive championships and most valuable player of the year awards, the talk remains on his next move. You don't hear any discussions about the Heat possibly becoming the first team to three-peat since the Los Angeles Lakers in 2002, no one is talking about James perhaps ending his career in Miami. Instead, there is only speculation of James playing everywhere from Dallas to Los Angeles to New York to even returning to Cleveland. "I guess it's a byproduct of the way the league is right now," Chicago Bulls coach Tom Thibodeau said. "There's always going to be speculation. That's sort of the nature of the league. But he's property of the Heat right now and no one can really talk about it."
South Florida Sun-Sentinel
7/29/2013 – Andre Drummond is on Detroit's untouchable list, kind of: Q: You have an abundance of power forwards. Are you looking to make a move there? A: I'm open to whatever — whatever is going to make us better. That's probably as much as I can say. Q: Is Andre Drummond the only untouchable? A: We're open to whatever, but it doesn't mean you're going to do the deal. There's a pecking order of things we would and wouldn't do. Drummond is one the guys we're certainly not looking to move at all. Detroit Free Press
7/29/2013 – Run for your lives Isiah Thomas is coming: In an effort to lift itself from the dysfunction and ineffectiveness of the Billy Hunter-Derek Fisher regime, the NBA players association has spent the past month identifying four candidates to succeed Hunter as executive director. Led by 18-year veteran Jerry Stackhouse, the NBPA has narrowed its options to former NBA coach and league executive Stu Jackson, Pistons legend and former NBA coach Isiah Thomas, former Madison Square Garden executive Steve Mills and Charlotte Bobcats president Fred Whitfield, FOXSports.com has learned. Sports attorney David Cornwell is said to be a longshot candidate. "I'm totally denying we are down to those four prospects," Stackhouse told me Sunday afternoon. "Those are just four well-known guys, guys who know our business, guys who have ideas we wanted to hear from. They are not the only guys we want the search firm to vet. I haven't even had a chance to talk with Fred Whitfield yet. I was planning to do that on Monday." FoxSports.com
7/29/2013 – Keven Durant throws down a nasty dunk on his way to 35 points and 17 rebounds in Drew League game:
[youtube]http://youtu.be/jiGsWLTseAU[/youtube]
————————————————————————————————————————————————————
7/26/2013 – Wall is fine with coming off the bench for Team USA: Wall's night got off to an inauspicious start, as he was forced to come off the bench, behind Damian Lillard and Dion Waiters, for the team led by Chicago Bulls Coach Tom Thibodeau. Wall said he didn't take offense to having to play a reserve role. "When I'm playing for my country, as long as I got USA across my chest, I don't care if I'm the 12th man, as long as I'm playing," Wall said. "When you're out there, you have an opportunity to put that on your chest, it's a humbling experience and all of us are so talented, the coaches fit whatever lineup that they feel is right. I mean, look at Russell Westbrook. Coming off the bench, he gave the USA a good spark, so I don't mind that. With USA basketball, it's different than what you would do with your own team in the NBA." Wall entered the game with about six minutes left in the first quarter and committed a turnover and blocked a Ty Lawson shot within 20 seconds. His struggles continued as he had another turnover in which the ball squirted from his hands, he recovered the ball and was called for a double dribble. A driving layup ended with him moving so quickly that the ball hit the side of the rim, and another layup attempt was blocked. Washington Post
Ill be picking my new nickname from a fan in two weeks.

— Metta World Peace (@MettaWorldPeace) July 26, 2013
7/26/2013 – Maggete ready to play for a contender: It's easy to forget about Maggette since he only played a total of 18 games and 257 minutes for the Detroit Pistons last season. However, this drop off wasn't Maggette's fault. The Pistons never had any intention of playing Maggette or making him part of their long-term plan – they just wanted his expiring contract rather than his on-court production. However, Maggette is just one year removed from averaging 15 points per game with the Charlotte Bobcats. Even though Maggette hasn't done much lately, he still seems to have gas left in the tank and could be a key reserve for a team. At this point in his career, Maggette wants to play for a contender. He has made more than $89 million since entering the NBA in 1999, so he could likely be signed for a one-year deal worth the veteran's minimum. Sources close to Maggette say that he briefly considered retiring this summer so that he could attempt to land a job within an NBA front office. He recently took part in the NBPA's Leadership Development Program, which essentially grooms current players to become executives. However, it's looking like he'll play one more season and then attempt to join a front office next offseason. HoopsWorld
Whats the over/under for games he plays till he gets hurt? We should start a pool or something. – FB
BTW, I hear the Kings will be meeting the DeMarcus Cousins' agent, Dan Fegan, to discuss contract extension in the near future.
— Jason Jones (@mr_jasonjones) July 26, 2013
7/26/2013 – Ronnie Brewer ready to bounce back: Brewer's stock took a hit after he was dealt to the Oklahoma City Thunder at last year's trade deadline, but he's still the same highly coveted role player who turned down larger offers to join the New York Knicks last offseason. The 28-year-old appeared in just 15 games for the Thunder because their rotation was set when he arrived in Oklahoma City in February, but he played well in 46 games with the Knicks last season.Over the past three seasons, Brewer has shown that he's a team-first player who can help an organization with his versatility and postseason experience. Brewer is also a terrific man-to-man defender, who deserves to be on a team even if he's just contributing in a defensive-specialist role. Brewer's name hasn't surfaced much since free agency started, but he could end up being a late addition who helps a team in the long run. HoopsWorld
By conclusion of four-day USA Basketball mini-camp, Nuggets F Kenneth Faried had impressed key observers w/his energy and activity levels.

— Jeff Zillgitt (@JeffZillgitt) July 26, 2013
Derrick Favors on missing this playing opportunity because of his back injury: "I'm mad as hell."

— Jody Genessy (@DJJazzyJody) July 26, 2013
Derrick Favors on his sore back: "I couldn't really move, couldn't really jump, couldn't run, so I just sat out."

— Jody Genessy (@DJJazzyJody) July 26, 2013
7/26/2013 – Kenny Anderson talks about being sexual abused as a child: Kenny Anderson couldn't hide his story any longer. He wanted to help himself, help others, and the former Queens basketball prodigy turned NBA star figured revealing he was sexually abused as a child was the perfect solution. Anderson released the dark moments of his childhood during the Off-Broadway play, "The Penis Monologues," and reiterated them to The Post yesterday. "That's why I got my heart filled with anger somewhat," the former Nets star and New York City high school legend said. "You have everything in the world, but you're still miserable. That's who I was." He was twice sexually abused, first by "a neighborhood guy on the block," at age 8 before he moved to Lefrak City, Queens, and then two years later, by a youth basketball coach. Each act happened once and was never repeated, Anderson said. Neither person, who Anderson, 42, declined to reveal, was attached to Archbishop Molloy, his alma mater, or the AAU programs he played with, Riverside Church or the New York Gauchos. Anderson, who has fathered eight children by five women, doesn't plan to confront either man, but will reveal their names — he has only told his third wife Natasha up to this point — and the details of the events in his autobiographical book, entitled, "Instructions not Included," which he plans to release next March. New York Post
————————————————————————————————————————————————————
7/24/2013 – Monroe wants to stay put in Detroit: Various reports have linked the Pistons to interest and trade talks involving Rajon Rondo, prompting some chatter that perhaps Monroe, a 2010 lottery pick, might be the piece needed to pry the All-Star point guard from the rebuilding Celtics. "I think neither of us want a change," Monroe said of his standing with the Pistons. "People are going to write stuff. I just laugh at it most of the time, because it's foolish. That's how people get paid nowadays. Guys like us have to live with it because we can't comment on it. It's going to happen. As long as I know the truth, I'm fine with it." The truth, in Monroe's eyes, is that Detroit's "jumbo-ball" approach with himself, Drummond and Smith together will get a legitimate chance to prove to skeptics that it can work. "I'm definitely interested in getting into it and seeing how we play together," he said. "Most nights, we're going to be bigger than everyone. We have to get into the gym together, work together, so we're ready to go for the season. … [Smith is] a very versatile player. There's no question he can guard threes, he can put it on the floor, he can make outside shots. I know a lot of people are worrying about it, but I think as players, us three, being intelligent players, we're going to be able to work it out. The coaching staff are very intelligent people. I know a lot of people are worried about it, but we'll be fine." SI.com
NBA sources who watched tell me former Indiana Mr. Basketball Greg Oden's workout went "great" today at Trader's Point in Indianapolis.

— Jeff Rabjohns (@JeffRabjohns) July 23, 2013
7/24/2013 – Oden works out for several teams: Greg Oden went through a two-hour workout Tuesday in Indianapolis in front of Miami Heat coach Erik Spoelstra, new Sacramento Kings general manager Pete D'Alessandro and representatives from the New Orleans Pelicans, according to sources close to the situation. Sources told ESPN that Oden will put his skills on display again Thursday for Atlanta Hawks officials before sitting down for his long-anticipated private meeting with the Pelicans later this week in Las Vegas. The San Antonio Spurs and Dallas Mavericks also continue to pursue Oden hard. One source close to the process told ESPN.com that teams in the Oden hunt are still in the information-gathering stage and that none has yet put forth an official offer to the former No. 1 overall pick. "It went well," the source told ESPN about the workouts. "He did a ton of agility stuff, ran suicides and also did drills on the court." ESPN
7/24/2013 – Jason Maxiell is ready to mentor the Orlando Magic's youngsters: Some of the first lessons Jason Maxiell learned as a Detroit Pistons rookie came from veteran teammates Rasheed Wallace and Antonio McDyess. When Wallace thought Maxiell was pressing a bit on the court, Wallace advised Maxiell to slow down and play more patiently. McDyess noticed that the bulk of Maxiell's offense came from dunks. McDyess told the rookie that athleticism eventually fades away. McDyess recommended that Maxiell should start doing more work to hone his jump shot. Now, eight years later, Maxiell finds himself in a different role. The Orlando Magic recently signed him to a free-agent deal to provide frontcourt depth and to serve as a mentor and example to young players. "I'm not a very verbal guy, but sometimes you have to be," Maxiell said in a phone interview. "I will guide them along the way. I'm going to show them the first time and help them out the second time. And, by the third time, they should have it down pat, and then they'll be on their own." Listed as 6-feet-7 and 260 pounds, Maxiell is most comfortable playing power forward, but he can also serve as a backup to center Nik Vucevic. Orlando Sentinel
7/24/2013 – Coach K commits to four more years with Team USA: As he officially launched this week into four more years in charge of America's team, Mike Krzyzewski shared his most detailed explanation yet why he was initially so convinced that he'd be walking away from the international arena after the 2012 Olympics. Turns out Krzyzewski wasn't sure how much coaching he wanted to do — of any kind — after the long grind in London that secured a second straight gold medal for Team USA only after a narrow, nervy escape against Spain in the championship game. "A year or so ago, I was thinking a little bit about [retirement]," Krzyzewski revealed this week. "I'm 66. I wasn't sure how long I was going to coach. "But I'm not thinking about that at all any more and haven't been for a while. I'm sure I'm gonna coach for a while, and through the Olympics by far." ESPN
7/24/2013 – 'Maintenance issue' forces delay of LeBron flight: A "maintenance issue" delayed LeBron James' departure from Manila by 1 1/2 hours Wednesday morning, July 23.The pilot of the GulfStream executive jet carrying the NBA star decided to delay the departure of the plane, after noticing a cockpit warning light flashing while the plane was taxiing on its way to the runway. The flight was supposed to take off from the Ninoy Aquino International Airport (NAIA) for Guangzhou, China, at 8:48 am, but the pilot decided to go back to the hangar to have the plane inspected. Mechanics then checked the jet for around 20 minutes, and was later cleared for takeoff at 10:12 am, according to Ages Aviation Center, the company that took charge of the plane's ground handling. Rappler
7/24/2013 – Bazemore the 499th best player in the League: Kent Bazemore is a second-year player for the Golden State Warriors who's known more for his end-of-the-bench celebrations than for anything he's done on the court. But Bazemore is a professional basketball player in the greatest basketball league in the world, and that is something not a ton of people can say. Recently, Bazemore revealed that he had stitched the number "499″ into the tongue of his shoes, a number that corresponds with Bazemore's 2012 pre-season ranking in an ESPN online feature published before the 2012 season. ESPN asked 104 experts to rank 500 NBA players on a score of 1-10, and Bazemore was the 499th-ranked player, just ahead of Eddy Curry, who came in last. There are only 450 roster spots in the NBA, so the list, unscientific as it was, basically said that Bazemore didn't belong in the league. But Bazemore did make a roster, and was a valuable team guy for Golden State last season. To keep himself motivated, he stitched the number onto his shoes to remind him what all those experts thought of him. For The Win
————————————————————————————————————————————————————
Houston & Denver still hanging around in Mike Miller chase, but Thunder & Grizz appear locked in duel at front of the line for sharpshooter

— Marc Stein (@ESPNSteinLine) July 22, 2013
7/22/2013 – Kendall Marshall Working To Play Critical Role In Suns' Rotation: Through all the backcourt additions that the Phoenix Suns made this offseason, Kendall Marshall stayed in the gym, pinpointing two areas for improvement. In the midst of speculation about his future, Marshall has envisioned himself growing in the backcourt with Goran Dragic and Eric Bledsoe, Shannon Brown and Malcolm Lee, remaining confident he fits into the Suns' future. "I'm excited about the team," Marshall told RealGM. "I know we're going to play fast next year, and I'm looking forward to that. I have to find my place throughout preseason and throughout training camp to showcase that I can contribute." Marshall shot just 37.1 percent from the field in his rookie season, lacking the arc and stability to have faith in his jumper in a given game. Nevertheless, he's spent the offseason putting up "lots of shots" in Phoenix and summer league, as well as an elevated plan to get stronger. "The two things that I've been really been working on is my body and my jump shot, doing a lot of it," Marshall said. "I can see some improvements, but I got to continue to make strides if I want to be a contributor on a team."For Marshall, being part of trade speculation hasn't brought frustration, and the 21-year-old isn't worrying about whether he could be dealt. "That's out of my control. All I can control is how hard I work and what I do when I'm on the court," Marshall told RealGM. "That's all I'm worried about. Only thing I'm worried about is playing." Real GM
Hunch: Pek's camp is seeking Joakim Noah-like money (5-years, $60M). Can't see Flip going to 5-years. The negotiation continues. #twolves

— Darren Wolfson (@DarrenWolfson) July 22, 2013
7/22/2013 – Nate Robinson Voices Frustration Over Being Unsigned: No one expected Nate Robinson to return to the Chicago Bulls after last season, especially not with Derrick Rose coming back, Kirk Hinrich still having another year left on his deal and the hope that Marquis Teague will be able to play the lead guard role in the NBA. Still, the 5-9 scoring machine finished fourth on the Bulls in scoring last season, played in all 82 games and was the key reason why Chicago was able to triumph over the Brooklyn Nets in the first round of the playoffs last year. After the Bulls' 2012-13 campaign and the way he played, it was almost certain Robinson would earn himself a sizeable raise over the veteran's minimum and a guaranteed contract for the next two or three seasons.But Nate Robinson remains an unsigned free agent and when free agency opened on July 1, no one expected he would go unsigned for this long. Last week, Robinson took in the Bulls summer league contest in Las Vegas and joined the broadcast crew (after signing a baby, no less) to talk about his situation and the frustration of still being without a new team and having the security of a new contract was apparent. "It's frustrating because you put in your hard work. I worked my butt off year in and year out, ever since I was a little boy, to get to this point now, not to be signed. But at the same time, I'm not going to let that discourage me of being who I am, just working hard. I want people to understand and know Nate Robinson is that player who's going to play his heart out, no matter what, good or bad. " NBC Chicago
7/22/2013 – Delonte West will be ready when the call comes:It's the weekend of July 21, 2013, and Summer League is going strong in Las Vegas. There, deep in the desert city that is one day destined to host an NBA team, a plethora of unproven rookies and borderline veterans are playing like their careers depend on it. Twelve hundred miles away in Dallas, in a multi-room apartment he shares with his pregnant wife, Delonte West alternatively works out anxiously and waits by his phone eagerly. He knows his eight-year NBA career hangs in the balance. And West knows, after being cut this past October 29 by the Dallas Mavericks for disciplinary reasons and sitting out the entire 2012-13 season, that he's not ready for it to be over. "I had tears in my eyes watching games this past year—not because I'm bipolar, but because I'm sitting at home and miss the game" West says. "When my agent calls, I'm going to be on the next flight. Not to be cocky, but some teams that are trying to win are one guard away, one guy that can make a couple great plays away from going to the Finals. Slam
"We got Bargnani in a great place because I think he wants to prove a lot of things" @tysonchandler

— Jonah Ballow (@jonahballow) July 22, 2013
"He'll give Melo the space on the offensive end as well as having another big body out there" @tysonchandler on @AndreaBargnani

— Jonah Ballow (@jonahballow) July 22, 2013
Despite shaky offseason, Nuggets forward Evan Fournier still believes Denver has enough talent compete at a high level out West.

— Lang Greene (@LangGreene) July 22, 2013
Word coming from Memphis folks I follow – Grizzlies expected to give Mavs a 2016 2nd rd pick for Nick Calathes' rights. — Mark Followill (@MFollowill) July 22, 2013
7/22/2013 – Contract extensions coming for 2010 draftees: NBA players selected in the first round of the 2010 draft are eligible for contract extensions this offseason, which means budding stars like John Wall could sign deals that set them for life in the next few weeks. We took a look at players who got their contracts extended in the last decade while still on their rookie deals and found a few nuggets. Out of 294 first-round picks between 2000 and 2009, only 72 (24.4 percent) received extensions before their rookie contracts expired. Players selected with the No. 27 pick saw their contracts extended more often than No. 2 picks. Only two No. 2 picks – Kevin Durant and LaMarcus Aldridge – signed extensions in the last 10 years. Half the first-rounders of the highly acclaimed 2003 draft class received extensions while still on their rookie deals – including picks No. 27, 28 and 29. Darko Milicic was the lone Top 8 choice not to get one. HoopsHype
7/22/2013 – DeMarcus Cousins enters pivotal week: This is when it starts, this new day for DeMarcus Cousins. His return visit with the U.S. national team – the chance to enhance his prospects as a future Olympian – is also his latest and perhaps best opportunity to obliterate the past and sketch a more favorable, embraceable image.The suspensions. The locker room feuds. The verbal tangle with a television analyst. The communication dust-up a year ago with the USA Basketball czar. With issue-free participation in this week's minicamp, Cousins redirects his career. He wins over his critics, empowers his advocates and delivers a strong message to his new bosses and his curious fans back in Sacramento. Sacremento Bee
7/22/2013 – Goodwin impresses at Summer League: Archie Goodwin was well aware, coming into this year's NBA Draft, of what had been said about him. Kentucky coach John Calipari, as liberal as any coach when it comes to one-and-done players, advised Goodwin against entering the draft, fearing he was not ready. Scouts around the league were echoing that sentiment. They were impressed with Goodwin's athleticism, sure, but not particularly wowed by his shooting. He shot 26.6 percent from the 3-point line and, though he got to the free-throw line 6.4 times per game, made only 63.7 percent of his attempts. "I know what people were saying, but I thought that going into the draft was the best thing to do for me and my family," Goodwin said. "I think it is a matter of, I need to work on my game and get better at my game, so I might as well do that in the NBA where I can focus on that all the time." Goodwin needs work, and he's the first to admit it. But there is no question that he has emerged as one of the brightest lights of the NBA's Summer League, despite posting just seven points in Phoenix's 91-89 semifinal victory over the Miami Heat, which put the Suns in Monday's championship game against the Golden State Warriors. Goodwin made an incredible shot in the second quarter, a one-handed flip while being fouled on an inbounds pass, but the play was waved off by the referee, who called the foul on the floor. Sporting News
—————————————————————————————————————————————————————–
DeJuan Blair is interested in signing with the Wizards, source tells @SNYtv. @WojYahooNBA reported Washington had interest.

— Adam Zagoria (@AdamZagoria) July 19, 2013
Euroleague star Bobby Brown's grown value in Vegas workouts this week, w/ significant China offers now competing w/ Knicks, other NBA teams.

— Adrian Wojnarowski (@WojYahooNBA) July 19, 2013
7/19/2013 – Matt Barnes gets paid: After more than a decade in the league, NBA star Matt Barnes FINALLY signed the mega-contract he's always wanted … telling TMZ, "I've been underpaid for a long time." Barnes — who recently inked a 3-year $11 million deal with the Los Angeles Clippers — was working out at TapouT in L.A. yesterday when we congratulated him on striking it rich. "It's been a long time coming," said Barnes … who only made $854,389 last season. When we asked why he thought it took so long to get such a big contract, Barnes didn't hold back — saying, "I don't know … I don't think they liked me." It's unclear who the "they" is … considering he's played for multiple NBA teams including the Lakers, the Suns, Orlando and Golden State. TMZ.com
Bynum calls questions about his work ethic nonsense #Cavs Getting career back on track and playing full season his only goal

— M.S. Boyer/J. Valade (@PDcavsinsider) July 19, 2013
Grant confirms forward Luke Walton has been renounced

— Bob Finnan (@BobCavsinsider) July 19,
2013
7/19/2013 – Wolves and Pek closing in on a deal: The Timberwolves will meet with Nikola Pekovic's representatives in the next week in an effort to reach a contract agreement, team owner Glen Taylor said on an NBA TV interview during Thursday night's Vegas Summer League game. I'm told no date has been set and when it happens, expect president of basketball operations Flip Saunders to travel alone to New York City to meet with agent Jeff Schwartz, who also reps Kevin Love and before that represented Al Jefferson in his 2007 contract negotiation with the Wolves. The Wolves have made Pekovic an offer — believed to be a four-year deal worth as much as $50 million — and Taylor said Pekovic's camp made a counterproposal. "My sense is, I think we both know he's going to be playing for our team next year," Taylor said. "I think we're just dealing with an element time of here. I would tell you I'm very positive that he'll play for our team. What we have left isn't something that can't be resolved. There doesn't seem to be a lot of pressure on us or him to get it done. A meet has been set up in the future. "I'm confident it'll get done. I've been through so many of things. You say, `It's just money, Glen.' I think we'll get it done. He's an important part of our team. He wants to be back and we want him here."
Minneapolis Star-Tribune
Aaron Brooks on signing 1-year deal w/ Rockets:"I just like it there.I had other offers, minimum. I felt more comfortable taking this one"

— Mark Berman (@MarkBermanFox26) July 19, 2013
7/19/2013 – Hoiberg mentored Turiaf following heart surgery: Newest Timberwolf Ronny Turiaf on Thursday officially signed with his seventh different team in nine NBA seasons, but he can't help but think how his life has come full circle now. "I remember eight years ago and you guys had somebody named Fred Hoiberg," Turiaf said Thursday evening in a teleconference call with reporters. "He was almost like a father figure to me, somebody who helped me through the worst time of my life." In 2005, Hoiberg was a veteran guard on a Wolves team that had reached the Western Conference finals the year before and Turiaf was a rookie out of Gonzaga with the L.A. Lakers. Hoiberg underwent surgery to repair an aortic aneurysm the same day Turiaf was drafted. A month later, Turiaf needed a surgery very similar to Hoiberg's.It is a coincidence that will forever bind the two men after Hoiberg watched a pre-surgery interview Turiaf did, saw how scared the young man looked, and reached out to him.Hoiberg advised Turiaf about the six-hour surgery, told him to expect a 20-pound weight loss and prepared him for a slow recovery.Eight years later, they remain friends and together helped guide Washington's Etan Thomas through his heart surgery two years after theirs. Minneapolis Star-Tribune
Asked who is the best team in New York, Knicks PF-C Amar'e Stoudemire laughed and said: "It is even at 50-50 until we play eachother."

— David Pick (@IAmDPick) July 19, 2013
7/19/2013 – NBA in Vegas talk surfaces once again: No, the NBA isn't moving to Las Vegas just yet. But commissioner David Stern did not seem averse to the idea, which is a radical departure from his stance in 1999 when then-Mayor Oscar Goodman visited Stern at his New York office and was told it never would happen. "I think Las Vegas is in the NBA history books, and with the discussions now, it seems that there is an arena that is getting closer to moving ahead after years and years of discussions," Stern said Thursday at a news conference at Wynn Las Vegas following the league's Board of Governors summer meeting. "And that should make it interesting as well." Stern was referring to the proposed arena project by MGM Resorts, which hopes to have it constructed and operational by 2016. Stern, who will be retiring on Feb. 1 after 30 years, talked about the city in a far more favorable light than in the past, noting its support for the game. "Given sort of all the references you see about Las Vegas and 'Sin City,' we have always believed that gambling is a very legal business regulated carefully in Nevada, that this is a huge entertainment destination and this is a place that we should embrace," Stern said.
Las Vegas Review-Journal
7/19/2013 – Welcome back Hornets: At roughly 8:30 p.m., NBA Commissioner David Stern announced that the Bobcats would become the Hornets before the 2014-15 season after the 29 other NBA owners unanimously approved the change. Stern's announcement was broadcast in two different locations downtown at the EpiCentre to thousands of locals. It was the culmination of an all-day celebration of Charlotte basketball's history and future. The present was sprinkled in as well.Bobcats tents dotted the plaza while purple and teal banners hung overhead. Charlotte Observer
7/19/2013 – Let the Tanking begin: A fair amount of resentment exists among front offices trying to win basketball games in 2013-14 for those rival execs who aren't. "When you sell failure, you can't be judged by failure," one exec said. "By doing it this way, they buy themselves a five-year cycle rather than a three-year cycle. It's about survival as much as strategy." In other words, by selling owners on the idea that calamity must precede success, the Merchants of Tank get a pass from owners who might otherwise have a low tolerance for the volume of losses they're about to accumulate. There are varied opinions as to whether decision-makers such as Philadelphia's new general manager, Sam Hinkie, are pursuing a sensible strategy. Some doff their caps to the pragmatism, boldness and, most of all, power of persuasion required by an executive to sell 62 losses to owners who aren't accustomed to losing in life.But others feel as if tankers are overplaying their hands. The thinking goes that tanking is all well and good when you're one of only a select group engaged in the practice (as Oklahoma City was during its construction). But when as many as a dozen teams are participating, the race to the bottom is far more competitive — and potentially corrosive to the franchise."There are only three top-three picks," one assistant general manager said. "Everyone wants to be the Thunder, but for the majority of teams, it doesn't work out that way. Meanwhile, you don't want to create a cultural malaise while you're busy driving away your fan base." The unintended consequence of all this? The competitive balance the league purported to establish during the 2011 negotiations is as nonexistent as ever. ESPN.com
7/19/2013 – HGH testing in the NBA: The NBA's goal of having a human growth hormone testing program in place before next season might not be possible because of the regime change taking place in the National Basketball Players Association. Former executive director Billy Hunter was fired by the players in February, but no replacement has been named. "Right now, (the players and union officials are) a little bit hamstrung because they're searching for an executive director," Stern said. "It's more difficult to make decisions. But we're optimistic that whatever – we have a great program. Don't get me wrong. "We have six tests a year, all random – two are out-of-season and four in-season are authorized. We have a long list of banned substances, and we expect to have agreement on HGH whenever the union gathers because we're in this together. The union has always been very forward thinking in this. … It's on a long list of items that we're hoping to discuss with the players association between now and the kickoff of the next season." USA Today
——————————————————————————————————————————————————————–
Welcome to BK! pic.twitter.com/WP0CFUkk0g

— Baller Mind Frame (@BallerMindFrame) July 18, 2013
Got to ask Mikhail Prokhorov a couple of questions. It'll be up later! pic.twitter.com/KLWrc9Vq0i

— Baller Mind Frame (@BallerMindFrame) July 18, 2013
KG was easily the media darling and the one everyone crowded into. pic.twitter.com/ugOCpgd5fK — Baller Mind Frame (@BallerMindFrame) July 18, 2013
Truth got a lot of love too though. pic.twitter.com/dNWcp1JW2O

— Baller Mind Frame (@BallerMindFrame) July 18, 2013
Yes of course Baller Mind Frame was at the press conference. – FB
7/18/2013 – Stoudemire invited to play for the Israeli National team: The president of Israel has invited Knicks star Amare Stoudemire to play for the country's national basketball team because of his ties to Judaism. Shimon Peres met with Stoudemire on Thursday to discuss the player's charity efforts. Stoudemire, who says he has "Hebrew roots," has traveled to Israel before and Peres urged him to help the national team.The six-time NBA All-Star already has significant ties to Israeli basketball. Last month, he joined a group looking to buy Hapoel Jerusalem, a team in Israel's top league. New York Post
The Magic, who will sign Jason Maxiell pending him passing a physical, see him as someone who can play PF and backup at C.

— Josh Robbins (@JoshuaBRobbins) July 18, 2013
Confirming reports by @JaredZwerling and others of Heat interest in Marcus Camby. Not a surprise. They pursued him last summer.

— Ethan J. Skolnick (@EthanJSkolnick) July 18, 2013
7/18/2013 – Nets Waive White: The Brooklyn Nets have waived forward D.J. White.The move comes less than a week after White was acquired from Boston as part of the blockbuster deal that included Paul Pierce, Kevin Garnett and Jason Terry. Macon Telegraph
Mark Cuban said he couldn't get into details about Bernard James, who left the SL team Tues. — a day after his contract wasn't guaranteed.

— Dwain Price (@DwainPrice) July 18, 2013
7/18/2013 – Bobcats still in the hunt for Hendeson while rounding out the roster: Gerald Henderson's status remains the team's highest priority, but point guard and big man need addressing, too. New Charlotte Bobcats coach Steve Clifford doesn't want to get caught shorthanded next season at point guard or among the big men. He can live with fewer choices at shooting guard and small forward. That's Clifford's general philosophy in building an NBA roster. With the Bobcats signing free-agent center Al Jefferson and re-signing power forward Josh McRoberts, the roster has been firmed up. The last major step will be resolving whether shooting guard Gerald Henderson is back, either through a multi-year extension or on the one-year qualifying offer. Clifford sees signing a third point guard and retaining another big man as priorities. Charlotte Observer
7/18/2013 – Aldridge wants out, again: The camp for Portland Trail Blazers All-Star forward LaMarcus Aldridge arranged a meeting with general manger Neil Olshey in a Las Vegas hotel lobby on Sunday to suggest several trade scenarios, a league source informed CSNNW.com. According to the source, who spoke on the condition of anonymity due to the sensitive nature of the situation, the meeting was described as being productive with both sides focused on doing what's best for both parties. Aldridge, 27, has two years and roughly $30 million remaining on his current contract and I'm told Olshey is in no rush to facilitate a deal at the urging of a player's camp, especially if the organization isn't getting equal value in return. Prospective teams holding the rights to Joakim Noah, Kevin Love, Blake Griffin, Al Horford and Anthony Davis, as of now, have declined to involve their franchise players in any potential deals for Aldridge, a league source told CSNNW.com. Unless something changes after Summer League, the likely development is Aldridge returning to Portland next season and having a strong year to increase the likelihood of Olshey pulling the trigger on a deal. CSNNW.com
Free agent 7-footer Byron Mullens is nearing agreement on a two-year deal with the Clippers, league sources tell Y! Sports. — Adrian Wojnarowski (@WojYahooNBA) July 18, 2013
Straight from the mouth of #Mavs owner Mark Cuban, on C Samuel Dalembert joining his team: "It's not signed, signed, but it's agreed upon." — Dwain Price (@DwainPrice) July 18, 2013
————————————————————————————————————————————————————
7/17/2013 – Can Amar'e return to All-Star level: Even if Amar'e Stoudemire is on a minutes restriction in 2013-14, which Glen Grunwald has said is a good possibility, the Knicks GM believes the star big man can still play like one. "Amar'e can definitely return to All-Star level play," he said on Tuesday, commenting on the often-injured Stoudemire, who underwent debridements on both knees last season. "We'll see how it all plays out when training camp rolls around. … Amar'e can certainly come back to All-Star status. He works hard." Grunwald also said Stoudemire, who's a six-time All-Star (the last coming as a Knick in 2011), will likely not be in competition for playing time with newly acquired Andrea Bargnani and Metta World Peace, who both could play the 3 and 4 spots. That's likely because STAT could be regulated to only 20 to 25 minutes per game — a small output with potentially big results. "We're very hopeful that Amar'e will be a key contributor for us next year," Grunwald said. "I know he had some injury issues last year, but we're hopeful that we'll be able to manage that going forward. He'll play as much as he possibly can. … I don't think either Metta or Andrea necessarily impacts his role. I think they're all good players, and good players will play."
7/17/2013 – Lakers want LeBron and Carmelo: The Los Angeles Lakers, whose plan to re-sign center Dwight Howard did not pan out this offseason, are poised to rebuild fast by focusing on the two biggest free agents of 2014 — LeBron James and Carmelo Anthony, front-office sources have told ESPN. Opinions are split on whether the Lakers can actually land James or Anthony, with one source calling it "realistic" and another saying it was "far-fetched at this point." Nonetheless, the Lakers have made it clear they are positioning themselves for a run at one and perhaps even two of the superstars who could become free agents in 2014 by refusing to commit to any contract past this next season, multiple sources have said.Dwyane Wade, Amare Stoudemire and Chris Bosh also have early-termination options on the five-year deals they signed in the summer of 2010. Luol Deng, Danny Granger, Andrew Bogut and Dirk Nowitzki will be unrestricted free agents next summer. ESPN.com
7/17/2013 – Deng staying put, for now: Finally, some clarity. Not just speculation or offseason rumors, but some good old fashioned, here's-the-plan talk from Bulls general manager Gar Forman.A plan that will include All-Star forward Luol Deng staying put for at least one more season. "Well, we love Luol,'' Forman, who arrived into Vegas on Monday to watch Summer League play, said. "We see Luol as a valuable member of this team moving forward, so the window is open to talk about an extension. We've had some conversations. Whether something gets done, I don't know. But whether it's this summer or next summer, those are conversations we'll continue to have.'' And conversations they have time to have. Deng becomes a free agent after the 2013-14 campaign. There had been rumors floating around that the Bulls were shopping Deng earlier this summer, but Forman said that wasn't the case. Chicago Sun-Times
CDR to me: "Kobe told me he was ahead of schedule and I jokingly said he's probably 3 months ahead because that's very Kobe-like."

— Mike Trudell (@LakersReporter) July 17, 2013
In other words, @Don_Montecristo said of course @kobebryant isn't 3 months ahead of a schedule he started 3 months ago. Just doing well.

— Mike Trudell (@LakersReporter) July 17, 2013
7/17/2013 – D-Will to appear on TV show "Suits": on"Suits" is a drama that airs Tuesday nights on USA Network. It's about a law firm in New York and in the first episode, the firm represents Deron Williams in a negotiation with the Nets. Remember this is fiction, sports fans. In the scene on the show's website, the lawyer/agent confronts a Nets official in his Brooklyn office and demands that a Nets official give D-Will a big raise. The official resists and the lawyer threatens that D-Will will not show up for a critical playoff game. (Perhaps he will get a migraine?) The Nets official caves and gives Williams three times his current salary. Cool! We can't figure out who the Nets official is. He's too short (and too American) to be Mikhail Prokhorov; too heavy (and too American) to be Dmitry Razumov; too short and too pale to be Billy King; too bald to be Brett Yormark; too dumb to be Bruce Ratner. Thelawyer/agent is too blunt to be Jeff Schwartz. And the only "Suits" D-Will wears are by Bonobos (shameless plug). Nets Daily
The Raptors are expected to buy out newcomer C Marcus Camby on the final 2 years of contract soon, a source told Y! LAC, CHI, HOU interested

— Marc J. Spears (@SpearsNBAYahoo) July 17, 2013
Camby's camp wants Camby to have a chance to get in on another team while there are still spots available. Curious if Raps save $$

— Tim Chisholm (@timpchisholm) July 17, 2013
Bobcats & RFA Gerald Henderson are having ongoing contract conversations about possible return, source tells Y!, but still not close on $.

— Marc J. Spears (@SpearsNBAYahoo) July 17, 2013
7/17/2013 – Monty Williams wants to change Pelicans offensive sets: With an improved roster and higher expectations, New Orleans Pelicans coach Monty Williams is already meeting with his assistants to change a significant amount of their offensive sets from last season. Williams declined to provide detailed specifics, but he said they are looking to maximize the abilities of All-Star point guard Jrue Holiday, shooting guard Eric Gordon and guard/forward Tyreke Evans. New Orleans ran a significant amount of pick-and-roll plays last season. " We're trying to come up with offenses we think will benefit the guys that we have,'' Williams said." When you have guys like Jrue, Eric and Tyreke, we're going to be able to play a bit more faster.'' New Orleans Picayune-Times
7/17/2013 – Michael Jordan promotes brother: Larry Jordan, an older brother of Charlotte Bobcats owner Michael Jordan, was promoted to team director of player personnel, several sources told Yahoo! Sports. Along with Michael Jordan, Larry will answer to team president of basketball operations Rod Higgins and general manager Rich Cho. Larry Jordan's previous job was team director of special projects. He fills a position that was vacant for three years after Buzz Peterson departed to become the head coach at Appalachian State. Larry and Michael were teammates at Wilmington (N.C.) Laney High School during their senior and junior years, respectively. Michael Jordan credited his brother, who stands 5-feet-8, for helping him become a better player when he was younger through their intense 1-on-1 games. Michael Jordan's son, Jeffrey, and daughter, Jasmine, are also involved with the Bobcats in lesser roles, sources said. Yahoo! Sports
The Bobcats have only been without a director of player personnel for three years……and Mike's brother Larry was the best choice? – FB
7/17/2013 – Mike Brown looking to play Bennett at power fowrard: There appears to be a logjam at power forward on the Cavs, with no less than six players who can play the position: Returning starter Tristan Thompson, Anderson Varejao, Kevin Jones, Earl Clark, Tyler Zeller and Bennett. Varejao was the starting center when he injured his knee last season. He was replaced in the starting lineup by Zeller. Cavs coach Mike Brown said he's devised a plan in order for Bennett to get minutes at power forward. "He's a '4,'" Brown said in a telephone interview from Las Vegas. "That's where he's going to play for us. Way, way, way down the road, we might try him at '3.' Now, he's strictly a '4.' " How is he going to get minutes at power forward? "I got it figured," Brown said. "His ability to score in a lot of different ways is intriguing. His explosiveness is intriguing. His standing reach is higher than lot of guys playing power forward in the league, including Kevin Love. He's got long arms. There's a desire to want to be better. He has a lot of upside." The News-Herald
7/17/2013 – Billups a possibility to start for the Pistons: With five guards currently on the roster, training camp competition will be stiff come October. Dumars wouldn't be surprised if his newest acquisition emerged as the starting point guard. "Chauncey and (coach) Mo Cheeks talked about this and said, let's not predetermine this," Dumars said. "If he is, he is. If it's Brandon (Knight), its Brandon." Detroit News
What year is this again? – FB
If Mike Miller clears waivers, expect the Los Angeles #Clippers to be interested in his services. Played for Doc Rivers in Orlando

— gary washburn (@GwashNBAGlobe) July 17, 2013
7/17/2013 – Mike Miller latest NBA amnesty: "After many discussions internally and a sincere effort to explore the trade market, we made a very difficult decision to use our amnesty provision on Mike Miller," Riley said in a release. "Mike had an incredible impact on the Miami Heat, helping us to three finals appearances and winning back-to-back world championships." Riley had said that a final amnesty decision would come in consultation with owner Micky Arison. That collective decision led to Miller's release. "This was a very difficult decision for me personally, the Arison family, [coach] Erik [Spoelstra] and the entire Miami Heat organization," Riley continued in his statement. "Mike was one of the best we have ever had here, and will be sorely missed. We wish Mike, his wife Jennifer and their family nothing but the best." South Florida Sun Sentinel
I see a theme devoping here. – FB
7/17/2013 – Bucks seeking flexibility amnesty Gooden: Seeking additional salary flexibility in the future, the Milwaukee Bucks used the amnesty clause on veteran forward Drew Gooden, the team announced Tuesday. Gooden became the 20th National Basketball Association player subject to amnesty since the provision was adopted in the collective bargaining agreement signed in 2011. The 31-year-old Gooden still will be paid the $13-plus million remaining on the five-year, $32 million deal he signed in the summer of 2010. But under the amnesty procedure the Bucks will be able to wipe that $13 million from their salary cap, including $6.7 million for next season. Two years remained on the deal. The provision is limited to players signed under the previous collective bargaining agreement. Players also had to be on a team's roster under the former collective bargaining agreement to be eligible for amnesty.The deadline for using the amnesty clause this year was 11 p.m. Tuesday, and the Bucks took action to waive Gooden on the final day. Milwaukee Journal-Sentinel
7/17/2013 – Raptors amnesty Kleiza: By using the amnesty clause on forward Linas Kleiza — effectively cutting him while still having to pay his $4.6 million salary this season — the Raptors cleared up a situation they didn't want to have to worry about before the tax penalties are assessed a year from now. While it's only the team's salary obligations on July 1, 2014 that count towards the tax, and other ways might come up to shave salary during the season, there was a sense that getting it out of way before the amnesty window closed Tuesday was best. "We thought it was safer now to do it," Raptors general manager Masai Ujiri said after Toronto's 81-70 summer-league win over the Sacramento Kings on Tuesday. "Sometimes with those things it's on your mind the whole time and you don't want to end up doing something funny or losing something because you're trying to get under the tax later on." Toronto Star
————————————————————————————————————————————————————
Details still being sorted out but Harris & Mavs, I'm told, on course for their planned reunion w/revised contract. DH aiming for NOV return — Marc Stein (@ESPNSteinLine) July 16, 2013
7/16/2013 – Why Elton Brand chose the Hawks: I spoke today with Elton Brand, the latest Hawks free agent signee. Here are a couple of his quotes from the interview.On why he chose the Hawks: "It was attractive to me because I like what Danny (Ferry) is trying to put together there and the part that I would play. It was a tough decision because there were some other teams courting me. … With my help in Atlanta we can be as good as some of the other teams that were courting me. I will be able to play and I love to play still. It was a great opportunity for me." Atlanta Journal-Constitution
Team USA makes it official that Bobcats' Michael Kidd-Gilchrist is invited to mini-camp this month in Las Vegas.— Rick Bonnell (@rick_bonnell) July 16, 2013
Spurs' forward Kawhi Leonard won't make Team USA training camp in Vegas due to rehabbing his left knee injury — Mike Monroe (@Monroe_SA) July 16, 2013
Whispers increasing at Vegas Summer League that Bucks are talking to Pistons about Jennings' sign and trade. — Gery Woelfel (@GeryWoelfel) July 15, 2013
7/16/2013 – Mavs chasing big men: The Mavericks, sources say, were scheduled to meet Monday with Oden and are still holding out hope of signing both him and Samuel Dalembert to fill their center void after missing out on top target Dwight Howard. ESPN.com
I'm told the Hawks are still showing interest in bringing back Ivan Johnson despite Paul Millsap signing. #ATLHawks — Chris Vivlamore (@ajchawks) July 16, 2013
The most dangerous man in the NBA! – FB
7/16/2013 – Jeremy Tyler has a shot to make Knicks roster: Giordano is hopeful that if Tyler continues to make a "positive impression" in Las Vegas, he could finalize a contract with a team in the next week or two. Giordano believes Tyler's vast basketball experience overseas and in the NBA has prepared him for a permanent roster spot. "Turning 22 years of age just over a month ago, yet already having several years of professional basketball experience on his resume is a huge plus for Jeremy as he competes for a Knicks roster spot," Giordano said. So far in Las Vegas, Tyler has played well defensively, moving his feet effectively to protect the basket and talking constantly to assist his teammates. It's the kind of defense that wins over Mike Woodson. Tyler is also relentless crashing the glass, and he finishes well around the rim to complement his fluid midrange jump shot. On offense, he needs to work on improving his court awareness and passing ability, as well as fine-tuning his true center skills, such as setting picks and rolling to the basket. ESPN.com
7/16/2013 – Teague now happy to stay in Atlanta: Just three days earlier, Teague had expressed to Ferry his desire to move on. The restricted free agent was unhappy with the progress of negotiations and he was impressed by the interest the Bucks showed. He also wanted an opportunity to reunite with former Hawks coach Larry Drew. Teague said he is happy to remain a Hawk. He showed up at the team's Las Vegas Summer League game Monday night and there were hugs all around – from Ferry, teammates John Jenkins and Mike Scott, coaches and support personnel. "It's a process," Teague said. "I understood that going into it. I was a restricted free agent and I knew that all along. I was happy either way. I'm glad to be back in Atlanta. It's been home for four years. It's time to get back to work. "There is no bad blood. We are all professionals." Teague said he was encouraged by the faith the Hawks showed in him by matching the offer sheet. Atlanta Journal-Constitution
7/16/2013 – Swaggy-P has second year option with the Lakers: Nick Young's stay with the Lakers may be for longer than one season. The guard/forward's contract, signed Thursday, is a two-year, $2.3-million deal at the veteran's minimum with a player option in the second season. Initially reported as a one-year deal, Young will earn $1,106,942 for the 2013/14 season and $1,227,985 if he decides to stay a second. A Lakers' spokesman confirmed that Young's deal is for two years. Guard/forward Wesley Johnson, signed Monday for $916,099, has a one-season contract. The NBA reimburses teams for players on one-year, minimum deals for any amount over $884,293 (this season's minimum rate for a player with two years' experience). For Young at two years, the Lakers will be charged for the full $1.1 million against their cap and tax. Los Angeles Times
7/16/2013 – Eric Gorodn mending fences with Pelicans: During timeouts Monday, Gordon appeared to be engaged in the huddle, encouraging and giving pointers to some of the team's younger players. After the game, he spoke with excitement about the potential to win games this season with their core lineup that includes forward Anthony Davis and newly acquired All-Star point guard Jrue Holiday and guard Tyreke Evans. "We've brought in a lot of good talent and it's probably more to come," Gordon said. "It's good to see the team making some good changes in a good positive way.For me, I'm just looking forward to getting the season started." When Gordon was a restricted free agent last summer, he turned off a majority of the the New Orleans' fan base after saying on his recruiting visit with the Phoenix Suns that his heart was in Phoenix. Nonetheless, New Orleans matched the Suns' four-year, $58 million offer to retain him. New Orleans Times-Picayune
Andre Miller was asked if the Nuggets can win 57 games. "Nah, that will never happen again". Promising.

— Vic Lombardi (@VicLombardi) July 16, 2013
7/16/2013 – Rondo and Humphries kiss and make up: Kris Humphries and Rajon Rondo had a physical spat that spilled into the stands last season when Brooklyn and Boston faced off. Now, the two are set to be teammates on the Celtics. "If you look at it, it really was nothing," Humphries said of the altercation, when he was introduced at the Celtics training facility. The Celtics acquired the forward in a massive deal with the Nets that sent Paul Pierce, Kevin Garnett, and others to Brooklyn in exchange for several players and draft picks. "We'll come in and obviously I've got to do my part to earn his respect in terms of playing hard and contributing to the team and we'll just go from there," Humphries said. Boston Globe
You can't tell me Rondo wont still be holding a grudge, forever. – FB
An NBA source said J.R. Smith's knee patella tendon was not torn like his brother's but "chipped." "Felt like pebble in shoe." — Marc Berman (@NYPost_Berman) July 16, 2013
7/16/2013 – Ben McLemore and the dreaded shooting slump: The scouting report is out — Golden State overplayed Sacramento Kings rookie Ben McLemore's right hand, shifted their defense on him and dared him to try and go left. He didn't, even when he went left he tried to pull it back and move right to get his shot. The result was a 4-of-12 shooting night for the No. 7 pick. "I don't feel like they were," McLemore said of the effort to push him left. "They was just trying to stop me from shooting. That's what most teams going to do, so when I see that I'm going to drive to the hole, get into the lane, get to the line." When McLemore tried to drive the need to improve his handles showed — he lost the ball a couple times, once getting away with a carry before he was stripped in the pant. But Warriors coach Mike Malone wants him to keep driving. "That was one of the things they said about him coming out of Kansas, that right now he's a straight-line driver but he doesn't have the great ability to break his man down off the dribble so along with his shot selection we're going to work on his handle," Malone said…. "He has to realize… that if your jump shot's not going sometimes drive the ball, get to the foul line, get an easy one, see that ball go through the net and that will help you out for your next one." NBCSports.com
Dare I say his game can be found a the thrift shop at a discount? – FB
7/16/2013 – Jason Kidd in court for DWI: The court is maybe 20 minutes from Cobb Road, maybe more with summer traffic, where Kidd ran into that tree at 2 in the morning and told cops, "I had a few drinks." It was a bit more than that, and that is why one year later it is worth remembering that the new coach of the Nets and one of the great NBA players of all time is lucky he didn't kill himself that night or kill somebody else. "He will say that the drinks he had that night rendered him intoxicated," his attorney, Edward Burke Jr., was saying on Monday morning. "What Jason is going to do is stand up and own this." About time. Burke, who comes out of Sag Harbor, L.I., and has handled a lot of high-profile cases in his time on the South Fork of eastern Long Island, explained that as part of the plea arrangement with the office of the Suffolk County District Attorney, Kidd has agreed to make school appearances on Long Island in the fall, which will be taped and can be used later as public-service announcements if the DA's office chooses to use them that way. New York Daily News
Raptors expected to use their amnesty clause on forward Linas Kleiza on last possible day Tuesday, source told Y! LK likely to go overseas.

— Marc J. Spears (@SpearsNBAYahoo) July 16, 2013
————————————————————————————————————————————————————–
Hearing Timofey Mozgov may land with the Sacramento Kings.

— Yannis Koutroupis (@YannisHW) July 15, 2013
Metta World Peace has reached an agreement in principle on a two-year deal with the New York Knicks, league source tells Y! Sports.

— Adrian Wojnarowski (@WojYahooNBA) July 15, 2013
7/15/2013 – Amare wants to dress you: It's no secret NBA players are into fashion, from the clothes they wear in postgame interviews to their attendance at various Fashion Weeks around the world. Think Dwyane Wade and Russell Westbrook. Now, Gilt, which provides insider access to top designer labels, has teamed up with New York Knicks forward Amar'e Stoudemire to create a sale of clothes and accessories inspired by Stoudemire's "eclectic, electric and irreverent approach to style" The sale, which is called "Elevate Your Game With Amar'e Stoudemire" and starts at noon on Monday, will include suits, ties, shirts and vintage watches from such brands as Pierrepont Hicks, Martin Greenfield, Calvin Klein, Del Toro Shoes and Rolex. With the ESPY Awards on Wednesday, Stoudemire revealed his varied approach to the red carpet. "It all depends on what type of image I want to portray," he told Gilt. "If I feel 'rock-star status' I'll throw in a pair of All-Stars with a nice suit, or if I feel more contemporary. I'll throw in a nice tailor-made suit. It all depends on how I feel in the moment. With my style. I'm very versatile so I'm able to mix up a lot of different looks and styles." Stoudemire has attended Fashion Week in Paris, New York and Milan and has partnered with designer Rachael Roy on a women's fashion line. For The Win
7/15/2013 – Dream in Houston: Hakeem Olajuwon, a key part of the Rockets' recruiting efforts to land Howard and a large part of the festivities Saturday after Howard signed, will rejoin the Rockets in an official capacity for the first time since he spent the final season of his career with the Toronto Raptors in 2002. Olajuwon's duties and title are being discussed, and he will spend much of the year at his home in Jordan. But he will work with Rockets interior players, as he does with big men around the NBA each offseason, as a team employee. "We are going to bring him in as full-time as is possible," Rockets general manager Daryl Morey said Sunday. "It's not done, but we have mutual interest to get it done, and we've had some early discussions. "We want him to work with Dwight and Omer (Asik), and he wants to do that." Houston Chronicle
7/15/2013 – Elton Brand to the Hawks: Free agent forward Elton Brand is signing a one-year deal with the Hawks, agent David Falk told HoopsHype. "We think it's a great opportunity for him," Falk said. "I can see him playing 4-5 more years because Elton is serious about his conditioning and, besides, he plays more with his head than his body at this point. Atlanta is a good fit and Elton will be a good veteran presence there." HoopsHype.com
Elton Brand is headed to Atlanta, agent David Falk tells HoopsHype. It's a one-year deal.

— HoopsHype (@hoopshype) July 15, 2013
7/15/2013 – Greg Oden 2013 free agency tour underway: Free-agent center Greg Oden will be in Las Vegas this week for face-to-face meetings with officials from the Dallas Mavericks, Sacramento Kings and New Orleans Pelicans, according to sources with knowledge of Oden's plans. The sitdown with Mavericks officials, sources said, is scheduled for later Monday, as Dallas pushes to join the San Antonio Spurs and Miami Heat at the forefront of the race to resurrect the career of 2007's No. 1 overall pick. Oden, 25, has battled numerous knee injuries and hasn't played in an NBA game since Dec. 5, 2009. He is coming off his third microfracture knee surgery in February 2012. ESPN.com
7/15/2013 – Bucks and Jennings still at odds: Jennings, a restricted free agent, has not come to terns with the Bucks or had an offer from another NBA club yet. And the Bucks tried to sign restricted free agent Jeff Teague as their point guard only to have Atlanta match Milwaukee's four-year, $32 million offer on Saturday. Jennings' tweets said: "Whatever you hear in the media isn't true. I haven't talked to anybody since the season was over. Thank you!" And "And I will continue not to talk to anyone." Milwaukee Journal Sentinel
7/15/2013 – World Peace in New York: The Knicks are trying to schedule a meeting with World Peace in Las Vegas today or tomorrow. Agent Marc Cornstein said nothing is set in stone on the meeting yet, but said there's "mutual interest.'' World Peace, when asked if he's coming to Vegas to sit down with the Knicks, responded via text message to The Post, "No, going to watch Floyd Mayweather train." Cornstein planned to speak with World Peace last night to go over his options. Knicks coach Mike Woodson acknowledged the club likes what the Queensbridge product can bring. "I like his skill set a lot,'' Woodson said. "A lot of teams liked his skill set over the years. He does a little bit of everything.'' According to a source, at least four teams have called to inquire about the 33-year-old, but the Knicks look to be the favorites, though World Peace hasn't ruled out playing in China. New York Post
First the first time ever, they spelled "amnesty" wrong on my contract , so I think I'm still in LA. I'm checking with my agent. 😉

— Metta World Peace (@MettaWorldPeace) July 15, 2013
————————————————————————————————————————————————————
7/12/2013 – Doc talks on Clippers chances of contending: Q: So let's talk about this new team of yours. We're all so guilty of over-hyping teams so often, so what's realistic about what folks should expect the Clippers to accomplish and what's fair in terms of where you set that bar?A: "You know, I don't yet. I know what I think we can be, and I think we have a realistic chance of being the winner at the end of the year. But what I don't know yet, and one of the things that I found that was interesting when we got Kevin, Paul and Ray together, was that they were over themselves. It was time for them to focus on one aspect of their career, and only one, and that was winning. This is a younger team. This is a younger group. And so I think it will be really interesting to find out, 'Do you want to stand out, or do you want to win?' For young guys, that's hard to understand that if you win, you do stand out. Or, you can stand out alone and you'll get a lot of accolades, but you won't win and that's an individual thing. For us, and I don't know our guys yet, but for the young ones – that's DeAndre, Blake, and Chris – that'll be the key is sacrificing even some of their games for the good of the win. And that's what – if we can get that right, then I think we're going to be really good. That's why Matt (Barnes) signed back. And I think that's why JJ Redick wanted to join the team. That's why (Jared) Dudley was so excited, because they've been through it. JJ Redick was in the Finals his second year, and he probably assumed he'd be there every year. And now he realizes how hard it is to just get to the Finals. Forget winning it, to just get there is hard. I know the guys on this team who haven't been there don't understand how hard that is, but having JJ and a couple of other guys, they know how hard it is and that's important."
7/12/2013 – Adam Silver our future NBA Commissioner interview: C.J. McCollum: After working alongside Commissioner Stern for so many years, is there any advice he has given you to help make the transition easier? Adam Silver: One of the things I take from David – and I've worked for him for over 20 years – is what he refers to as 'execution and detail.' He is an extraordinarily hardworking person with very high standards for all of the people that work with him, and what I've learned is that no detail is too small, that you can't cut corners; not any different than what I'm sure you've learned as a basketball player. You get out of it what you put into it. And so I've learned from David that you need to be passionate about what you do, and you can never let up because you never know when that critical time will come, when if you're not paying absolute attention, you'll slip up. I've learned that and so many other things from David, and I've been fortunate to work under him for over 20 years now. Forbes
7/12/2013 – Celtics thank Paul Pierce, KG with full-page ad in Globe: The Celtics have offered a public thank you to Paul Pierce and Kevin Garnett with a full-page ad in Friday's Boston Globe sports section. Pierce and Garnett were traded to the Brooklyn Nets in late June. Boston Globe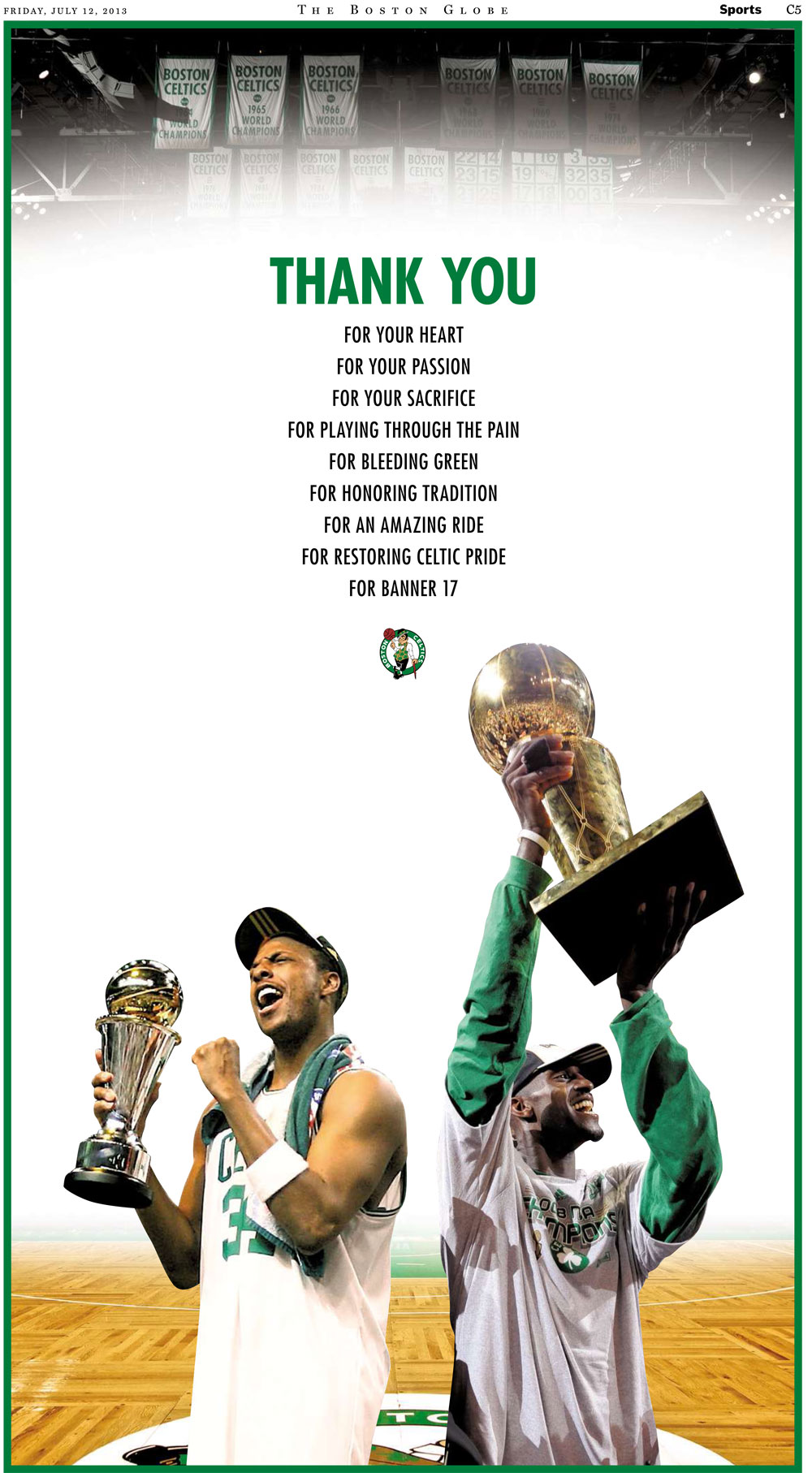 7/12/2013 – Pippen about to turn up the defense in a court of law: Former Chicago Bulls star Scottie Pippen is being sued over a fight last month at an upscale Southern California restaurant that left an autograph-seeker hospitalized with a head injury. The $4 million lawsuit filed Thursday in Los Angeles Superior Court says 49-year-old plaintiff Camran Shafighi simply asked Pippen for a photograph for his girlfriend's 12-year-old son. Instead, the suit says, Shafighi got a "brutal and unjustified physical attack" that included spit in the face, a shove, and a punch that sent Shafighi to the ground. "At no time did or could Mr. Shafighi physically provoke or fight back, as he was knocked unconscious with the first blow," the lawsuit says. Sheriff's officials, who were still investigating the incident, said Pippen voluntarily came into a station to be questioned and was cooperative. He was not arrested and no charges have been filed. Investigators at the time said that Pippen had been dining June 23 with his family at Nobu, a restaurant on the beach in Malibu frequented by celebrities. Shafighi was taking pictures of Pippen inside the restaurant then outside in the parking lot, investigators said. Sheriff's spokesman Steve Whitmore said several witnesses described Shafighi as intoxicated. ESPN.com
7/12/2013 – Lawsuit dismissed against Wade: Another chapter in the legal battle between NBA star Dwyane Wade and his ex-wife Siohvaughn Funches-Wade has ended with the dismissal of a lawsuit. Funches-Wade had said Wade violated the terms of a 2008 agreement requiring cash from his endorsement deals be deposited into a joint account. The lawsuit was filed in Chicago and named T-Mobile USA, Gatorade and Staples Office Superstore. It was dismissed Thursday at Funches-Wade's request. No reason was given for the dismissal. The lawsuit follows their divorce in 2010 and custody battle. Wade was awarded custody of the couple's two sons. Washington Times
———————————————————————————————————————————————————-
Andrei Kirilenko drawing interest from the Kings, Spurs, Nets, and Cavs. AK47 free agency has been surprisingly quiet.

— Probasketballdraft (@Probballdraft) July 11, 2013
His #Nets deal and #Wizards amnesty payments guarantee 26 year old Andray Blatche $18.5 million over the next two years.

— NetsDaily.com (@NetsDaily) July 11, 2013
Minnesota has emerged as a strong frontrunner to sign free agent Ronny Turiaf, league sources tell Y! Sports.

— Adrian Wojnarowski (@WojYahooNBA) July 11, 2013
In sign-and-trade of Kevin Martin to Minnesota, OKC will send cash to Wolves as part of deal to create $7M trade exception, sources tell Y!

— Adrian Wojnarowski (@WojYahooNBA) July 11, 2013
Carlos Boozer, Nate Robinson and Vladimir Radmanovic to participate in NBA's first Basketball Without Borders camp in Portugal in August.

— K.C. Johnson (@KCJHoop) July 11, 2013
7/11/2013 –Antetokounmpo shines again in Euro Under-20 tourney:Bucks first-round draft choice Giannis Antetokounmpo led Greece to its second straight victory in the Under-20 European Championship on Thursday in Tallinn, Estonia. The 6-foot-9 forward finished with a team-high 20 points as Greece defeated Germany, 65-56, in Group A competition. Greece will play Georgia on Friday. Antetokounmpo helped seal the victory by scoring four points in the final 11 seconds, all coming at the free throw line. He sank two foul shots for a 63-56 lead, then blocked a shot and grabbed a defensive rebound. An unsportsmanlike foul was called against a German player and Antetokounmpo sank two free throws with 4 seconds left to account for the final margin. He also contributed three steals, two rebounds, two assists and two blocks. Bucks coach Larry Drew is heading to Estonia to watch Antetokounmpo in second-round play next week. Another Bucks player will begin international competition soon as forward Ersan Ilyasova heads to Turkey to start preparing for the EuroBasket tournament. Milwaukee Journal-Sentinel
If ATL doesn't match MIL's offer to Jeff Teague, Mo Williams is possible replacement. They expressed interest in Mo earlier in free agency.

— Alex Kennedy (@AlexKennedyNBA) July 11, 2013
7/11/2013 – Kobe on LeBron to the Lakers talk: Lakers Nation asked Kobe what incentive LeBron would have in helping Kobe win another ring? Once Kobe retires, James will inevitably be chasing the Black Mamba ring count, so what would entice him to increase Kobe's? Bryant didn't seem to think LeBron to the Lakers was that big of a stretch."It's that argument that goes on forever," Kobe told Lakers Nation at his basketball camp at UC Santa Barbara. "You don't want to help someone else kind of increase their ring count, but he's already increased Dwyane's, so I don't think it's that big of a stretch." Kobe, of course, said he couldn't speculate on what LeBron would do in 2014, but it sounds like the rumors that Los Angeles is a serious potential landing spot for LeBron, aren't all that far off. Lakers Nation
From Teague: "I enjoyed by time there. They are going in a different direction. I'm going in a different direction. It's time to move on."

— Chris Vivlamore (@ajchawks) July 11, 2013
7/11/2013 – Will Royce saga continues: Royce White is ready to play in the NBA, probably for the Philadelphia 76ers, once the trade from Houston becomes official. But making 100 plane flights during a season? "Hell no," the former Iowa State basketball star said after playing for the Walnut Creek YMCA Wednesday night in the YMCA Capital City League at Valley Southwoods Freshman High School. "One hundred flights would be like if you're allergic to peanut butter – it'd be like spreading your whole body with it." He doesn't know how the 76ers will deal with his well-publicized anxiety disorder, but his mental health awareness crusade will continue. USA Today
I fell off this bandwagon long ago…. – FB
7/11/2013 – Pistons not done bolstering lineup: "(We have) a lot more to do," he said. "We don't pretend to stand here and feel like we've made this move and that's the answer. You know it's a long road, and you need multiple talented pieces. We just went out and got one big talented piece, but by no means are we even remotely proclaiming championship contenders — we just feel like we've upgraded our talent." <ahref="http://www.detroitnews.com/article/20130710/SPORTS0102/307100122/1127/sports0102/Pistons-president-Joe-Dumars-says-he-ll-keep-upgrading-roster" target="_blank">Detroit News
What is Josh Smith wearing? He looks like a used car salesman from 2004. – FB
Hearing: Dallas Mavs will get "legit consideration" from Greg Oden along with teams previously in his top three: Heat, Spurs and Cavs

— Marc Stein (@ESPNSteinLine) July 11, 2013
7/11/2013 – Brandon Bass odd man out in Boston?: Late in the season, when his numbers improved, Bass said he figured out how to clear his mind of all the clutter and just simply play. Bass also started talking more on the court, barking out defensive orders in the way Kevin Garnett often did. All that said, Bass might be one of the odd men out. He's under contract to make about $6.5 million next season and $6.9 million the season after. With the Celtics pinching pennies this offseason, Bass easily could be a salary cap casualty, though it likely would require that the Celtics find a trading partner willing to accept his deal. Which likely won't be an easy proposition for the Celtics. Knowing all these truths doesn't seem to have Bass worried — at least not outwardly. He said he doesn't sit and think about what moves the Celtics should make, either. "I got kids, man," he said. "If I had to think about that . . . Man, they don't pay me enough to do all that. I just gotta play basketball. "If I got a raise, I'll start thinking about who we should bring in. I'll start thinking like Kobe Bryant and all these guys, that 'The GM needs to talk to me first.' "No, I just need to be Brandon Bass and do my job. Come in ready, come in good shape, and contribute any way I can." Boston Globe
7/11/2013 – Nuggets view Foye and Hickson as key roleplayers: Foye, who will be introduced to the media at a news conference today along with Hickson, comes to the Nuggets as part of a three-team trade. Iguodala was signed and traded from the Nuggets to Golden State, which sent the Nuggets a second-round pick in return. The Nuggets got Foye from the Jazz, and sent a future second round pick in return. Hickson, meanwhile, was signed straight away as a free agent with Denver using the midlevel exception. He'll make over $15 million in the next three years. Nuggets management views Foye and Hickson as solutions to a few of issues the Nuggets had last season -shooting from long range, pick-and-roll offense and defense, and post play, to name a few. Those two players, in addition to forward Darrell Arthur, who was acquired by the Nuggets on draft night, are designed to address those trouble spots. Boulder Daily Camera
7/11/2013 – The "White Mamba" lands coaching gig: The Golden State Warriors have hired Brian Scalabrine as an assistant coach on Head Coach Mark Jackson's staff, the team announced today. Per team policy, terms of the agreement were not announced. Additionally, the team has promoted Joe Boylan to the position of assistant coach/player development. Scalabrine played in the NBA for 11 seasons from 2001-02 to 2011-12, appearing in 520 regular-season games and 39 playoff contests with the New Jersey Nets, Boston Celtics and Chicago Bulls. Originally selected by the Nets with the 35th overall pick in the 2001 NBA Draft out of USC, Scalabrine averaged 3.1 points and 2.0 rebounds in 13.0 minutes per game during his NBA career. After playing his final season with the Chicago Bulls in 2011-12, Scalabrine worked as a television analyst for CSN New England during the 2012-13 campaign. NBA.com
7/11/2013 – Shaq says Kobe can play till 40: "Kobe's a tough competitor," O'Neal said on a conference call Wednesday to promote his involvement in Adam Sandler's new movie, "Grown Ups 2," which opens in theaters Friday. "He loves when everyone doubts him. Of course at (almost) 35, they're saying he's done, but Kobe will show the world that he can play at a high level until he's 40. I know with the rehab, he's probably only supposed to do it once a day. I know for a fact he's doing it twice, if not three times a day. He tells everybody he's coming back in December, but if he could, he would like to be ready at the start of the season. That's how much he's going to push this thing to try to get to 100 percent." ESPN.com
Shaq complementing Kobe is NEWS! – FB
————————————————————————————————————————————————————
Announcement from agent Mark Bartelstein confirms that free-agent center Greg Stiemsma is signing with Pelicans

— Marc Stein (@ESPNSteinLine) July 10, 2013
Kevin Martin 100 percent still headed to Wolves. I'm told Martin agreed to delay signing to give 'Sota every avenue to get Corey Brewer, too

— Marc Stein (@ESPNSteinLine) July 10, 2013
7/10/2013 – Spurs AK47 dealings shot down by Saunders: The San Antonio Spurs' exploration of acquiring free-agent forward Andrei Kirilenko in a sign-and-trade agreement with the Minnesota Timberwolves has passed without completion, league sources told Yahoo! Sports. The Spurs seriously considered a multiyear offer for Kirilenko, but Minnesota general manager Flip Saunders has shown little, if any, inclination to assist him in securing a significant financial contract elsewhere, sources said. Yahoo! Sports
7/10/2013 – Bynum has no timetable for decision: The Cavaliers were pushing Andrew Bynum for a quick response to their two-year offer, but they might have to wait on him longer than expected. After visiting the Cavaliers' facility Monday, Bynum visited with the Atlanta Hawks on Tuesday and will meet with the Dallas Mavericks today, his agent, David Lee, told the Akron Beacon Journal. While reports surfaced early Tuesday morning that Bynum could make a decision by the end of the day, Lee said there is no timetable and was vague when asked if it will be made this week. "It might be, but it's hard to say," Lee said. He wouldn't get into specifics of the visits in Cleveland or Atlanta and wouldn't disclose what the Hawks offered. "It's ongoing discussions and I'd prefer they stay private among the parties," he said. Akron Beacon Journal
Bynum will announce nothing today at "The Indecision" – FB
Wolves postponement of Martin presser probably means they continue to work on a Corey Brewer — and maybe others — deal

— Jerry Zgoda (@JerryZgoda) July 10, 2013
Tomorrow could be big day for Wolves to swing s-t or get outbid for C Brewer, who wants to come back. Hearing he's aiming for 4 yrs, $19M

— Jerry Zgoda (@JerryZgoda) July 10, 2013
Timetable on Antawn Jamison decision has been pushed back a little. Might take until end of the week for things to resolve w/ Clippers

— Ramona Shelburne (@ramonashelburne) July 9, 2013
DONE DEAL!!! #GodIsSoGood #ClipperNation http://t.co/uRtx3XC3K5 — Chris Paul (@CP3) July 10, 2013
7/10/2013 – It's official Chris Paul will remain in Los Angeles: After more than a year of somewhat tempered speculation about where the league's premier point guard would spend the next chapter of his NBA career, Paul agreed to a long-term contract with the Clippers that secures his future with the franchise through the 2017-18 season. Paul reportedly made the decision to re-sign almost immediately after the NBA's free agency period began on July 1. NBA.com
Just signed my new contract with the LA Clippers. #Ephesians320 #hardwork #ClipperNation @ The… http://t.co/lzx9gANKgo

— JJ Redick (@JJRedick) July 10, 2013
I am officially signed with the N.O. Pelicans! I'm excited to play & played for 2 great cities with great fans. Amazing.

— Tyreke Evans (@TyrekeEvans) July 10, 2013
7/10/2013 – The Birdman will not fly the coop: The Miami Heat were working with free agent Chris Andersen on Tuesday night to finalize a contract for the energetic and colorful center to return to the two-time defending NBA champions. A source close to the situation told the Sun Sentinel that the process was nearing completion on the eve of the end of the NBA's personnel moratorium. Teams may begin formally signing free agents Wednesday, with a salary cap of $58.7 million and a luxury-tax threshold of $71.7 million for the 2013-14 season set Tuesday night. South Florida Sun-Sentinel
————————————————————————————————————————————————————
7/9/2013 – Big Baby goes under the knife: Orlando Magic power forward Glen Davis underwent surgery Monday afternoon to replace a screw in his left foot that he originally fractured in late January and had surgically repaired in early February. Although team officials said Davis will resume basketball-related activities later this summer, it's unclear whether Davis will be ready to participate in the Magic's training camp when it begins Oct. 1. "He's just been having some discomfort," Davis' agent, John Hamilton, told the Orlando Sentinel. "It made sense for us to get it checked, and that's what we did." Davis fractured his left foot's fifth metatarsal Jan. 30 in a game against the New York Knicks. He underwent surgery Feb. 1 and missed the remainder of the season. Orlando Sentinal
7/9/2013 – Kings get their small forward: The Kings acquired Luc Richard Mbah a Moute for draft picks on Tuesday.It's getting to be slim pickings on the small forward market, so the Kings had to resort to trading for one. Mbah a Moute is under contract through the 2014-15 season and has a chance to become a starter. Rotoworld.com
Personally I'd keep Metta and make a run with the unit we have and just add a few pieces #keepthepeace #lakersstilldeciding

— Kobe Bryant (@kobebryant) July 9, 2013
7/9/2013 – World Peace in New York: "If the Lakers amnesty him, he's going to have a point to prove that he can still be that player in New York," Morales said. If World Peace ended up in New York, he would be an ideal candidate to start at small forward and play alongside Carmelo Anthony. The Knicks are in the market for a wing player who can defend and stretch the floor with 3-point shooting. World Peace, if available, would arguably be the best candidate to fill that role, and being that he's from the city, he would be an obvious choice.Morales also said money is not a factor in World Peace's next destination, as he'll still get paid $7.7 million from the Lakers through the 2013-14 season if he's amnestied. "Whatever he makes next is an added bonus," Morales said. "Playing with a team that has a chance with the championship would be even better. He loves the Knicks. ESPN.com
Sources: Monta Ellis hoping to choose btwn ATL, Sacramento, Charlotte and Dallas within next 36-48 hours

— Chris Broussard (@Chris_Broussard) July 9, 2013
7/9/2013 – Jamal Crawford Pro-Am offers big-time basketball in intimate setting: Even in this vibrant basketball community, the Jamal Crawford Pro-Am is a secret treasure. It was born that way. Long before Crawford attached his name and resources to it, Doug Christie created the league in 1996 and billed it the "All Hoop, No Hype" league. It isn't about publicity. It's about competition. It's about the best players from the city at almost every level — high school, college and pro — helping each other grow and continuing Seattle's hoops tradition. You don't go to this Pro-Am to stalk stars. You go to watch serious summer basketball that happens to include big names. It's an important distinction, and that's why the league is usually discussed through social media, word of mouth or email chains instead of the mass media. "I want it to be like the old 'MTV Unplugged,' where you're at a small venue, and there's an intimate feel, and everybody is really involved in creating the atmosphere," Crawford said. Seattle Times
7/9/2013 – Stockton recounts how he knew when to hang it up:Stockton spent his final season mostly alone. Favorite teammates had moved on, and questions about what he would do once he "cut the cord" bothered him. Even more troublesome: Some new teammates began to grumble about their roles behind Stockton and Malone. They complained of favoritism coach Jerry Sloan allegedly showed his 40-something stars by not making them participate in every practice. "Things just started to add up," Stockton said. "Things that started to worry me had never worried me before. Things that started to bother me had never bothered me before. The aches and pains I felt, I had never felt before. My reaction to it — instead of attacking it — was an indication it was time [to retire]. That was the message." Salt Lake Tribune
7/9/2013 –Ice Cube Tells LA Crowd "We Don't Give a F—k About Dwight 'Coward'":During a King of the Mics performance at the Greek Theatre, Cube summed up his reaction with the pithy and eloquent statement, "F- -k Dwight Howard," as the assorted throngs screamed their agreement. Cube continued in the high brow fashion that is his trademark: We don't need no punk a- – motherf- -kers on our team. We don't give a f- -k about Dwight Coward. We don't need no bitches on our team, homie. He don't deserve to be up on that goddamn wall. So I predict tonight Kobe will win another championship before Dwight Howard even sniffs one." Dime
[youtube]http://www.youtube.com/watch?v=-wecRyKrNgc#action=share[/youtube]
Tell us how you really feel Cube. – FB
7/9/2013 – Duane Washington, ex-NBA player, jailed in hit-and-run: Former New Jersey Nets and Los Angeles Clippers player Duane Washington has been sentenced to 60 days in jail for hitting a pedestrian and then leaving the scene in western Michigan. MLive.com reported Monday that an Ottawa County judge also placed the 48-year-old Washington on 18 months' probation and ordered him to perform 100 hours of community service. Authorities say the ex-NBA player hit 71-year-old Estella Vitins on Sept. 18 as she walked along Interstate 96 in Crockery Township after running out of gas. Vitins survived the accident, though she suffered a broken leg and other injuries. The judge says he exceeded a pre-sentencing report that recommended a 30-day sentence because Washington didn't have insurance. USA Today Sports
I wonder if his brother Derek is going to help him out with this one? – FB
————————————————————————————————————————————————————
7/8/2013 – Burke struggles in Summer League debut: Trey Burke was out of sorts for much of his professional debut, a 69-59 win over the Miami Heat at the Orlando Pro Summer League.His shots were blocked, his bounce passes bounced off feet and, in what is the real killer for a 6-foot point guard, he looked slow. The good news for the Jazz is that this is the Orlando Pro Summer League, where young players come to learn the NBA game. Burke, the No. 9 pick who the Jazz acquired in a draft-day trade, said he was jittery before the first game, but didn't use that as a crutch for his 1-for-12 shooting performance. "There's no excuse for that," Burke said. "I think my shot will fall, that's all about just staying confident in my shot, and I think I've got to feel comfortable." Where Burke struggled shooting, he made up for it by being balanced: He tallied 8 points, 7 rebounds, 5 assists and just 2 turnovers. Salt Lake Tribune
7/8/2013 – Brad Stevens finds Celtics' lore too much to resist: Brad Stevens says he had no desire to leave Butler — until the Celtics called. Seventeen championships. Bill Russell. Red Auerbach. It was all too much for the 36-year-old Stevens to resist. Boston introduced its 17th coach at a news conference on Friday at the team's practice facility, and president of basketball operations Danny Ainge said Stevens was his first choice to replace Doc Rivers. Boston received a first-round draft pick from the Los Angeles Clippers for the rights to Rivers last week, and then Ainge called Stevens. "First of all, the Boston Celtics, like, wow – that is an incredible feeling," Stevens said about last week's phone call from Ainge. "It's an incredible honor and it's certainly flattering." Washington Times
7/8/2013 – Kings in pursuit of Monta Ellis: Sources say that the Kings, meanwhile, have been shopping the likes of Jimmer Fredette and Chuck Hayes to the Cavaliers to create the requisite salary-cap room to try to sign Ellis comfortably. Hard to see Cleveland wanting Hayes, whose contract runs through 2014-15 and thus potentially cuts into Cleveland's reserves earmarked for a free-agent run at LeBron James next summer. Fredette's $2.4 million salary is a virtual expiring deal. ESPN.com
7/8/3013 – Bucks and Hawks talk swapping point guards: Sources briefed on the situation told ESPN.com that the Hawks and Bucks have in recent days discussed a sign-and-trade deal to land Brandon Jennings in Atlanta and send fellow restricted free agent Jeff Teague to Milwaukee to reunite with former Hawks coach Larry Drew. ESPN.com reported early in free agency that the Bucks, at Drew's behest, had interest. If those sign-and-talks progress to the serious stage, sources said, Atlanta would inevitably have to rescind its longstanding interest in Ellis, knowing he and Jennings realistically couldn't play together again given how poorly they functioned as a backcourt duo in Milwaukee last season. ESPN.com
7/8/2013 – Timberwolves make Pekovic a formal offer: The Timberwolves have made a formal contract offer to restricted free agent Nikola Pekovic and waived two players in preparation for Wednesday's end to the NBA moratorium period.According to league sources, the Wolves made an offer to Pekovic on Friday and expect to receive a response early this week. On Sunday, they waived center Greg Stiemsma and swingman Mickael Gelabale in two salary-cap moves designed to clear space to allow them to sign free agents Kevin Martin and Chase Budinger as well as bring back Pekovic on a four-year deal that likely will be worth $12 million a year or more. They also continue to try to trade guards J.J. Barea and/or Luke Ridnour in an attempt to create more cap space to add another two players through signing or trades. The Wolves have the right to match any offer Pekovic receives from another team. As of Sunday, he is not believed to have been offered such a deal and the number of teams who have the cap space and desire to sign him had dwindled to one or two. Minneapolis Star-Tribune
7/8/2013 – Three team trade in the works: The Golden State Warriors are in advanced discussions on a three-way, sign-and-trade scenario centered on delivering a trade exception and Utah Jazz free agent Randy Foye to the Denver Nuggets, league sources told Yahoo! Sports. In the deal, which could be finalized on Monday, Denver would sign-and-trade forward Andre Iguodala to Golden State for the four-year, $48 million contract he had agreed to sign with the Warriors. This would create a $12 million trade exception that the Nuggets would have a full year to use before it expires. Utah would sign-and-trade Foye to Denver on a three-year, $9 million deal, with a team option on the third season, sources said. The sign-and-trade would give the Warriors the salary cap flexibility to sign their 2013 first-round pick, Serbian Nemanja Nedovic, and preserve the Warriors' midlevel salary exception. Golden State would send Utah a future second-round pick for its role in facilitating the deal. Yahoo! Sports
7/8/2013 – Tibor Pleiss a 7-foot-1 myth in OKC: For some of the more die-hard and dialed-in Thunder fans, Tibor Pleiss has turned into something of a 7-foot-1 German myth. Since OKC secured Pliess' draft rights in 2010, his name has floated around in discussions, articles and interviews regarding the franchise's future, always attached to an "if" or "when" he decides to come over. The grainy YouTube highlights confirm his existence. But next year, the wait for Pliess' services will stretch into season four, with no immediate end in sight. Recently, on his blog, the German center announced his intention to return to the Euroleague to play out the second season of his four-year contract with Caja Laboral. "I am in contact with Thunder GM Sam Presti and I often speak on phone with Jonny Rogers, who lives in Barcelona and he is a scout for the Thunder in Europe," Pleiss wrote in the post. "They look at me each game and they are very satisfied for my performances. But I don't want to be misunderstood: I think to the NBA in the medium term and I don't want to talk too much about it." Oklahoman
The most interesting part about all of this is I now know where Zan Tabak is. – FB
7/8/2013 – Knicks still chasing Brand: This was something power forward Elton Brand used to talk about with his former coach at Peekskill High School: Finishing it all up at the Garden. Brand, the 34-year-old Westchester County product, is a free agent, seeking one last contract before retirement. The Knicks, coincidently, have a dire need for another big man off the bench and are trying to snag him as their first free-agent acquisition this summer."If this happens, this would be amazing,'' longtime Peekskill High coach Lou Panzanaro told The Post. "He always indicated he would love to finish his career in New York, his last contract, in the twilight of his career. You never know how things are going to go. His mother [Daisy] hoped the same thing. Early in his career, she didn't want him here because of the distractions. Chicago and L.A. were fine.'' Brand, the No. 1 overall pick by the Bulls in 1999, hasn't been the same player since returning in 2007 from a major Achilles tendon rupture — the same injury Kobe Bryant is battling. Brand spent last season in Dallas, but didn't put down roots. Mavericks owner Mark Cuban is chasing free-agent center Andrew Bynum, so Brand could be on the backburner there. New York Post
————————————————————————————————————————————————————
Rockets/Mavs clearly still have better shot to steal Dwight from Lakers than Warriors. But Dubs, I'm told, have forced way into conversation

— Marc Stein (@ESPNSteinLine) July 3, 2013
First surprise of week on Dwight front: Sources say Golden State made real impression on Howard in their meeting and have become a factor

— Marc Stein (@ESPNSteinLine) July 3, 2013
Thrilled to announce that as I always hoped, I'm gonna stay with the @spurs for two more years. #gospursgo.

— Manu Ginobili (@manuginobili) July 3, 2013
7/3/2013 – Aussie drawing NBA interest: Australian free agent forward Joe Ingles is attracting interest from four teams – the Indiana Pacers, Milwaukee Bucks, Memphis Grizzlies and Los Angeles Clippers – that believe his defense and outside shooting could translate into the NBA next season, a league source told RealGM. Ingles has discussed potential workouts for teams, and he also has lucrative offers from clubs wanting to keep him in Europe. After averaging 15 points, five rebounds and 4.2 assists for Australia in the 2012 Olympics – including a 19-point, eight-rebound, six-assist effort against Team USA – Ingles had a strong close to the Spanish ACB season. RealGM
7/3/2013 – Wade on Li Ning Chinese tour: The Miami Heat's Dwyane Wade visited China on Wednesday for the first time since signing a multi-million dollar contract with Chinese sportswear company Li Ning last year, but the sneakers that bear his name are in short supply. Chinese stores are slowly being re-stocked with the "Way of Wade" shoes, but they won't be widely available on U.S. markets for some time. With hundreds of fans cheering at a promotional event in Beijing, the six foot-four inch tall Wade chest-thumped the diminutive Chinese host on stage and towered over Olympic gymnast Li Ning, the founder of the company that bears his name. "Li Ning is what I believe in, it's my style," the NBA superstar said, wearing a T-shirt emblazoned with his face and the signature gold and black Wade sneakers. But Li Ning has left customers on both sides of the Pacific wanting for the Wade shoes, unable even to profit from the Heat being crowned NBA champions last month. Wade's teammate LeBron James's Nike sneakers recorded the highest U.S. sales of any NBA player last year, drawing $300 million. Reuters
7/3/2013 – Blazers in the hunt for Sammy D: The 6-11 center is said to be "intrigued" with the possibilities of joining the Trail Blazers. Portland reached out to Dalembert early on in the free agency process, but so did multiple other teams, CSNNW.com was told. The 11-year veteran could play a key role in the development of second-year center Meyers Leonard and rookie center Jeff Whithey. As this point in time, conversations between both sides have been exploratory. That could change however, being that Tiago Spiltter, a restricted free agent center the Trail Blazers were expected to pursue, agreed to a four-year, $36 million deal with the San Antonio Spurs. CSNNW.com
7/3/2013 – Rockets D12 backup plan: Morey remained in Los Angeles after the Rockets' dinner with Howard, speaking with other free agents, including a late Monday meeting with Hawks free-agent forward Josh Smith. Smith could be an option with or without Howard joining the Rockets, a person with knowledge of the Rockets' thinking said Monday, but he is considered a long shot for them. If the Rockets do not land Howard, they are expected to be careful to protect their cap flexibility for next season. If they do get Howard, they would be limited to a sign-and-trade deal with the Hawks and would be limited in what they could offer. The Rockets have expressed interest in Nuggets forward Corey Brewer whether they can get Howard or not. They are interested in Knicks guard J.R. Smith if they don't get Howard and have cap room. There is also interest in bringing back forward Carlos Delfino. Houston Chronicle
7/3/2013 – Bynums had first knee surgery at age 12: The March 2012 surgery on his knees to clean out damaged cartilage marked his fourth knee surgery as a professional since 2008. He underwent arthroscopic surgery in May 2008 on his left knee, and in the summer of 2010 he had surgery on his right knee to repair torn cartilage. Bynum also had his knees drained countless times during his career, which is never a good sign for a man whose weight hovers near 300 pounds. But Bynum's knee issues began long before the Lakers selected the then-17-year-old with the 10th pick in the 2005 draft. Bynum had his first knee surgery at the age of 12. After they drafted him, the Lakers discovered that Bynum's out-of-the-ordinary "Q angle" – the angle between hip and knee – could affect the way his kneecap glides along the thigh bone and could cause foot problems, which Bynum has also experienced in his career. "We had four well-known doctors look at it and they all approved the trade," majority owner Joshua Harris said at a news conference the day after the season ended. "I don't know that there was a rubber stamp. I wouldn't characterize it that way." One of those surgeons said to have signed off on the deal sat courtside prior to the team's home finale April 14. Asked how he could have cleared Bynum for the trade, the doctor, speaking anonymously, shook his head, saying, "Who says I cleared him?" The Lakers viewed Dwight Howard as a better center than Bynum, but another prevailing factor in the Lakers' decision to deal away Bynum was the front office's belief his degenerative knees would worsen progressively, league sources said. Philadelphia Inquirer
I guess this why he wont let teams examine his knee until a contract is offered. – FB
7/3/213 – NBA drops the hammer on UW alumni: The NBA fined several players $15,000 each for participating in an unsanctioned University of Washington alumni basketball game, league sources told Yahoo! Sports. Sixers center Spencer Hawes was fined $15,000 for playing in a alumni game.The NBA fined Philadelphia 76ers forward Spencer Hawes, Memphis Grizzlies guards Quincy Pondexter and Tony Wroten and Sacramento Kings guard Isaiah Thomas for participating in a June 23 game at Alaska Airlines Arena in Seattle, league sources told Y! Sports. Yahoo! Sports
7/3/2013 – Rubio really likes to break in his shoes: RUBIO: They're great shoes, very light. Actually, I don't wear a lot of shoes. A lot of NBA players wear like one a game, or something like that. I wore like one pair every two months or something. When they get dirty, I change it, but I don't want to change it. I don't like to wear new shoes. I like when the shoe is broken in. I almost only use two or three each season, which means it's a good type of shoe, you know? ME: Because it holds up. RUBIO: Right, because I play a lot of games. And it's pretty light, which I like. I don't like to wear a low top, because I kind of twist my ankle, and I don't like to wear a high-high top, because it stop me from doing some things. So I think it's the perfect size for how I feel comfortable playing. ME: Wait, so you wear the same shoe in practice, too? You wear the same shoe every day for like three months? RUBIO: Yeah, I do. Clayton [Wilson], the guy who is taking care of us and ordering shoes …ME: The equipment manager? RUBIO: Yeah, he's always like, "You need new shoes?" And I'm like, "Not yet." And he says, "Um…" He was wondering in the beginning, but I told him I'm not going to order new shoes until I feel like the shoes need to change. I like that way. NBA.com
7/3/2013 – Williams eyes training camp return: On the seventh day, Lou Williams rests. Five and a half months into his recovery from a torn right ACL, the Hawks guard works out six days a week in Atlanta and hopes to be ready for the start of training camp. "That is what we are shooting for," Williams told The Atlanta Journal-Constitution on Tuesday after a workout. Williams is jogging and doing a variety of drills. On Tuesday, he completed a full basketball workout for the first time since he tore the ACL on Jan. 18 against the Nets, just 39 games into last season. Atlanta Journal-Constitution
7/3/2013 – Kevin Durant scouting the WNBA talent: If he is indeed off the market, Kevin Durant is neither confirming nor denying it. Sitting courtside at tonight's WNBA game between the Minnesota Lynx and Los Angeles Sparks in L.A., the Thunder star skirted carefully-phrased questions about his rumored relationship with Lynx guard Monica Wright. Durant granted NBA TV a live interview during the second quarter but didn't reveal anything more than a blush when the sideline reporter began asking probing questions about Durant's WNBA interest. It's the second time in a little more than a month that Durant has attended a Lynx game. He also traveled to Minnesota to watch a Lynx home game in late May. Oklahoman
7/3/2013 – Pacers to Test Short-Sleeve adidas Jersey at 2013 Summer League: The Pacers will sport a new look in their summer league games, which begin on Sunday in Orlando. They will experiment with adidas' adizero short sleeve NBA Uniform System. Instead of the usual reversible practice jerseys with their names added to the back, the Pacers will be wearing white and black short-sleeve jerseys. Navy blue wasn't available when teams were required to order. NBA.com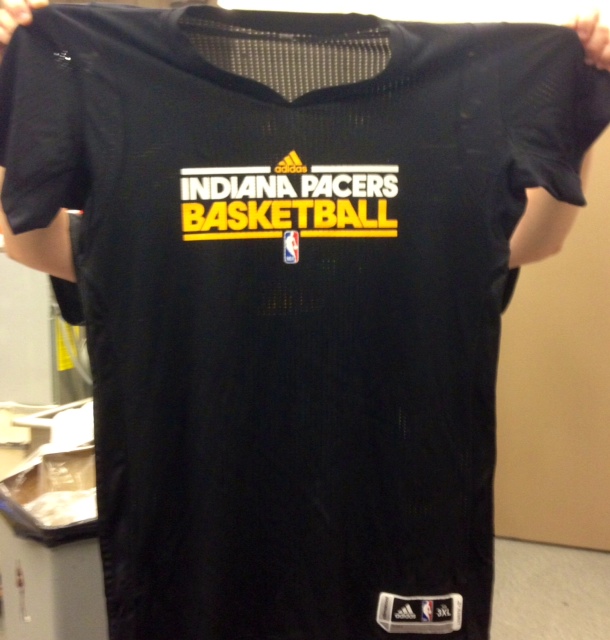 I didn't like the long sleeve jerseys at first but I think they are growing on me…. – FB
7/3/2013 – Luol Deng steps in to stop ex-coach's Brixton eviction: Luol Deng, 28, who Barack Obama has called "an inspiration", stepped in after hearing Jimmy Rogers, 70, was at risk of losing the home he has lived in for more than 30 years. Mr Rogers discovered Deng, who is 6ft 9in tall, as a teenager. He went on to represent Great Britain and plays for the Chicago Bulls. The star, right, is one of the highest earning British sportsmen, with a salary of 13 million dollars. Lambeth Council was due to evict Mr Rogers from the two-bedroom Shannon Grove property — but has now granted him a stay of execution. The council claimed that it needed to sell Mr Rogers's house to help recoup £450 million of lost Government funding. In a letter, Deng, who came to the UK when he was seven after fleeing the Sudanese civil war, said he "simply could not let this pass by without trying to help". He said: "Jimmy is Brixton. He has done so much for the community helping thousands of kids get off the streets and do something constructive with their lives. London Evening Standard
Deng really does seem like one of the real true gentlemen of the NBA. Kid has class. – FB
————————————————————————————————————————————————————
The fourth year of Martell Webster's $22 million deal with Washington has a partial guarantee, league source tells Y!

— Adrian Wojnarowski (@WojYahooNBA) July 2, 2013
I'm cool with Martell getting paid, he worked through a lot of injuries and put together a solid season for the Wizards. Plus they need his shooting. – FB
Y! Sources: Indiana reaches agreement with forward David West on a three-year, $36 million contract. http://t.co/oUG7CGpHyf

— Adrian Wojnarowski (@WojYahooNBA) July 2, 2013
7/2/2013 – Bucks ready to make free agency waves: Two other free agents to keep an eye on regarding the Bucks: former University of Wisconsin and Wauwatosa East High School standout guard Devin Harris (Atlanta) and Carl Landry, the former Milwaukee Vincent High School and Purdue star (Golden State). Both unrestricted free agents told me in recent weeks they would be receptive to signing with Milwaukee. While Josh Smith's status bears watching, here's another potential development that could profoundly alter the Bucks' landscape: They may make a major push to sign point guard Jeff Teague. Teague was also a teammate of Smith, Harris and Pachulia in Atlanta but, unlike the latter trio, is a restricted free agent. That means whatever offer he receives, the Hawks can match it and retain his services. If the Bucks were to land Teague, it would undoubtedly trigger yet another major move: jettisoning Brandon Jennings. Hammond recently said it was his "intention" to keep Jennings, a restricted free agent. But the word in NBA circles is the Bucks are amenable to a sign-and-trade involving Jennings, whose four-year career with the Bucks has been marred by immaturity on and off the court. Racine Journal-Times
7/2/2013 – Nuggets look to bring back Mozgov: Free agent center Timofey Mozgov is in negotiations with the Denver Nuggets on a multi-year contract to re-sign with the franchise, a league source told RealGM. Ever since making changes within the organization, the Nuggets have become more interested in re-signing Mozgov, trading away Kosta Koufos on draft night. Mozgov has already received a qualifying offer from the Nuggets, but the parameters of a new deal have been discussed as a possible three-year contract with an option on the third season, a source told RealGM. Mozgov had once been thought of as one of the most skilled center prospects in the NBA while with the New York Knicks, but he received little playing time under George Karl. Even so, Mozgov told RealGM in April, "I feel confident I can play. I know I can play and I know Coach knows I can play, so I feel confident. I just need some [playing] time." RealGM
Asked a rival Western Conf exec for his read on Dwight: "I think he stays!" Really, why? "I don't think he has enough guts to leave."

— Dave McMenamin (@mcten) July 2, 2013
Sounds about right! – FB
League source: #Knicks are preparing to make offer to Elton Brand. Brand is from New York, wants to join winning team. Mutual interest high.

— Jared Zwerling (@JaredZwerling) July 2, 2013
7/2/2013 – Calderon meeting with the Kings: Free agent point guard Jose Manuel Calderon will meet with the Kings today in Sacramento, agent Mark Bartelstein told HoopsHype. Owner Vivek Ranadive, general manager Pete D'Alessandro, head coach Mike Malone and Chris Mullin will be at the meeting with the Spanish guard, who returned to the United States yesterday. His stay in the country will be short as Calderon will be back in Spain in just a couple of days. HoopsHype
Nazr Mohammed has reached verbal agreement on one-year deal to return to Bulls.

— K.C. Johnson (@KCJHoop) July 2, 2013
7/2/2013 – Tyreke being swooned by multiple teams: In his first go-around as an NBA free agent, Tyreke Evans is attracting quite a bit of attention. He met Sunday night with the New Orleans Pelicans, who offered him a four-year contract worth an estimated $44 million, plus incentives. The Sacramento Kings have the right to match any deal for the restricted free agent, but multiple reports say that the Pelicans offer is constructed in a way that would make it difficult for the Kings to do so. The Pelicans' offer remains on the table. As of this morning, Evans has yet to agree to the deal and likely won't make a decision until he's done weighing all his options. Evans met yesterday with both the Kings and Detroit Pistons. Evans could have as many as two more meetings Tuesday. According to a person familiar with the former rookie of the year's free agency process, he has a sitdown scheduled later today with the Atlanta Hawks and possibly a meeting with one other undisclosed team in the Eastern Conference. Cowbell Kingdom
And you thought the Doc intrigue was over. Meeting w/Mayo. Meeting w/Redick. And yet rumbles keep circulating that he wants to keep Bledsoe

— Marc Stein (@ESPNSteinLine) July 2, 2013
7/2/2013 – Bogut downplays Lakers sign and trade talk: Appearing exclusively on Back Page Live on Tuesday night, Bogut poured cold water on speculation he could join Kobe Bryant and co in Los Angeles next season. Reports from America on Tuesday stated Bogut's team Golden State Warriors were set to meet with Howard in a bid to thrash out a sign-and-trade deal that would see the two big men swap teams. Bogut said every NBA team would be looking at the seven-time All Star, but couldn't see himself being part of a potential trade. "He could be going anywhere, he could be going to 29 teams," Bogut told Fox Sports "We're obviously one of them." "I don't see why the Lakers would make that deal "There are better deals for the Lakers if they're looking at a sign-and-trade deal. "I think it's less than one per cent chance of going through." FoxSports.com
Did Bogut basically just say he wasn't valuable enough to be swapped for D12? – FB
7/2/2013 – Carl Landry seeks stability in new contract: "I think that experience I can bring to any team will be very valuable. That part should not be a hard thing for me on any team. I've been able to do it for four teams so far." For half of his NBA career, Landry has operated with a one-year contract. He wants that to change. "Over the last two years, I have had a one-year deal," Landry said. "Coming in as a rookie with Houston (in 2007-2008), I had a one-year deal. I'm looking for some kind of security this year. Hopefully, that will be longer than a three-year deal." While it's only speculation, Landry would enjoy being an Indiana Pacer. "The Pacers have had interest in me over the last two years," Landry said. "Could I play there? Yes. Obviously, they are a playoff team and one of the best teams in the Eastern Conference. They showed that this year. And for me, Indiana is where it all started. Journal and Courier
7/2/2013 – Camby wants a shot at a championship: Marcus Camby, part of the Bargnani deal, expressed his displeasure at how he was treated last season in a statement released by his agent. He also hinted at retirement. "It's unfortunate that I wasn't given a meaningful opportunity to contribute last season in New York," Camby said. "I was really looking forward to the coming year as a chance to show the organization what they missed out on last year, and pushing our team towards the Finals.'' Camby hinted he doesn't want to play in Toronto, where he was drafted. "Given that my goal at this point in my career is to have a shot at a championship, however, I'll have to evaluate my options going forward," he said. "I've enjoyed a great career and under the right circumstances I hope to continue making an impact in the league." New York Post
The Knicks did do Marcus dirty by sending him back to the Raptors. – FB
7/2/2013 – Livingston an option for Nets backup PG spot: C.J. Watson's decision to opt out of the second year of his deal with the Nets and hit the open market proved to be a wise move. Watson became one of the first free agents to agree to a new contract yesterday when he verbally committed to a two-year deal with the Pacers. "Keep up with the pace!!!!" Watson tweeted as news of the deal broke. Watson's departure, which was first reported by Hoopsworld and won't be official until July 10, left the Nets in need of another point guard to compete with Tyshawn Taylor for backup minutes behind Deron Williams. In order to fill that spot, the Nets reached out to free agent Shaun Livingston, according to a source. Livingston, the fourth overall pick in the draft by the Clippers in 2004, has played for eight teams in his career, including the Wizards and Cavaliers last season. Livingston played 66 games last season, and averaged 7.2 points, 2.5 rebounds and 3.6 assists per game while shooting 50.2 percent from the floor. Livingston's career was derailed by a horrific knee injury in February 2007 that kept him out for the rest of that season and the entire 2007-08 season. New York Post
7/2/2013 – Knicks still adding pieces to the puzzle: After the additions of 7-foot power forward Andrea Bargnani and first-round pick Tim Hardaway Jr., the Knicks are still looking to add a prototype small forward to their roster, in addition to a point guard. According to an NBA source, the Knicks are pursuing Rockets free agent small forward Francisco Garcia and former Knick Matt Barnes. The Knicks traded small forward Steve Novak in the Bargnani deal and are not confident they can re-sign forward Chris Copeland. The source said the 6-foot-7 Garcia, who was born in the Dominican Republic but grew up in The Bronx, has interest in joining the Knicks. He averaged 10.7 points in the playoffs for the Rockets, who didn't renew his option. (He also played with the Kings last season).
7/2/2013 – Nets re-sign Blatche: The Nets continued their busy offseason on the opening day of free agency, coming to an agreement to re-sign Andray Blatche to a one-year, $1.4 million deal. Retaining Blatche, which won't be official until July 10, was crucial for the Nets, who need depth behind newly acquired power forward Kevin Garnett.Blatche, the 6-foot-11 big man who is capable of playing power forward and center, had a terrific 2012-13, proving to be one of the biggest bargain signings in the league after he was amnestied by the Wizards last summer. Blatche averaged 10.3 points and 5.1 rebounds coming off the bench for much of the season and pairing with Brook Lopez to give the Nets the NBA's highest-scoring 1-2 combination at center. "Of course," Deron Williams said during his exit interview, when asked if he wanted the Nets to retain Blatche. "Dray was a big part of what we did this year. "He's so talented. He's unbelievably talented. It's just a matter of consistency and him bringing it every night." New York Post
7/2/2013 – Several teams pursuing Oden: Greg Oden will likely choose from a group of suitors that includes the San Antonio Spurs, Miami Heat, Cleveland Cavaliers, Boston Celtics and Memphis Grizzlies, a source close to Oden told ESPN.com. A source close to Oden told ESPN's J.A. Adande that the Cavaliers and Spurs appear to be the best fits at this time. Oden, 25, has battled numerous knee injuries and hasn't played in an NBA game since Dec. 5, 2009. He is coming off his third microfracture knee surgery in February 2012. ESPN.com
7/2/2013 – Mo Williams agent denies starting role a requirement: A day after the Jazz traded up to acquire coveted point guard Trey Burke, Yahoo Sports claimed Friday that Williams, an unrestricted free agent, will only come back to Utah if he's guaranteed a starting role next season. "He's not going to come back as a backup," a source reportedly told Yahoo. Bartelstein told the Deseret News that the Yahoo story "completely mischaracterized" how Williams' camp feels heading into the free agency period that begins Sunday night at 10:01 MDT. "That is 100 percent not the case," Bartelstein said. "We would never make a demand of the Jazz or any team." To the contrary, Bartelstein said Williams will have an "open mind" while discussing possible contracts with Utah and other prospective teams. The agent expects to chat with Jazz general manager Dennis Lindsey soon about Williams' possible future in Utah. Deseret News
I always believe everything an agent says. – FB
7/2/2013 – Kings line up vets to mentor Ben McLemore: According to McLemore's agent, Rodney Blackstock, the league has lined up Webber, Vlade Divac and Mitch Richmond as mentors for the 20-year-old rookie. No word on whether Chris Mullin – who has a soft spot for shooters, understandably – will join the group. Mullin is continuing to work with Ranadive and D'Alessandro in an unofficial consultant role, but whether he takes on a more permanent front office position remains to be seen. D'Alessandro, however, who was on Mullin's staff in Golden State, plans a few more hires. McLemore, who chose to wear No.16, the number worn by Peja Stojakovic, said he learned about his connection to the former Kings sharpshooter via social media. "Tweets, tweets," McLemore said, laughing. " 'Ah, man, Peja is a great shooter!' " Sacramento Bee
7/2/2013 – White Mamba worked with Olynyk leading up to the NBA Draft: "As a big fan of Kelly's we kept in close contact with Brian as they worked out," Ainge said yesterday during a press conference at Mattapan's Mildred Middle School introducing Olynyk and second-round pick Colton Iverson. Olynyk, in turn, received a nice tutorial about the NBA from Scalabrine on the eve of the draft. "It was a great opportunity for me to work out with Brian," said Olynyk. "He's a high-character guy. He taught me a lot of different stuff, tips and tricks for how the NBA game is different from the college game. I was fortunate to have him with me, and get me ready for the workouts and the draft. I can't thank him enough." Boston Herald
I'm sure Boston is thrilled to have the second coming of Brian Scalabrine. – FB
————————————————————————————————————————————————————
7/1/2013 – Knicks eye Monta: As the free-agent negotiating period opened Monday morning, the Knicks expressed an interest in pursuing a deal with Bucks shooting guard Monta Ellis, league sources told CBSSports.com. A union of Ellis and the Knicks is viewed as a long shot, as the Knicks have only the $3.2 million taxpayer mid-level exception available. Ellis just opted out of a deal that would have paid him $11 million next season in Milwaukee. But Ellis, 27, and his Washington, D.C.-based agent, Jeff Fried, are known to be willing to compromise in order to sign with a contending team. And the Knicks, who face the free-agent loss of sixth man of the year J.R. Smith, would provide ample opportunity for Ellis to showcase his scoring prowess deep into the playoffs. CBSSports.com
7/1/2013 – Mavs in search of a new point guard: Howard is Priority A, but B is addressing the point guard position, a problem all of last season. Anyone who considered the Mavs declining to make a qualifying offer to would-be restricted free agent Darren Collison to be newsworthy apparently missed him losing his starting job to a 37-year-old who was unemployed for the first half of the season. It's no surprise then that the Mavs are among several teams to express interest in point guards Jose Calderon and Mo Williams, according to a league source. The Mavs have long been intrigued by Calderon, who they discussed trading for last season. Calderon is also drawing interest from Detroit, Houston, Atlanta and New York among other teams. ESPN.com
7/1/2013 – Blazers exploring free agent Tony Allen: Late Sunday night the Portland Trail Blazers contacted the representatives of unrestricted free agent guard Tony Allen, a league source conveyed to CSNNW.com. The source, who spoke on the condition of anonymity due to the sensitive nature of the free agency period, says at that at this point, the reason for the conversation was merely "exploratory" with interest on both sides. They are expected to resume discussions shortly during the free agency period. As of now, no meeting has been scheduled. Allen, 31, has played for the Memphis Grizzlies the past three seasons. He is one of the best perimeter defenders the game has to offer. But even more, his leadership skills and knack for holding players accountable might be more appealing to teams. CSNNW.com
7/1/2013 – David Lee on the trading block: The Golden State Warriors are exploring trade opportunities for All-Star forward David Lee and the three years, $44 million left on his contract, league sources told Yahoo! Sports. Lee, 30, is a popular and well-respected player within the Golden State franchise but his contract is considerable, and moving him for a star – or a player on a shorter deal – makes financial sense. Golden State offered Lee in a package for Toronto's Andrea Bargnani, sources said, but the Raptors made a deal with the New York Knicks to shed the final two years, $22.5 million on Bargnani's contract. The Warriors tried to pry Portland's LaMarcus Aldridge as part of an offer that included Brandon Rush, league sources said. Portland has been engaging trade talks for Aldridge, but has pursued more robust offers than Golden State's proposal, sources said. Yahoo! Sports
7/1/2013 – Rockets roll out the red carpet for Dwight Howard: Howard has repeatedly insisted his primary objective in free agency is to find the team with the best championship potential. Considering themselves to be in the strongest position in that measure, the Rockets sought to make their case they also would be positioned to make improvements even after signing a second player to a max contract. The youngest team in the NBA last season, the Rockets were prepared to argue they would keep their young core untouched and would have the salary-cap exceptions and first-round picks in coming seasons. The youth was expected to be a point of emphasis. James Harden will be 24 next season, Chandler Parsons 25. Harden and Parsons, their best player and team captain, respectively, have become friends with Howard and were part of the presentation. Hall of Famers Clyde Drexler and Hakeem Olajuwon traveled from around the world for the meeting. Drexler flew in from Taiwan, arriving after a 13-hour flight Sunday afternoon. Olajuwon traveled from Jordan for the meeting. (His appearance at the NBA draft in Brooklyn on Thursday was added to his itinerary after the Rockets let the NBA know they were flying him in.)Houston Chronicle
7/1/2013 – Blazers reach out to Zaza Pachulia: The free agency period is underway and the Portland Trail Blazers wasted little time in reaching out to unrestricted free agent center Zaza Puchulia, a league source informed CSNNW.com. The source, who spoke on the condition of anonymity due to the private nature of the talks, says there is interest on both sides and added that dialogue would continue. Puchulia, 28, has spent the past eight seasons with the Atlanta Hawks. The 6-11 center is known as an enforcer in the paint throughout the league. He doesn't block many shots, but he's excellent in knowing where to be at defensively on the court. CSNNW.com
7/1/2013 – Pelicans interested in Tyreke: New Orleans Pelicans general manager Dell Demps promised after Thursday night's draft they were going to do everything possible to improve their roster this offseason. Apparently he wasn't kidding because the Pelicans were scheduled to meet with Sacramento Kings restricted free agent shooting guard Tyreke Evans just after 11 p.m. Sunday, when teams can officially start negotiating with free agents, league sources confirmed. Although not confirmed, the Pelicans could be looking to work out a sign-and-trade deal with the Kings to possibly move point guard Greivis Vasquez or starting shooting guard Eric Gordon. New Orleans Times-Picayune
7/1/2013 – Pistons make Josh Smith a top priority: Detroit Pistons general manager Joe Dumars met with Atlanta Hawks forward Josh Smith at 12:01 a.m. ET with a plan to make the free agent forward a substantial four-year offer, league sources told Yahoo! Sports. Atlanta has shown far more interest in working sign-and-trade arrangements for Smith than re-signing him to a long-term deal, league sources said. Along with re-signing point guard Jose Calderon, Smith is the Pistons' top priority on the market, league sources told Y! Sports. The Pistons planned to make a preemptive strike on Smith, understanding that he's a secondary priority for several teams awaiting the resolution of the Dwight Howard derby, sources said. Yahoo! Sports
7/1/2013 – Jazz targeting shooters in free agency: "I think clearly shooting is a priority," general manager Dennis Lindsey said in the hour after the Jazz's trade for Trey Burke was announced Thursday night. "I think some veteran leadership is another thing Ty probably wants relative to the youth of our club." – The Jazz could target players such as former Jazz forward Kyle Korver, or any number of his Atlanta Hawks free-agent teammates. Andrei Kirilenko, an All-Star for the Jazz in 2004, opted out of $10 million in Minnesota over the weekend but is not expected to be a Jazz target, according to a source. According to multiple reports Sunday afternoon, the Jazz are interested in Dallas shooting guard O.J. Mayo. Salt Lake Tribune
————————————————————————————————————————————————————