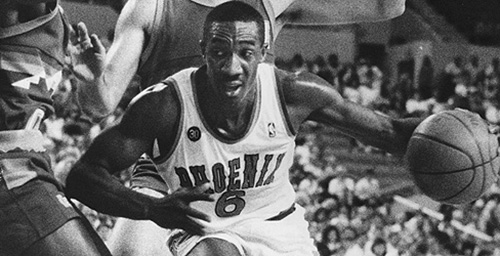 Ask most any hardcore NBA fan to name each team's all-time leading scorer and they'd probably be able to rattle them off fairly easily. Atlanta Hawks? Dominique Wilkins. Dallas Mavericks? Dirk Nowitzki. Portland Trail Blazers? Clyde Drexler. And on and on the list would go. Until that fan was asked to name the Phoenix Suns' all-time leading scorer and then even the most fanatical hoops aficionado would likely stumble. The likely names tossed out there would be Tom Chambers, Kevin Johnson, Paul Westphal, Steve Nash. Maybe even Connie Hawkins. All, of course, would be incorrect. That distinction would belong to one Walter Paul Davis.
You may have heard of him – he was also known by several nicknames including "Sweet D," "The Greyhound" and "The Man With The Velvet Touch." He was drafted by the Suns out of the University of North Carolina in 1977, a Dean Smith product. He poured in 19,521 points over the course of a 15-year NBA career, with 15,666 of those points coming as a member of the Suns, and he did that shooting 51% from the floor for his career. The league hadn't seen anyone quite like him, before or since.
After a stellar college career at UNC, Davis took the league by storm immediately, leading the Suns in scoring, averaging 24.2 points per game and winning NBA Rookie Of The Year honors. At 6'6″,193 pounds, Walt was a unique combination of speed, quickness and a smoothness running the floor that earned him the "Greyhound" tag. Not to mention the most beautiful, textbook mid-range jumper ever seen, especially deadly from the baseline. Yes, it was that jump shot that made Walter special.
But he wasn't a one-trick pony. Davis could put it on the floor, using his patented spin move to raise up for an almost automatic short J or get to the rim in acrobatic fashion. Right away, he showed that he was blessed with the "clutch gene," displaying an uncanny ability to take over games in crunch time and becoming one of the most feared late-game players in the league. And he was even better in the playoffs. When the Phoenix Suns had the last possession of a game, the whole building knew exactly who was taking the last shot. And more often then not, Sweet D had the last word.
He broke in as a small forward and played there until the 1980-81 season when he was moved to the backcourt to pair with newly-acquired point guard Dennis Johnson; that way, the Suns could use a bigger lineup. He made the switch to off-guard without a peep. I can vividly recall at some point during the 1979-80 season there was a ranking of the league's best small forwards and only Julius Erving, whom Davis shared a jersey number with – 6, was placed ahead of Davis. This showed that the players and coaches knew what most of America outside of small-market Phoenix had yet to learn: Walt Davis could ball.
During his time in Phoenix, which lasted from 1977-1988, the Suns made seven playoff appearances, won at least 50 games four times, including a Pacific Division title in 1980-81 and were consistently one of the NBA's best teams. Unfortunately, Davis' career in the purple and orange coincided with the Los Angeles Lakers Showtime Era and so no team out west had more than a remote shot at playing in June. This simple fact kept both Walter and the Suns from an NBA Finals appearance and the widespread recognition that would have came with it.
Walter Davis wasn't a very good player. He was a GREAT player, which may be difficult for the young bucks who follow the league today to understand; how frequently is the word "great" carelessly uttered to anoint a current player wholly undeserving of it? Too often for my taste.
In addition to being the franchises' all-time leading scorer, Davis is also numero uno in FGs made and he's in the Suns all-time top five in seven other statistical categories. That he's yet to be inducted into the Hall Of Fame is a disturbing oversight and injustice to the man who might just be the most overlooked, under-appreciated great player in league history.
Some of my sweetest (pun absolutely intended) childhood memories are the games I attended at Madison Square Garden each year when Sweet D and my Suns came to New York City to play the Knicks. Even at that raw point in my life, I could recognize that Davis' game resembled no one else's that I could recall. That still holds true to this day. And his jump shot is STILL the most picture perfect I've ever seen.
Have you ever heard Michael Jordan discuss who his two favorite players were while growing up in North Carolina? One was David Thompson. The other was, you guessed it, Walter Davis.
If you're old enough, have I jarred your memory? If you're too young to remember him, have I at least piqued your curiosity to want to know more? I sincerely hope so.
Davis finished his playing days in Denver with the Nuggets in 1992, with a brief stint in Portland coming in the 1990-91 season, and it's where he resides today. And the anonymity that marks his career is downright unfair – The Greyhound deserves his props, which includes some long-overdue recognition as one of the best players of his era. If you get a minute, go to YouTube and look for some footage of Sweet D in action – you'll find some there. Or if you happen to be extra lucky, maybe a friend or family member has some old Suns games on tape. See what you missed or rediscover some "back in the day" greatness. There was only ONE Walter Davis.