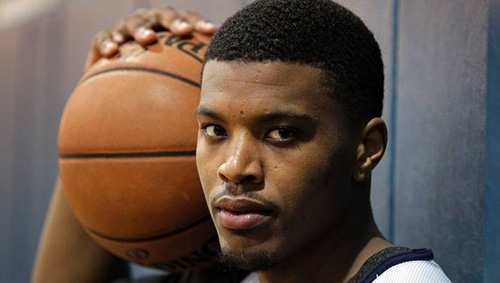 In the wake of the Dallas Mavericks' most recent failure to land a "marquee" free agent, whether newly-signed Ricky Ledo will pan out is the least of the team's worries. A second-round NBA Draft day trade acquisition, the phrase "pan out" may be a little dubious when we're talking about a kid whose post-high school basketball resume consists of little more than participating in practices for one season at Providence College. So, perhaps just file this article under "for fun."
Among the Mavs' disappointments since hoisting the Larry O'Brien Trophy in 2011 was the recent and final unraveling of a previous draft day hopeful also acquired via trade: Rodrigue Beaubois. Fondly known once upon a time among Mavs faithful as "Roddy Buckets," the unimpressive looking Frenchman burst onto the Dallas scene with a signature alley-oop play designed just for him. The man was 6'2″ with a wingspan of about 9'0″. He could leap like Kevin Johnson, showed the transition shot-blocking ability of Dwayne Wade and had off-the-dribble moves reminiscent of a younger Kobe Bryant.
Alas, Roddy's is a maddening story. During his rookie season, Mavs coach Rick Carlisle utilized him far more than he would in subsequent seasons. During that introductory period, fans saw flashes – some might even say promise – of brilliance. Besides the frequent alley-oop team-ups with Jason Kidd, we saw total performance games, like when he personally dismantled the Chicago Bulls' defense at the United Center and got described by Chicago's broadcasters as "Tony Parker with a jump shot." We saw him go ballistic at Golden State, hitting nine three-pointers en route to a 40-point night. The man was a shot-creating machine and Mavs Nation was all but convinced they had a golden goose on their hands.
Then it all went wrong. Injuries kept him almost entirely out of the 2011 title season and part of the season after. Including this past season, injuries and DNPs would prevent him from ever playing more than the 56 games he appeared in during his rookie year, his on-court role continuously diminishing along the way. Some say it was only the injuries, and others, that he couldn't get a handle on Rick Carlisle's system. Some say it was an issue of the Mavericks being too crowded at his position, and still others suspect there was a running personal conflict between coach and player. Irrespective of why, an era that began with fireworks has ended without even a squeak, with the now free agent having been quietly passed on by the team that once traded a draft pick to get him.
Enter Ricky Ledo.
First, let's clear up the biggest, most critical difference between the two players: their height. Ricky has four inches on Roddy, not to mention more upper body thickness, and that's no small thing. Something tells me that if Roddy had Ledo's size, despite the injuries, the Mavs would not have so indifferently let him walk this summer. But that's just speculation. What I know is that after hearing Ledo's name, I went straight to YouTube in search of his highlight reel, the same as I did when Dallas picked up Beaubois. It was a total 2009 déjà vu. I saw a guy with a pure release, draining pull-up jumpers, breaking ankles and getting to the hole with swagger. The catch: it was against a bunch of high schoolers. Not exactly the best metric for judging NBA-caliber talent.
Ledo was recruited by Providence, but never played in a game for academic reasons, meaning his first noteworthy competitive action since high school was the NBA's Summer League in Las Vegas. What we saw there was something like a less mature Beaubois, who, lest we forget, played some overseas professional ball before coming to the League. Ledo exhibited some of the same capability he displayed in high school, also showing some pretty good court sense and passing ability. He also took his share of ill-advised shots and displayed some general rust.
So what then? Rodrigue Beaubois' pre-NBA highlights revealed a guy who could dominate on offense and make defenders look foolish. During his rookie season, he seemed to have little trouble adjusting to the stiffer competition, demonstrating that same dominant ability on multiple occasions. For reasons Mav fans may never fully understand, Roddy nevertheless faded from relevance, his career now a list of "what ifs?" and "what nows?"
It's impossible to prognosticate Ledo's future just yet, especially given that the Mavs have already designated him to the NBDL's Texas Legends, and with Dallas' overcrowded frontcourt, it could well be a while before Ricky gets his shot. But I confess I'm a little excited for when he does. Like Roddy's did before him, perhaps Ledo's dominant pre-NBA game will translate to the pro level. Unlike Roddy before him, perhaps he can stay healthy, learn the system and develop rapport with his coach. Whatever happens, the Mavs have another potential playmaker in the pipeline for four years with little at risk and lots to gain.
Show us what you got, Ricky.