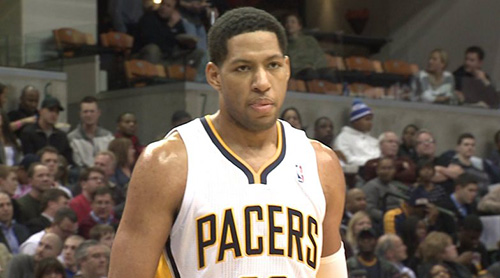 Much to the public's dismay, well, Indiana Pacers fan's dismay, the team has made it clear that they would like Danny Granger to suit up in navy blue and gold for the upcoming season. The general consensus on Granger is that he is not worth the money, especially with Paul George emerging into a superstar and Lance Stephenson showing that he can be the energy guy on the team. Many agree that the Pacers would be better off trading Granger by the trading deadline, the latest, and receiving multiple assets that could assist them in getting over the hump and/or build for their future to at least sustain their current level of success.
Here are three reasons why the Pacers are better off giving Granger his starting spot back and keeping it all season instead of shipping him off to a new city.
1. Lance Stephenson is not ready to become a "go-to" guy
Stephenson came through for the Pacers when it mattered most – Game 6 of the second round series against the New York Knicks when he dropped 25 points in the close-out game and then created matchup problems for the Miami Heat in the Eastern Conference Finals. While Stephenson showed that he could deliver down the stretch, his shot selection and decision-making were questionable at times. Stephenson was a disaster waiting to happen, as he would try to force plays instead of letting the game come to him.
The sample size for Stephenson is simply too small to be sure that he could be one of the Pacers' top scoring options and take efficient shots throughout the season. Granger has proven that he can score at an elite level over a full season. The Pacers would be better off making Stephenson the sixth man and utilizing his energy and passion for defense. Stephenson can mimic Ben Gordon when he came off the bench in Chicago or a James Harden when he was in Oklahoma City, providing a spark off the bench and make sure that the offense does not stall during the times George and/or Granger need to take a breather.
2. Paul George has not proven that he deserves a max contract yet
Paul George surpassed expectations in his first season with an expanded role on the Pacers last season. He averaged 17.4 points and pulled down 7.6 rebounds a game, but barely shot 42 percent from the field. On top of that, George was only able to get to the charity stripe 3.5 times a game, where as Granger averaged about seven free-throw attempts a game during his peak years. George has not learned how to attack the basket and force his six-foot eight-inch frame on smaller opponents.
George has plenty of room for improvement in terms of his shot selection and ability to score in the paint. Granger has performed at an NBA All-Star level for multiple seasons and knows how to score at an efficient rate. Granger can mentor George and help him overcome the deficiencies in his game. Granger has more NBA experience and a strong understanding of the game. Overall, the Pacers will ultimately benefit from having two elite scorers that can challenge and help each other improve.
3. Frank Vogel has one more toy to play with
Vogel possesses one of the best defensive minds in today's game. Vogel showed that he could overcome the adversity of losing his leading scorer and assemble a team worthy enough to push the Heat to the brink of elimination. In addition, Vogel finds a way to connect with his players and motivate them to play as a team and always look out for the greater good of the ball club. With the new addition of Luis Scola and the emergence of Stephenson, Vogel has a loaded bench that could do plenty of damage on the defensive end. I trust that Vogel will slowly ease Granger back into the starting lineup and find a way for him and George to co-exist. If anyone can make this situation work, it's Vogel.