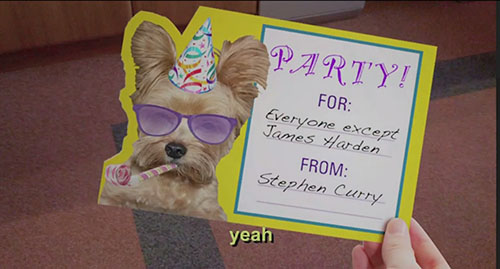 It seems after the "beef" Kendrick Lamar started last week on Big Sean's "Control," everyone is puffing their chest and throwing shade, including Stephen Curry on James Harden in Foot Locker's "Approved" video series. Naturally, it's all in good fun, but this wouldn't be the first time that Curry hated on another NBA player.
Below is James Harden's track:
http://www.youtube.com/watch?v=lc6d1t7CeJs
Here's Stephen Curry's diss track/remix, which is almost as bad as Iman Shumpert's response track to the aforementioned Kendrick Lamar, but at least Curry was bad on purpose. I think:
http://www.youtube.com/watch?v=ukWFmNWeF2s
Oh, Stephen.
Personal note… Joe Budden's response to Kendrick Lamar is my current favorite. There's been a bunch of them, so what's your favorite? And, THANK YOU, Kendrick for lifting the game.