When talking about the signature basketball shoe, shoehero is usually the name that comes to mind first. Michael Jordan's reputation, accolades and the outright dopeness of his sneakers brought footwear popularity to a whole new realm. Keeping Jordan in the mix, but not including the stars of today, I want to look at some other kicks from the past that I think deserve recognition. I'm not saying this list is the all-time best because so many shoes have come through the game and it's nearly impossible to chose. Not all of these pairs will fit perfectly for everyone as we all have different shop shapes and sizes. You can read more on that on Lilly Harvey's https://shoeadviser.com. Everyone has their own taste but we cannot deny the royalty that the pairs on this list has. These 10 pairs of kicks had their time to shine and will always be recognized by true sneaker heads.
Shawn Kemp – Reebok Kamikaze 2
Did you forget about these? The "Rain Man" dropped in from the clouds in his signature Reeboks and dunked like crazy all over opposing teams. But if you stared at them for too long, you would be transported to an alternate universe. And so solves the case of "What ever happened to Shawn Kemp?"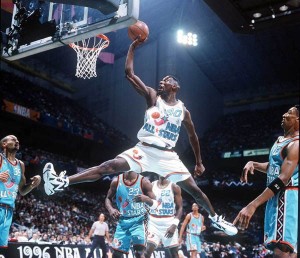 Magic Johnson & Larry Bird – Converse Weapon
1979 brought about a real change to the face of the NBA, as two future Hall of Famers, Earvin "Magic" Johnson and Larry "Legend" Bird, both entered the league. Converse capitalized on the already brewing rivalry between the two, and the new age of shoe endorsements had officially begun.
Charles Barkley – Air Max2 CB
"I am not a role model." Charles Barkley always said what was on his mind, and what was on his feet was usually talked about just as much. With a straightjacket for inspiration, the Air Max2 CB looked as tough and rugged as the man himself. I'm sure every kid wearing these swore the Air Max bubble for sure added three to five inches to their vertical.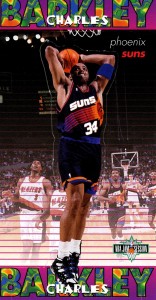 Michael Jordan – Air Jordan I
$5,000 fine per game. That was the cost for Nike to become the ultimate juggernaut of NBA (and athletic) footwear. The controversial red-on-black and red-on-white colorways were laced up on the skinny ankles of one Michael Jeffrey Jordan. The shoe sparked an on-court revolution and was a fitting introduction to the man who would change the game forever. Jordan Brand started from these humble beginnings and it's been onward and upward ever since.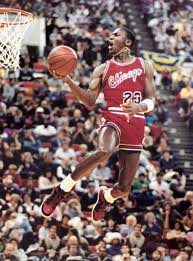 Penny Hardaway – Nike Air Penny 1
Touted as the next Magic Johnson, Anfernee "Penny" Hardaway was on his way to living up to that honor. On the court, Big Penny was All-NBA and superstar. Off the court, Lil' Penny was just as big, if not a bigger star. Injury may have tapered his rise to the NBA's promised land, but these kicks are still as hot as it gets.
Dominique Wilkins – Reebok Pump
He was known as the "Human Highlight Film," and Dominique Wilkins's Reebok Pumps made sure he always looked good for the camera. Playground wannabes everywhere laced up their kicks and pump … pump … pumped their way to bricks and air balls trying to copy Nique's greatest hits. I'm sure many took it even further by emulating the patented "S" curl. Smooth.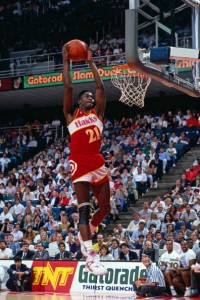 Rasheed Wallace – Nike Air Force I
As a true testament to the "Old School," Rasheed "Ball Don't Lie" Wallace adopted these OG kicks as his own. The classic design in high-, mid- or low-cut make them versatile for either on- or off-court activity. Iconic to say the least, the AF1 is a mainstay in hip hop and youth culture around the world.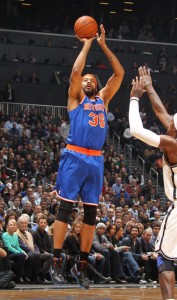 Kevin Garnett – Nike Flightposite 2 KG
Though the 2013 version is still a warrior and competitor, Kevin Garnett—MVP as a member of the Minnesota Timberwolves—was a flat out beast in his prime. It's no wonder his shoes were so popular. The Flightposite, with its metallic design, resembled a futuristic spacecraft straight out of Star Trek. Probably why his game was so out of this world.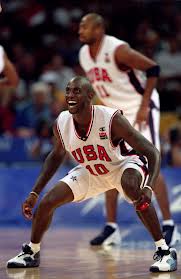 Allen Iverson – Reebok Question Mid
When Allen Iverson was drafted first overall out of Georgetown University in 1996 by the Philadelphia 76ers, questions poured in from all over. Can he play point guard? Does he shoot too much? Is he a troublemaker? Well, he took those questions, put them on his feet, and gave everyone the answers they were asking for.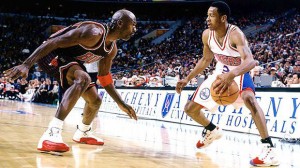 Michael Jordan – Air Jordan XI
This entire list could have conceivably been comprised entirely of Michael Jordan's footwear. And though every signature Air Jordan has its fan base, the Air Jordan XI is hands down the classiest basketball shoe ever made. It's been said that Michael Jordan wanted this shoe to look good when worn with a tuxedo. Of course he did! The patent leather and James Bond-ish design screams black tie affair. I'll take mine with vest, no cummerbund.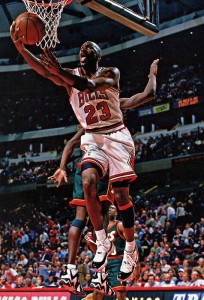 What kicks are on your list? Leave your comments below.