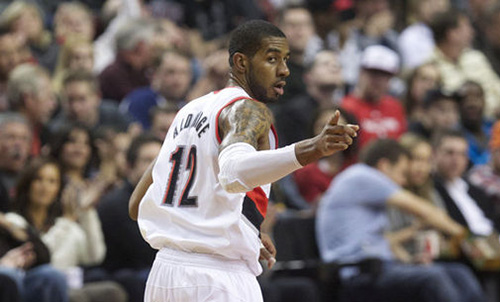 Whereupon an NBA free-agent fan sets about selecting a team to root for during the 2013-14 NBA season.
The NBA Fandom Games can at times be an exercise of true empowerment. For a fan who survived the reign of Isiah Thomas, projected faith throughout Donnie Walsh's messy deconstruction of the roster, and in recent seasons navigated the illusion of contendership under Carmelo Anthony, the opportunity to banish the New York Knicks right out front was a delicious reckoning for the historical (and, face it, ongoing) calamity that is the Knicks.
Other teams are considerably less inspiring. On the spectrum of motivation, where the banishment of the Knicks was downright celebratory and the elimination of the Houston Rockets a bit belabored, the Portland Trail Blazers fall thickly and undeniably in the quiet and insipid middle.
With the Fandom Games focused up to this point on banishing the willfully-tanking duds of the world and taking some well-deserved whacks at the Knicks, a team as seemingly insignificant in the current landscape as the Portland Trail Blazers could almost be expected to make a bit of a run, just hiding in plain sight. But the recent flare-up surrounding Jason Quick's departure from the Blazers beat raised their profile just enough to bring them to the attention of the Fandom Games and, consequently, to get them sacked.
What's going on with Portland? A one-time perennial playoff team that ripped off an impressive 25-year run, the Blazers of the last decade struggled badly relative to their own historical standards, and appear now to be stalled out in a state of directionless non-contention. It's hard to figure how the fans stay so fiercely loyal. This is a franchise that now can be most successfully described as chasing its own tail.
The concentrated deconstruction of the so-called Jail Blazers coincided with the use of Portland's hard-earned draft picks on ill-fated selections Brandon Roy and Greg Oden, as well as current franchise centerpiece LaMarcus Aldridge, altogether an early example of the so-called Oklahoma City Thunder Model back when OKC was only a twinkle in Clay Bennett's eye (and, considering how it all played out, a glaring example of why the model is a farce). Roy, Oden and Aldridge were intended to be high-character reparations for the prolonged Jail Blazers debacle, an attempt to remain relevant while correcting recent misdeeds.
After injuries shattered that very gifted core, Portland dramatically changed course and made a series of veteran acquisitions, not without a degree of success. When the veterans later staged a borderline coup, the Blazers then abandoned that project entirely and rebooted their youth movement, shedding the vets and leaving Aldridge as the most experienced rotation player on the roster. But this time out, instead of high-ceiling youngsters like Oden and Roy, Portland opted for safer draft selections in Damian Lillard, Meyers Leonard and C.J. McCollum. Every change in strategy plays like a blunt and direct retaliation against whatever was the most recent trauma.
After relying on their starting lineup more than any NBA team outside of the Indiana Pacers in 2012-13, the Blazers did what the Blazers do, bringing veteran role-players Earl Watson, Dorell Wright, Mo Williams and Robin Lopez to Portland to bolster the bench. The Blazers are simply putting out a fire at a time. Anyway, it's probably a bit hopeful to expect these additions to move the needle much.
Where exactly does all this short-sightedness leave the seemingly-rudderless Blazers? They still have one of the NBA's 30 or so best players in LaMarcus Aldridge, which puts him barely within franchise-player range. Their second option (based on salary, anyway) is Nicolas Batum, who is an unquestioned NBA starter and at 24 remains young enough to inspire some prospect of further development. They've bucked the NBA's habit of resisting three- or four-year college veterans in the draft with their selections of Lillard and McCollum, moves that will be (and, in Lillard's case, already has been) rewarded by immediate productivity but also hold limited promises of growth.
What else? Their owner is still the NBA's richest, but this advantage does not appear to have the impact on wins and losses one might expect. And they appear to have prevailed in their bitter feud with fellow lottery regulars the Minnesota Timberwolves, so there's that.
The Blazers won 33 games last year. It's probably reasonable to expect a not dissimilar outcome, give or take a few. There's a young and decent core in Portland, just enough to allow Blazers fans to cling to the mirage of someday contending, but no more than what a dozen or so other aspiring young squads currently boast. A new change of direction, immediately following so many other changes in direction, risks causing lightheadedness and nausea. Instead, the Blazers will just have to wait for an Aldridge trade demand, or clear evidence that Lillard's reputation is wildly overblown, or maybe a change in ownership before the fan experience in Portland can again become what it once was.
At least the nickname is still popular.
NBA Fandom Games Eliminated Teams List:
New York Knicks
Boston Celtics
Washington Wizards
Charlotte Bobcats
Golden State Warriors
Milwaukee Bucks
Utah Jazz
Philadelphia 76ers
Houston Rockets
Portland Trail Blazers
Toronto Raptors
Sacramento Kings
Detroit Pistons
Phoenix Suns
Oklahoma City Thunder