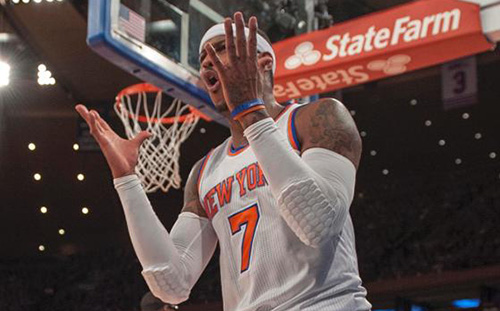 Whereupon an NBA free agent fan sets about selecting a team to root for during the 2013-14 NBA season.
Loyalty in the context of sports fandom is a brutally thankless quality. American professional basketball is a stone cold business, a fact any player on the trade block is eager to recite, and yet the emotional engagement of fans runs deep. A lifetime of this wretched lopsidedness has driven the search for a new team, every year, one that for the moment represents some of those sports-related values we were all raised to believe were important. It's time to take the process back. No more loyalty to a brand.
As I set out to eliminate one franchise at a time, running up to the 2013-2014 season, the logical place to start is my childhood team, my hometown team, the one that has caused me the most anguish over the years: this season I absolutely cannot and will not get behind the New York Knicks.
To be a Knicks fan in the current era, the age of Carmelo and his hand-picked brotherhood, is a dreadful mirage. Here we have one of the five or so best players in the NBA, arguably, cushioned by a veteran roster, a competent head coach, and in the lesser of two conferences. It's a situation that practically encourages enthusiasm. Post-Isiah, succeeding that madly uninspiring Mike D'Antoni-led interim, this is looking an awful lot like the promised land.
At the same time, in the Era of LeBron, teams are seemingly faced with a terrible ultimatum: either roll the dice on creating a contender, one that stands a strong likelihood of faltering when the time of reckoning comes, or temporarily shift toward growth and development and be poised to strike just a short bit down the line. But this is New York, and these are the Knicks, so this was never the dilemma. Relevance is the quota. Contendership be damned.
That said, the Knicks in some ways appear to have the core required. There's the alpha, Carmelo, the type of star a team almost always needs to realistically pursue a title. There's Tyson Chandler, a perfect complement to Carmelo in so many ways, compensating for defensive lapses, carrying that championship pedigree, fitting the Roy Hibbert/Joakim Noah mold that appears to be LeBron's kryptonite. And then J.R. Smith, the deep threat, and Raymond Felton, the facilitator who brings championship pedigree of his own (a late and furious Illinois run, led by Deron Williams, Felton knows how it looks). You had Marcus Camby, Jason Kidd, drama-free and savvy. The prospect Iman Shumpert. It seemed right.
But it's that special egocentric denial of New York that allowed a generation of fans to believe that Patrick Ewing might conquer Michael Jordan. Yes, Carmelo's organic scoring would appear to be the proper antidote to Miami's frenetic defense (ala Dirk Nowitzki), and Chandler is amongst the best possible Carmelo counterparts, both materially and metaphysically. But the team exists entirely too much on the perimeter, lacking both penetration and a defensive presence outside of Chandler willing to get down and dirty. These guys can maybe take the Miami Heat in a seven-game set with Dwyane Wade on the shelf, but even then, only maybe. It's a flawed arrangement.
So what now? With assorted and lackluster draft picks, and too much salary on the books to add any meaningful pieces, the Knicks are stalled out in their current almost-contending state until 2015's salaries expire. They can feed off teams looking to shed bloated salaries, as evidenced by Andrea Bargnani and Metta World Peace, but it would require an insane stroke of luck to genuinely improve by these means. No, the lull of the Knicks is real.
This isn't about supporting only a real-life contender. Most of us hold "fair-weather fans" right up there with "snake-oil salesmen." This is about not buying some faux contender from a multibillion dollar franchise after 15 years of relentless futility. This is about demanding more than Carmelo & Sons from a franchise that uses its purported stature to hike ticket prices. This is about seeking some inspiration from the game, and there's just too little to be found here.
Competing is the lie any Knicks fan is living. Will Amar'e Stoudemire meaningfully contribute? Can Carmelo become more of a facilitator? When will Shumpert reach his full potential? Hopeful questions with ugly probabilities. Hang in there, Knicks fans, here's to hoping you come through it all in one piece.
NBA Fandom Games Eliminated Teams List:
New York Knicks
Boston Celtics
Washington Wizards
Charlotte Bobcats
Golden State Warriors
Milwaukee Bucks
Utah Jazz
Philadelphia 76ers
Houston Rockets
Portland Trail Blazers
Toronto Raptors
Sacramento Kings
Detroit Pistons
Phoenix Suns
Oklahoma City Thunder