It's no secret that Jayson Tatum and Jaylen Brown are one of the best up-and-coming duos, if not the best up-and-coming duo in the NBA. Their individual talents are special as it is, but having them alongside each other on the floor is a beautiful sight to behold for any basketball fanatic. So far in this new season, we've seen them play the best basketball they've ever played together; both individually having career-high stats just eight games in. We are witnessing budding stars before our eyes, as both players have shown that they have  potential to be MVP caliber players. But as talented as this tandem is, do they have a chance to win an NBA championship together someday? 
In today's NBA, it's hard to find two stars that complement extremely well, but that's not the case for the Boston Celtics. Their young franchise stars Jayson Tatum and Jaylen Brown are one of the most perfect star pairings you could ask for. Both their styles of play create a dynamic for this Celtics team unlike any other. With Tatum, you have a player that can score at will from almost anywhere on the floor that can also create opportunities for his teammates. Through eight games in the new season, Tatum is averaging 26.3 points, 7.6 rebounds, and four assists per game, all of which are career highs. He elevated his game in ways that seem unreal for a fourth year player. Some could even say that Tatum is Carmelo Anthony-esque with his style of play. Like Anthony, Tatum is lethal from midrange, is a big-sized forward who can have his way down-low, can catch and shoot from three-point range, and of course, score on almost whomever is guarding him. Not to mention the efficiency similarities between both players is so similar, as both shot close to 47 percent from the field in their respective fourth years.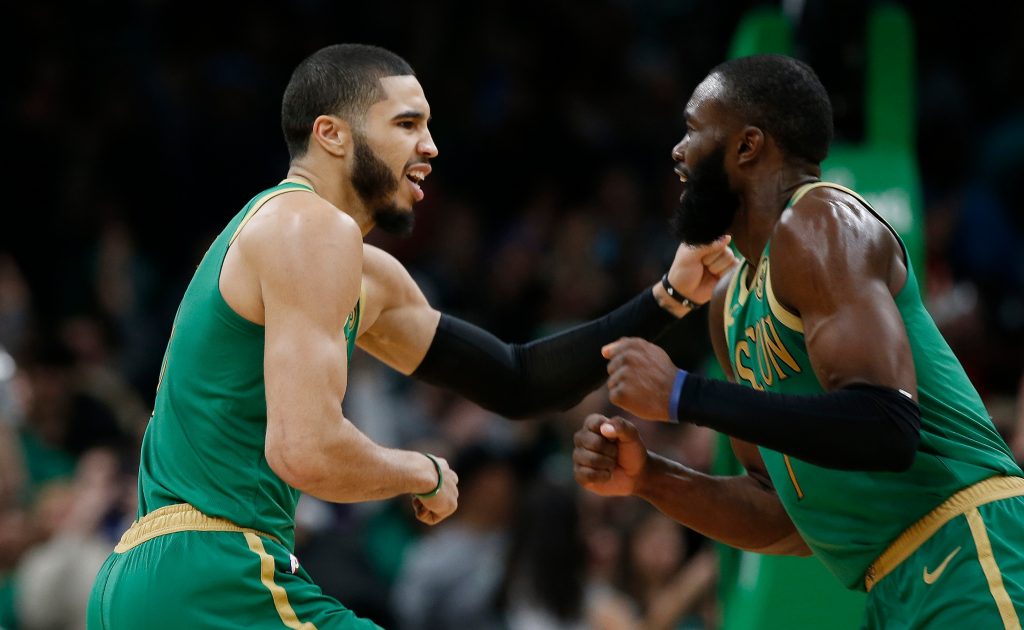 With Jaylen Brown, you have a two-way force on the rise to stardom. In eight games played in this season, Brown is averaging 26.9 points and 3.1 assists (both career-highs), and 4.7 rebounds. What really stands out about Brown though is his impact on the defensive end, as he's averaging nearly a career-high two steals per game. He's also the league leader in turnovers forced per game with three. One could say that Brown's style of play is Dwyane Wade-esque, as both are excellent two-way guards that have a great impact for their teams on both ends of the floor. If you look at Brown closely, he's a lengthy and athletic guard that is an excellent slasher who loves to attack the basket while also being able to knock down tough shots from midrange and three. Not to mention the incredible intensity and effort he puts in on defense like Wade would do in his earlier seasons with the Miami Heat. The one thing Wade had that Brown didn't was that killer mentality, but that also comes with experience. Wade also had better athleticism. Brown is obviously still evolving as a player, but if he can become the natural killer that Wade was in his prime, he'd be truly special.
After taking a closer look at how well this young duo fits together and the impact they have on their team, I believe that the Jayson Tatum and Jaylen Brown tandem can and will win a championship together in Boston. I think it's just a matter of when can they do it. The Los Angeles Lakers having LeBron James and Anthony Davis, as well as the Brooklyn Nets now being a power house in the Eastern Conference with Kevin Durant and Kyrie Irving, makes it difficult to win in these next two to three years. But what's great about this duo is that they are built to be great right now and for many years to come. As I mentioned, Tatum being Carmelo Anthony-esque and Brown being Dwyane Wade-esque really shows how special these two players are and will continue to be. When I watch this duo play, I see the beauty of their talents and how much of an impact they can make on this league for years to come. Watch out folks, Tatum and Brown may seem lethal now, but they're just getting started.