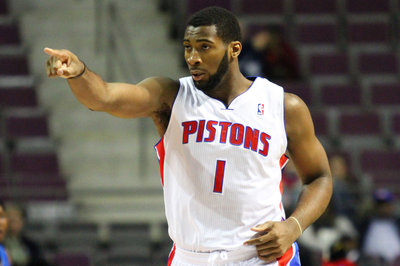 Whereupon an NBA free-agent fan sets about selecting a team to root for during the 2013-14 NBA season.
The Fandom Games are a glorious exercise in retribution against those franchises that view their most loyal fans as afterthoughts, of which there are many. The trouble is, there are several viable contenders in the Fandom Games and yet there can be only one winner, so eventually very well-meaning and noble franchises will have to be eliminated. It's just the way it is, and with many of the NBA's most pitiable organizations having already been shown the door, it seems that day is rapidly approaching.
As therapeutic as exorcising the sorrows of fandom can be, it is also a fundamentally negative experience, as each elimination has been rooted in reckoning for a franchise's perceived sins. No NBA team is without its attributes (except maybe the New York Knicks) and so these slayings can create an atmosphere of life-depleting cynicism and sadness. The negativity is beginning to take its toll, you want the truth.
So today's elimination will instead be an act of praise for an honorable franchise that just doesn't quite have the chops for a Fandom Games run in 2013. There are still some deserving targets floating around out there (Phoenix Suns, make no mistake, your time's almost up) but this space could use some light. Let's change course a bit and pay our respects to the Detroit Pistons.
This has been a terrific summer for fans of the Detroit Pistons. The team bucked NBA convention and oversaw the type of roster moves that might propel this once-proud franchise back to the playoffs for the first time since the uncomely Allen Iverson era of 2009. This was not a silver bullet, like decimating one's own roster under the absurd auspices of lucking into a franchise-altering draft pick, and the Pistons should in no way feel poised to declare victory. But it was a step in the right direction, a couple of defensible and progressive changes that will give Detroit's fans something to get behind, unlike what we've seen from other once-decent franchises like the Philadelphia 76ers or the Boston Celtics, whose fans should be so lucky.
The Pistons could have sat on their cap room, using it to facilitate trades with more active franchises, bleeding off spare draft picks and unused prospects. Other teams have done it before. Instead, the Pistons bet big on free agency's second-best available player, Josh Smith, who at 27 years and almost 750 games should have two or three seasons left in his formidable prime. While this does not quite ensure productivity for the full four years of Smith's sizable contract, it does put a player who has waged playoff battles for six consecutive seasons on Detroit's roster, a difference-maker unlike anyone Detroit has employed in several seasons. Smith doesn't make Detroit a contender, but he does allow them to win more games. The Pistons are clearly sick of losing.
This could have been enough, pairing Smith with elite prospects Greg Monroe and Andre Drummond. It would have been a justifiable place to stop. But the Pistons kept at it, preying on the Milwaukee Bucks' poor management of Brandon Jennings' restricted free agency and snatching him up for a handful of half-decent prospects. This unheralded move locked an above-average 23-year-old point guard into a reasonable three-year contract on a team that badly needed a primary ballhandler. What's not to love?
There are certainly issues. Mo Cheeks was a bit of a strange choice to take the helm, given his overall lack of success in the big seat, but he's known as a players' coach and, given the reputation of some of Detroit's players, was maybe not the most offensive option available. The lineup is a bit of a trick, too, as three of the team's four best players—Smith, Drummond and Monroe—all belong in the frontcourt and are not a stylistic match to share the floor. But this summer was not an end-all, it was a move away from the lottery and back to glory, and in that regard it was a massive success.
What the Pistons do next will determine how far these moves can take them. Monroe is extension-eligible and, with a contract by the October deadline seemingly unlikely, will be a restricted free agent in 2014. Given the enticing promise of Drummond and the major addition of Smith, securing Monroe for the long term may no longer be the no-brainer it once was. The bloated contracts of Charlie Villanueva and Rodney Stuckey are due to come off the books next year, too, and so the Pistons could potentially be sitting on another $12 million in cap room next summer. Important decisions lie ahead.
Whatever happens next, for a franchise attempting to emerge from a dark five years in their proud history, the Pistons took an admirable approach. The myth of perpetual mediocrity (win 35 or 40 games, draft late in the lottery, add just enough to stay at 35 or 40 wins, and cycle) prevents many teams from rolling the dice, but this is precisely what the Pistons did, choosing to build a real team around their prospects rather than cementing a culture of losing. It builds good habits and sets the right tone. It treats fans with respect. This is what the NBA Fandom Games are all about.
NBA Fandom Games Eliminated Teams List:
New York Knicks
Boston Celtics
Washington Wizards
Charlotte Bobcats
Golden State Warriors
Milwaukee Bucks
Utah Jazz
Philadelphia 76ers
Houston Rockets
Portland Trail Blazers
Toronto Raptors
Sacramento Kings
Detroit Pistons
Phoenix Suns
Oklahoma City Thunder