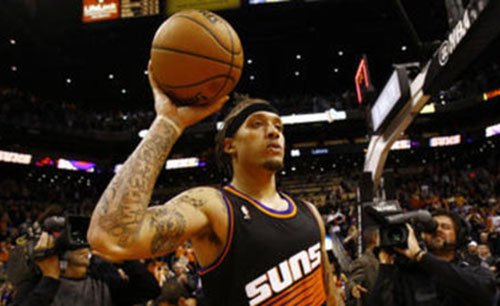 Whereupon an NBA free-agent fan sets about selecting a team to root for during the 2013-14 NBA season.
The Phoenix Suns were slated to last a few more weeks in the inaugural NBA Fandom Games, justified by sheer pity following the miserable disintegration of one of history's most impactful and thrilling basketball movements under their watch. The wounds from that sad story still run deep for many fans of the game, and so Phoenix's elimination had been put off—procrastination until the last reasonable moment.
But then the Suns handled the Michael Beasley situation as if getting promptly eliminated from the Fandom Games was their foremost priority in the world, and so here we suddenly are, a worthy purging, pity be damned.
This is not about defending Michael Beasley. This is about the simple fact that the Phoenix Suns were one team when they brought Beasley to town and have suddenly decided to become another, and this supposed sea change in Phoenix has transformed Beasley in just one year's time from a proud new acquisition to a scorned castoff without the young man doing a single thing that any reasonable person wouldn't have expected of him. The onus for this apparent failure is not on Beasley but rather on the Suns, and since they won't own it for themselves, the Fandom Games will do it for them.
The ill-fated Beasley signing came during a massive turning point in the history of the Phoenix Suns. The Seven Seconds or Less Era had been unraveling for several years, ending once and for all with Steve Nash mercifully fleeing Phoenix for the Los Angeles Lakers last summer. With limited appeal, a roster devoid of assets, and a front office in apparent turmoil, the post-Nash reconstruction took on an Island of Misfit Toys vibe: they claimed Luis Scola off waivers, re-acquired previously discarded guard Goran Dragic, traded for lottery flop Wesley Johnson, made Phoenix the sixth career stop for Jermaine O'Neal, signed P.J. Tucker off the Summer League squad, and inked Beasley to a three-year deal. Including first-round selection Kendall Marshall, this was a remarkable seven new faces in Phoenix, all representing far-flung corners of the NBA career spectrum.
The Suns were clearly gambling a bit, hoping to strike gold in an impossible situation. Where Scola represented seasoned competence, O'Neal grizzled experience, and Marshall pure promise, Beasley was Phoenix's high-talent risk. There was no mystery in what the Suns were getting with Beasley. A former second overall pick and a gifted scorer (over 15 points per game in his career at that point), Beasley's talent came with baggage collected over the full course of his professional career, and more likely his lifetime. An incident at the NBA Rookie Transition Program in Beasley's first NBA summer garnered police attention. A year later, Beasley spent time in rehab. And the year after that, he was ticketed for marijuana possession. This by the time he was 22. The three years that followed have been equally as eventful.
But this was precisely the gamble that the Suns willingly took in their desperate summer of 2012. The team was looking to transition out of the franchise's greatest era and rolled the dice on a troubled talent, making Beasley their principal target when free agency began. If the culpability of the Suns in employing a figure of such infamy is at all in question, bear in mind that the team acknowledged Beasley's notoriety at his introductory press conference, making a grand point of standing by the young forward. Lance Blanks, general manager at the time, said, "We aren't afraid of what he's experienced; we want to embrace that. And we need talented players as we move into the new era for the organization." Clearly Beasley's talent superseded any potential problems he posed for his new employer.
This tone dramatically changed when, early this summer, after Beasley's first season with the team had concluded, he was arrested in Scottsdale, Arizona, for marijuana possession, yet another flareup in a career fraught with such incidents. Almost a month later to the day, the Phoenix Suns released him.
The quotes from team president Lon Babby on the day of Beasley's release border on parody. "The Suns were devoted to Michael Beasley's success in Phoenix" is a confusing statement to make at the exact moment the team was discarding the player to whom they claim to have been devoted. Even better, "It is essential that we [the Suns] demand the highest standards of personal and professional conduct as we develop a championship culture" refers to standards that were nowhere to be found when the Suns signed Beasley in the first place and that had apparently sprouted unexpectedly from a 25-win season.
Sarcasm aside, it seems counterintuitive that a team would sign a controversial young talent to a three-year contract with full knowledge of that talent's history and then abandon that same talent the moment history repeated itself. It seems borderline despicable that the team would gleefully take the moral high ground in doing so.
Deriding the Suns for cutting Beasley may not be a popular thesis and runs the risk of yielding unneeded debates over personal accountability, the seriousness of marijuana-related crimes, and the roles of race and class in all matters of player-owner interaction. Let's try to bypass all that with this: Beasley should in no way be let off the hook, but he clearly has his struggles with both marijuana and the law, and this was evident well before the Suns signed him. To forsake him now, after only one year ago feigning loyalty, demonstrates what appears in many ways to be an absence of character.
Maybe the Suns tried to reach out to Beasley, offering him the opportunity to get help for his apparent troubles. Beasley may have refused to engage in any meaningful outreach as it pertained to his personal life. We'll never know because Babby never alluded to any such thing, instead referring absurdly to "standards of personal and professional conduct" that he blindly ignored when signing Beasley a year ago. One has to wonder whether the outcome would have been the same had Beasley played well this past year, his fifth professional season and undoubtedly his worst.
But this is mere speculation. In the end, the Suns hung a player out to dry when the whole ordeal can be pinned very explicitly on the team's own behavior. Other players ought to take note.
NBA Fandom Games Eliminated Teams List:
New York Knicks
Boston Celtics
Washington Wizards
Charlotte Bobcats
Golden State Warriors
Milwaukee Bucks
Utah Jazz
Philadelphia 76ers
Houston Rockets
Portland Trail Blazers
Toronto Raptors
Sacramento Kings
Detroit Pistons
Phoenix Suns
Oklahoma City Thunder