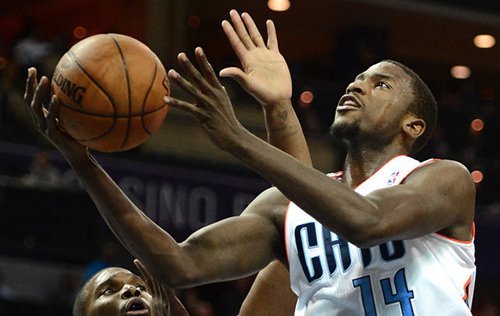 Whereupon an NBA free-agent fan sets about selecting a team to root for during the 2013-14 NBA season.
Having beheld the early elimination of the Knicks, Celtics and Wizards from the Fandom Games, all teams with varying and somewhat reasonable degrees of optimism heading into the forthcoming season, it's time to take a whack at some low-hanging fruit. Next eliminated is arguably the NBA's most hapless franchise: the Charlotte Bobcats.
Chronicling the ineffectiveness of the Charlotte Bobcats feels almost like an act of bullying. Just one winning season in nine (soon to be 10) years, an overall winning percentage below 35, a series of all-time franchise leaders featuring the likes of Gerald Wallace and D.J. Augustin, and nine lottery picks without a star to show for it. Reflecting on a dreary almost-decade, overseen by two high-profile owners and a jaw-dropping total of six head coaches, the history of the Charlotte Bobcats essentially amounts to one long miserable tale of basketball incompetency. A recent chapter, the 2012 lockout-shortened season, yielded the worst single-season winning percentage in NBA history.
The sense that the Bobcats aren't quite up for this has lingered from the beginning. The original squad, an expansion-draft creation, featured a succession of Europeans, journeymen and Emeka Okafor, and managed 18 victories that first season. The selections of Raymond Felton and Sean May in the next year's lottery perplexed, and the earliest multi-year contracts to Brevin Knight, Kareem Rush and Matt Carroll seemed as misguided then as they do now. The years that followed featured similar contract oddities and draft strikeouts (Alexis Ajinca?!), a series of patchwork roster moves, and a total absence of identity or foresight. Little has changed.
It's tough to find much to defend here. You could argue that Adam Morrison wasn't such a defenseless pick given the wasteland that was the 2006 NBA Draft, and that the Michael Kidd-Gilchrist selection was the right choice in 2012 given the dearth of options. The franchise's sole playoff squad, from 2010, was actually a pretty defensible construction: Wallace, Boris Diaw, Stephen Jackson, Felton, Tyson Chandler, some real grit, it could have become the beginning of something. They got whipped by Dwight Howard in the first round, sure, but progress has to start somewhere.
Of course these borderline silver linings come with some awfully dark clouds. Morrison bombed out of the league badly, and Kidd-Gilchrist had a rough rookie campaign, becoming the subject of trade rumors within a year. As for that 2010 squad, management promptly dismantled a very competent and fan-worthy roster by allowing Felton to walk to New York without compensation, overpaying Tyrus Thomas, unloading Chandler to Dallas for spare parts, and, at the next year's trade deadline, moving franchise centerpiece Wallace for future draft picks. The Bobcats rebooted without ever having really booted in the first place. Again, this is not an easy organization to defend.
It almost feels at times like the Bobcats are constructing their roster to compete in a different league entirely. A list of their various transactions over the years reads like a who's who of the Developmental League and now, at a moment that would feel like a turning point if it hadn't long ago become their M.O., the Bobcats remain uninspiring. Faced with the overdue release of Thomas, a glut of cap room, and a high-level draft pick, the Bobcats confused by reaching for Indiana Hoosier Cody Zeller and then spent big on one-way sensation Al Jefferson. Like so many times before, one reasonably wonders where the hell any of this is supposed to be going.
Last thing, because ridiculing this big a mess feels a little too predatory: Charlotte's decision to bring the beloved Hornets nickname back to town for a short window of Grandmama-inspired nostalgia is an altogether pretty harmless move, but on some level, isn't it just a bit condescending? It's like some minor-league version of BP changing to the green logo while still savaging the environment. Slapping a coat of turquoise paint on the Bobcats can't undo these last nine years, and it doesn't change the fact that the team stinks, either. The Bobcats should focus on the task at hand, which is presumably to build a better team, and maybe someday they won't be such an easy out from the NBA Fandom Games.
NBA Fandom Games Eliminated Teams List:
New York Knicks
Boston Celtics
Washington Wizards
Charlotte Bobcats
Golden State Warriors
Milwaukee Bucks
Utah Jazz
Philadelphia 76ers
Houston Rockets
Portland Trail Blazers
Toronto Raptors
Sacramento Kings
Detroit Pistons
Phoenix Suns
Oklahoma City Thunder