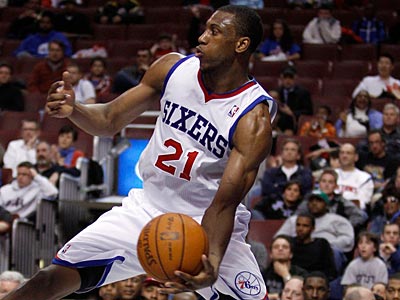 Whereupon an NBA free-agent fan sets about selecting a team to root for during the 2013-14 NBA season.
The Fandom Games do not take kindly to deliberate roster downgrades in the pursuit of higher draft picks, the in-vogue roster-building mechanism of the modern NBA, and one that was inspired to some extent by the unique success of the Oklahoma City Thunder. The Boston Celtics were swiftly axed for embracing this strategy, followed not long after by the Washington Wizards. Most recently, the Utah Jazz were dismissed just for emanating a whiff of methodical failure.
This attitude is not simply an act of righteousness, although it's that, too. If fans are expected to stand by a team through thick and thin, is it not up to the franchise to make that endeavor worth their while?
What's perhaps more to the heart of the matter is this: there are only so many elite basketball prospects at any given time, and the more teams there are planning to acquire future stars of their own, the less likely this already-farfetched scheme is to succeed. What accentuates the preposterousness of it all is that, in conservative corporate America, where your typical general manager is more concerned with surviving the day than with the genuine pursuit of triumph, convincing your fans that being terrible is the wisest path to greatness is a vicious con game, one that has produced astonishing traction this offseason. It's all becoming increasingly difficult to stomach.
The good news is, of the most egregious offenders, the brush has largely been cleared over the course of the Fandom Games. The one remaining culprit did not abandon franchise legends in their pursuit, nor did they upend decades of competitive spirit, but they did manage to make themselves truly and irredeemably awful. Today's elimination from the Fandom Games is the Philadelphia 76ers.
This isn't worth a protracted examination. Philadelphia's best player is Thaddeus Young, almost certainly the NBA's worst best player (a very good player, but come on), this after trading their previous best, Jrue Holiday (very young and on a very reasonable contract), for the free-falling draft pick Nerlens Noel and a future selection. This move was stunningly praised by pundits, a clear indication of how fully the popularity of this strategy of failure has taken hold. The summer before, the 76ers turned their best player two iterations ago, Andre Iguodala, into precisely zero games of Andrew Bynum and an aging Jason Richardson. How are fans supposed to cope?
The tidiness is just too tempting. Team not contending? Clean house, start from the beginning, and build one piece at a time. But life isn't so straightforward, and creating a contender certainly isn't, either. Take a hard look at the teams who have been successful in the last several years, the NBA's elite. Besides OKC, has a single one started their run by abandoning their own All-Stars? Or standing pat with a roster that was fit to win 25 or so games? The franchises that succeed are those that always aim high and build a culture of winning, not those that shamelessly chase cheap shortcuts. These OKC disciples are either outthinking themselves or outthinking their fans.
New 76ers coach Brett Brown demanded a four-year deal before signing in Philadelphia this summer, knowing full well it'd take several years for the team to get its act together. Four years won't be enough. With a barren roster and two lottery selections in 2014 (their own and the one belonging to New Orleans), the 76ers are well behind the curve of deliberate tanking: Charlotte owns three likely lottery picks in 2014 with several already on the roster, and Utah has two first-round selections on top of the under-25 stars they've spent the last few years putting in place. So with limited assets and a small number of draft picks looming, the 76ers are looking at still being very young and very bad for the 2015-16 season and perhaps beyond. Should have asked for a fifth year, coach.
NBA Fandom Games Eliminated Teams List:
New York Knicks
Boston Celtics
Washington Wizards
Charlotte Bobcats
Golden State Warriors
Milwaukee Bucks
Utah Jazz
Philadelphia 76ers
Houston Rockets
Portland Trail Blazers
Toronto Raptors
Sacramento Kings
Detroit Pistons
Phoenix Suns
Oklahoma City Thunder