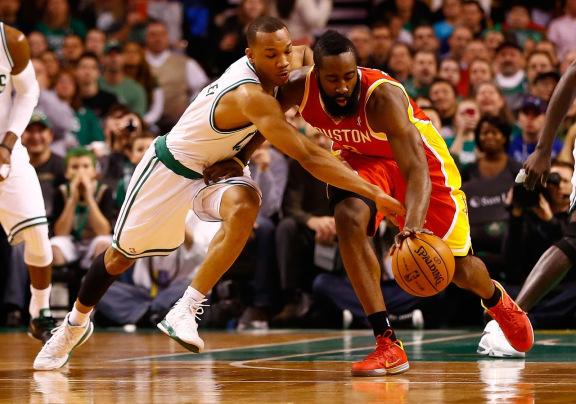 Defense wins championships according to the age old adage. That's why year after year the top defenses in the game find themselves playing deep into the playoffs. Next season's race for Defensive Player of the Year promises to be a very interesting contest due to the plethora of talented defenders in today's NBA. Let's take a look at some of the best heading into the 2013-14 season.
10. Avery Bradley (G), Boston Celtics
Bradley reminds me of a boxer. He finishes games looking like he went 12 rounds. This rough 'n' tumble, heady, gutsy defender never backs down from a challenge, and is ready to tussle with any superstar. The Celtics are going to look to the young guard to step up and help anchor the defense of an untested Boston Celtics squad and rookie NBA coach Brad Stevens.
9. Joakim Noah (C), Chicago Bulls
Noah was rock solid last season. If it weren't for some untimely injuries, he could have made a serious claim to that DPOY award. Joakim is a ferocious rebounder and would block his own grandmother's shot if she brought that weak stuff in the paint. With the return of Bulls leader Derrick Rose next season, "Jungle" Jo will continue to keep that Chi-town defense at the top of the league, and keep that wild hair on top of his head.
8. Chris Paul (G) Los Angeles Clippers
There are so many reasons Chris Paul can lay claim to the title of the best point guard in the NBA today. Aside from his offensive brilliance and floor general excellence, CP3 has established himself as a bulldog defender and menace to your hometown ball handler. He's a consistent league leader in steals season after season and his win-first mentality drives him to never take a play off on either end of the floor. When Paul is on the court, "Lob City" may also be referred to as "Rob City."
7. Tony Allen (G/F), Memphis Grizzlies
The "GrindFather" himself. It amazes me that Marc Gasol won DPOY last season when he was arguably the second- or third-best defender on his team. Allen, entering his fourth season with the Memphis Grizzlies, is a prime example of a specialist. His defense alone is the main reason many forgive his not-so-attractive jump shot (that's being kind). As long as he continues to lock down opponents' top scorers, he'll always get the benefit of the doubt on the offensive end.
6. Iman Shumpert (G/F), New York Knicks
Fear the fade for sure. Shumpert entered the league and immediately established himself as a defensive nuisance. Unfortunately, a brutal knee injury in the playoffs that season sidelined him for nearly half of last year. Once he returned, he picked right back up where he left off. Shump takes pride in playing defense and reminds me of that old school Knicks defense. He has the size and speed to guard three positions very well, and his motor runs on overdrive. Next season he will be fully healthy from the start and will be looking to put his name in that DPOY ballot box. I see many players getting locked up on "21 Shump Street." Better have a good lawyer.
5. Serge Ibaka (F), Oklahoma City Thunder
Ibaka has been a jolt of energy and vital piece to OKC's success over these past few seasons. Still young and developing, "The Serge Protector" has grown leaps and bounds, seeming to block every shot that comes within a 10-foot radius. He faded in last season's playoffs—succumbing to the bouts of over-eagerness that have plagued him before—which brought about some questions of his readiness to elevate to elite status. One thing is for sure, offensive players think twice when they see Serge in the lane. With his speed and athleticism, expect him to expand his defensive capabilities this coming season, covering more of the court. Blaka! Blaka! Blaka!
4. Larry Sanders (F/C) Milwaukee Bucks
Sanders came out of virtually nowhere. Being that last seasons Milwaukee Bucks offensive game centered around the guard play of Monte Ellis and Brandon Jennings, Colonel Sanders got few offensive touches. So, he simply became a beast on the defensive end. He was second in the league in blocked shots behind Serge Ibaka, and his energy level keeps him active for every rebound on both ends of the floor. Next season he will be an even bigger presence and a leader on a rebuilding Bucks squad.
3. Andre Iguodala (G/F), Golden State Warriors
The Golden State Warriors, in my opinion, made the biggest move this offseason by acquiring Iguodala in a sign-and-trade with the Denver Nuggets and Utah Jazz. They lost little but gained one of the premier perimeter defenders we have seen in this league. Iggy's length, speed, strength and unreal athleticism are matched by few in the game today. If not for a certain No. 6 in South Beach, I would rank Iggy as the best perimeter defender in the NBA. Still, with Splash Brothers Stephen Curry and Klay Thompson taking care of the offense, Iggy will get everyone in the Bay Area excited on the defensive end. He may be the last piece the Warriors need, so don't be surprised if GSW is in the WCF (Western Conference Finals) next year.
2. Dwight Howard (C), Houston Rockets
The Dwightmare aside, Dwight Howard is the ultimate post defender. He has the wingspan of a pterodactyl, he jumps through the roof and he challenges every shot. Half-injured last season, he still led the league in rebounds per game and was fifth in blocks per game. Working with Hakeem "The Dream" Olajuwon in the offseason should further ripen his timing and footwork on both ends of the floor, so I see a decrease in those cheap, undisciplined fouls he has been prone to in the past. The Houston Rockets won't be a top defensive team, but they will have a tremendous amount of help from their Rocket-man in the middle. D12 is the only player to win DPOY three consecutive seasons, and he'd be a sure pick next year if it weren't for the next guy.
1. LeBron James (F), Miami Heat
As if he hasn't done everything already. It's no surprise the Miami Heat boasted one of the most suffocating defenses in the NBA last season. When it comes to defense, LeBron James can and will defend any player, anywhere, and be more than effective. When a player guards the point guard on one play, then comes down the next play and defends the post, "special" doesn't do justice to describe the skill level. We know he's big, strong and fast, but he has a knowledge of the nuances of the game that makes it seem like he's everywhere at once. Let me mention also that he felt slighted last year for not winning this award, so consider that extra motivation for a man who can seemingly do everything. MVP, DPOY, All-Star MVP, Finals MVP, Most Improved (he keeps getting better), Sportsmanship … do you see where this is headed? He's the King, expect nothing less.
Honorable Mentions: Kobe Bryant, Marc Gasol, Jimmy Butler, Paul George, Metta World Peace, Roy Hibbert, Tyson Chandler, Kevin Garnett, Tim Duncan, JaVale McGee, Mike Conley, Jr., Kawhi Leonard, Victor Oladipo
Who are your picks? Leave your comments below.