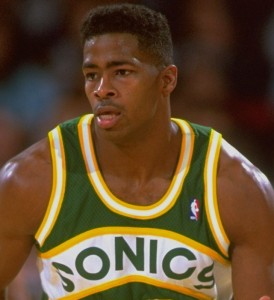 Last week we brought back into the light some of the very good but comparatively forgotten point guards of the 1990s. This week, it's all about the shooting guards, a position for which, in general, it's important to recall the '90s with great sympathy. Why? Well, at the risk of failing to mention Michael Jordan in every piece I write for Baller Mind Frame, the answer is … Michael Jordan.
It's a shame that all the hyper-talented, 6'5"-to-6'7" guys are lost in the formidable shade of MJ's legacy, watermarked during those years of the seemingly unconquerable Bulls dynasty—not to mention the likes of Reggie Miller and Clyde Drexler. For the sake, then, of giving credit where credit is due, let's today cart the top five out, each from his own oblivion.
5. Kendall Gill
It could be said that, as a young fan, watching Gill play denoted the dawn of my being a critical analyst of the NBA. I remember distinctly how he'd juke and jive and cut and sky—clearly one of the best athletes in the league at the time. More outstandingly, however, I could never help but detect in his game a striking, albeit inferior similarity to the way Jordan played. They both drove the paint as if they were incising it, both had tremendous lift and picturesque form on their jump shots, and both could leap out of the gym. The difference was, not only did Gill of course not possess the titanic, competitive heart of Jordan, there also was simply something not smooth or effortless about him, as if his joints needed oiling or hands needed a good massage. Nonetheless, for a few years Gill did prove to be both a dangerous defender on the wing as well as a genuine offensive threat.
Career Stats: 13.4 PPG, 4.1 RPG, 3.0 APG, 1.6 SPG
Best Year: 1996-'97 with the New Jersey Nets – 21.8 PPG, 6.1 RPG, 4.0 APG, 1.9 SPG
4. Jim Jackson
The beginning of Jackson's career came with much flimflam. Teamed with Jamal Mashburn and a still-green Jason Kidd, a young, purported "big three" promoted to be known as the Three Js came to be formed on the Dallas Mavericks. Never the flashiest or best defensive player, Jackson was, however, the perfect embodiment of a talented, supremely serviceable one. His shot was pure—with his bread-and-butter being the consistent ability to hit runners off the dribble between five and eight feet from the rim. Beyond that, he also possessed great court vision for a shooting guard, often acting as an extra facilitator for his team.
Career Stats: 14.3 PPG, 4.7 RPG, 3.2 APG, 0.8 SPG
Best Year: 1994-'95 with the Dallas Mavericks – 25.7 PPG, 5.1 RPG, 3.7 APG, 0.5 SPG
3. Steve Smith
Smitty's value as a player came in how good he thought he was—which isn't at all to denigrate his game. Having fashioned himself after Magic Johnson, he often ended up running the point for teams even though he was in fact a pure shooting guard. Smith's long, tall body gave him a clear advantage as a passer to begin with, but more than that, he had excellent anticipation skills and was a quick, effectual and sometimes glitzy decision maker. His shot trigger was also one of the swiftest ever seen, often true to the bottom of the bucket. Furthermore, due in large part to his on-court loquaciousness, he was known for being one of the few guards in the league to, at times, visibly rile Michael Jordan.
Career Stats: 14.3 PPG, 3.2 RPG, 3.1 APG, 0.8 SPG
Best Years: 1996-'97 and 1997-'98 with the Atlanta Hawks (averages over two seasons) – 20.1 PPG, 3.7 RPG, 4.1 APG, 1.0 SPG
2. Allan Houston
Houston flat-out had a nose for the basket. He was simply one of those players, similar to Manu Ginobili a couple years back, where it seemed as if everything he threw into the air would fall in. If Jim Jackson was serviceable, Houston was fully operational. Quite plainly, he was an unconscious scorer. He had a sharp, precipitous first step, a surprisingly ruinous crossover, and then there was that stroke of his, that beautiful Shuttlesworth-esque stroke. In all honesty, when it comes to pure shooters the NBA has seen, it would be tough to cite ten better than Houston over the past 20 years.
Career Stats: 17.3 PPG, 2.9 RPG, 2.4 APG, 0.7 SPG
Best Year (though his relative prime spanned most of the '90s, Houston's best years came after the close of the decade): 2002-'03 with the New York Knicks – 22.5 PPG, 2.8 RPG, 2.7 APG, 0.7 SPG (also, 91 percent from the foul line)
1. Mitch Richmond
A player who, along with Chris Mullin and Tim Hardaway, made up one third of a more authentically designated big three than the Three Js in Run TMC, Richmond was a perennial All-Star. He began his career auspiciously, earning Rookie of the Year honors for the 1988-'89 season. He then went on to average no fewer than 22 points per game for the first 10 years of his 14 in the league. A worthy peer to wear No. 23, had he not languished on middling to poor teams for most of his career, Richmond might have challenged Drexler to be regarded as the second best prototypical shooting guard of the generation. He could drive, dribble and shoot the lights out, all with an evident, killer mentality too. At No. 1 on this list, Richmond actually barely deserves to be on a list that has a context of players being lost to oblivion.
Career Stats: 21.0 PPG, 3.9 RPG, 3.5 APG, 1.2 SPG
Best Year: 1996-'97 with the Sacramento Kings – 25.9 PPG, 3.9 RPG, 4.2 APG, 1.5 SPG
Honorable Mentions: Dan Majerle, Latrell Sprewell, John Starks, Jeff Hornacek, Hersey Hawkins
In Memoriam Mention: Reggie Lewis, Drazen Petrovic, both of whom would have been remembered as outright superstars had they not each tragically passed away too soon.
There you have it, the best shooting guards to be disowned by time beyond the NBA of the 1990s. Check back next week when we'll look back on the small forwards.