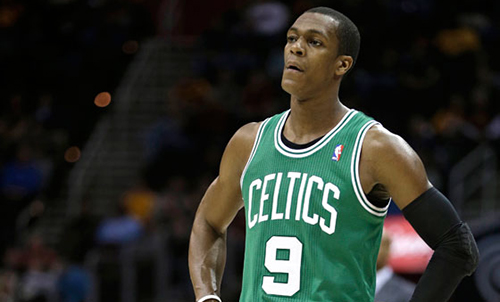 Whereupon an NBA free-agent fan sets about selecting a team to root for during the 2013-14 NBA season.
Conventional wisdom regarding NBA franchise-building has been suddenly seized by the notion that there are only two practical ways to operate: a team must be a contender or, to eventually soar to this level, must willfully tank. The theory explains that, if you're not a bona-fide contender, the only savvy move is to shed large contracts, create cap space, compile assets and increase the likelihood of a high draft pick. Further, teams that toil in that post-lottery, early-exit middle ground never have a crack at top draft prospects and therefore continue to do just that: toil.
It's in this world that the Boston Celtics sending two franchise legends, Kevin Garnett and Paul Pierce, to Brooklyn for underperforming reserves and some middling draft picks is considered shrewd.
In 2008, the Miami Heat had the NBA's worst record (by far, actually, five games out from the 20-62 Sonics), leading up to the best draft class in five years. This is a cadre that featured Derrick Rose, Russell Westbrook, and Kevin Love, Roy Hibbert (admittedly a stiff in college), Brook Lopez, Eric Gordon, and on it goes. Ryan Anderson, Serge Ibaka, Nicolas Batum, and George Hill were all eventually taken in the 20s. Nikola Pekovic, Mario Chalmers, DeAndre Jordan, Omer Asik and Luc Mbah a Moute were all taken too… in the second round. The 2008 draft was stacked.
So Miami, having earned the best odds possible in a landscape-altering draft lottery, fell to the second slot and selected the consensus pick in that position: Kansas State forward Michael Beasley. All obviously worked out swimmingly for Miami, but five years and three teams later, a period during which Beasley's personal ails yielded an arrest, a trip to rehab, several fines and a high-profile calling-out by the incomparable David Kahn, Miami would be hard-pressed to say that their 15-win season was a hardship worth bearing to rise to the top of the 2008 draft lottery.
The same shot-in-the-dark quality applies to free agency too. The Atlanta Hawks were well-positioned this summer to bring both Chris Paul and Dwight Howard to town and create a ready-made contender of their own. Instead, they landed Paul Millsap, re-signed Kyle Korver and may fight to make the playoffs after six consecutive bids. Creating opportunities in free agency and the draft is a fine idea, but to work it as a team-building strategy in and of itself is a misguided bit of magical thinking.
In defense of the Boston Celtics and Danny Ainge, Doc Rivers put the team in a terrible position, orchestrating his escape at a particularly inopportune moment. With the inevitable rebuilding window adopted not organically, but rather under duress, Ainge was faced with the impossible choice of either clinging to his unraveling masterpiece or moving along, and move along he did, both barrels. Lying in the wreckage is Rajon Rondo's torn ACL, a litter of bloated contracts and some modestly promising talent.
This isn't about disparaging the Boston Celtics. This is about getting behind a team for a single season, one that gives greater meaning to the hoops fan experience than blind support for yet another multinational corporation, and in this context the Celtics simply don't shine: the survivor of the Fandom Games simply cannot be the post-Paul Pierce Celtics. The trade of Pierce ended one of the NBA's longest and most dynamic tenures with a single club, matched only by Pierce's contemporaries and fellow champions: Kobe Bryant, Tim Duncan and Dirk Nowitzki. The relocation of one of these deities as a rebuilding move is not forthcoming. Only the Celtics dared.
With Rondo at the core and Kelly Olynyk a candidate for star of his draft class, if Jared Sullinger's back holds out and Avery Bradley meets Boston's wildest dreams, if the 2014 pick brings a new rising star to the NBA's most storied franchise, then June's dismantling of the great Boston Celtics may prove to be a crafty move yet. But for now, in 2013-14, their practicality just looks like camouflage, and the trade is hard to forgive.
NBA Fandom Games Eliminated Teams List:
New York Knicks
Boston Celtics
Washington Wizards
Charlotte Bobcats
Golden State Warriors
Milwaukee Bucks
Utah Jazz
Philadelphia 76ers
Houston Rockets
Portland Trail Blazers
Toronto Raptors
Sacramento Kings
Detroit Pistons
Phoenix Suns
Oklahoma City Thunder