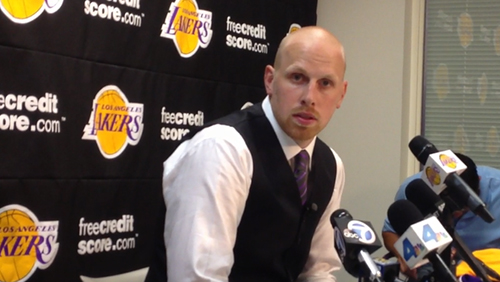 When Chris Kaman signed with the Los Angeles Lakers on a one-year, $3.2 million deal, it was met with both applause and disdain. There are viable reasons for both, and really, the proof will be in the pudding once this team gets out there on the court. In the meantime, it's always good as fans to analyze moves that the organization makes.
Here are the pros and cons of signing Kaman:
CONS
1) He's Old
There's merit to being a veteran presence on a team, but on a team with as many vets as the Lakers have, they really don't need another old guy. Kaman is a seven-foot, 10-year veteran who saw a decline in his stats last season (though, it was partially due to injury). Signing yet another guy like this only makes everyone nervous that he'll have an injury at any minute, which at least gives coach Mike D'Antoni a nice excuse for failure.
2) He Costs Too Much
The Lakers signed Kaman using their mini mid-level exception, meaning they can't use it on anyone else. Also, now there are four big men on a team with a coach who doesn't even like using one of them properly (i.e., taking high-percentage shots at the hoop). For the money, the Lakers could have signed a forward who would play better under this regime and with a coach who will maximize the player's skills. Kaman is still a good player, but with D'Antoni he will almost certainly be marginalized because he'll be asked to shoot jumpers which will take away from his rebounding.
3) He's Slow on Defense
Amnestying Metta World Peace and losing Dwight Howard left the Lakers with next to no defense. This group will fight their opponents for the ball about as hard as Kim Kardashian fights off athletes and rappers. Kaman isn't going to help any of that. He's slow to get back to the basket, and averaged only 5.6 rebounds, 0.4 steals and 0.8 blocks last season in 20 minutes per game. His rebounding hasn't been this bad since his rookie year when he had exactly the same average. So, by signing him, they only made their biggest weakness worse.
PROS
1) He's Still Got Gas in the Tank
Sure, he can't play much defense and he wasn't shooting his best last season, but he's still a large presence on the court that you can count on for at least 10 points a game, and that's on a below-average year. He's also used to playing about 20 minutes a game which will make him a good backup for Pau Gasol, or one of the youngsters the Lakers have, which leads us to …
2) Good Yin to the Young Centers' Yang
The Lakers still have Jordan Hill and Robert Sacre on contract, but neither are polished big men. Playing behind not only Gasol but also Kaman should help them broaden their games so that they develop a better shooting game as well. Maybe in return, Kaman will feel pressured by their energy to play some D.
3) D'Antoni Likes Shooters
One of the big reasons Howard didn't stay in LA was because of coach Mike D'Antoni, and can you blame him? Even Phil Jackson said that Howard was reduced to something less than his abilities while playing under D'Antoni's system. D'Antoni also said early on that Gasol lacked the athleticism needed to play within his vision for the team. So, what does this mean for Kaman? If you aren't a big man with a shooting game, you might as well just shut down your Twitter for the season because your numbers will be dismal. Luckily for him, Kaman has a shooting game. D'Antoni was no doubt happy about this, and the center should slip fairly seamlessly into the system.