What do the Houston Rockets do now?
Between the departure of head coach Mike D'Antoni, the resignation of general manager Daryl Morey, and both superstars James Harden and Russell Westbrook questioning the franchise's direction, the Houston Rockets have been all over the headlines this offseason. With Harden and Westbrook, both over 30 years old and after multiple playoff runs cut short, it's time to hit the restart button. But, how did we get here and what's the next move?
It's time to blow it up
It's well known that Harden wants out of Houston. According to Shams Charania of The Athletic, so does Westbrook. Harden has gone as far as to turn down an extension offered by Houston that would pay him $50+ million/year (easily the largest singular amount/year in the history of basketball), per ESPN's Adrian Wojnarowski. The message Harden wants to send? Get me out of Houston. More specifically, get me to the Brooklyn Nets.
As unfortunate as it is for the once promising franchise, it's time to move on from Harden and Westbrook. Westbrook always has been a player that needs to be the number one option on a team, which has been evident in his time with the Rockets. The Harden trade rumor mill has been spinning and it's just a matter of time until a deal is finally made. Where these two stars end up is the question.
What's the trade market for the two stars?
Let's start with Harden. According to Anthony Puccio, the Nets and Rockets have a "verbal agreement" to send Harden to Brooklyn to join Kevin Durant and Kyrie Irving. Although initial reports from Shams indicated Houston would only trade Harden if they were to get Durant and Irving, it's now believed that they would take a young star and a bunch of picks instead. All this comes despite reports that trade talks have become stale. That is, at least, with the Nets, for now. The latest news is that the Rockets are willing to listen to other offers and understand that there's nothing they can do to salvage their relationship with the former MVP.
The situation with Westbrook, the forgotten man in all of this craziness, is a bit more complicated. While Harden wants to go to a contender, Westbrook wants to lead his own team. According to Marc Stein of The New York Times, the two teams interested most in Westbrook are the New York Knicks and Charlotte Hornets. After landing LaMelo Ball with the third overall pick in the draft, it's safe to assume that the Hornets are out.
Let's look at the best possible trades for both superstars with the presumed teams being their next suitors; the state of New York is getting two fantastic basketball players.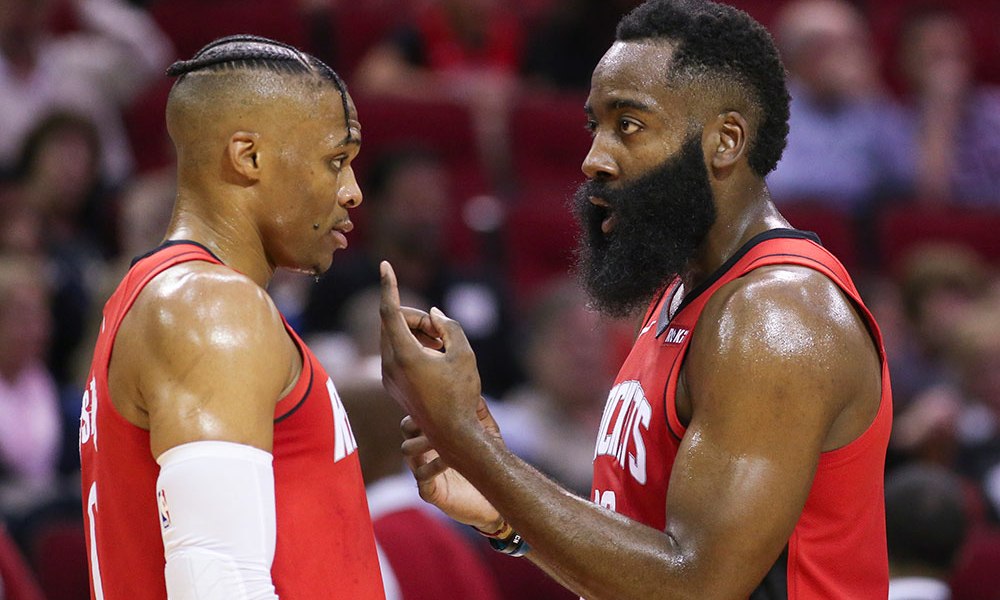 Proposed trades
Brooklyn Nets receive: James Harden
Houston Rockets receive: Caris LeVert, Jarrett Allen, Spencer Dinwiddie, Taurean Prince, and a massive amount of picks
Why Brooklyn does this: They get James Harden, the former MVP and reigning three-time scoring champion to pair alongside four-time scoring champion and MVP Kevin Durant, as well as former All-NBA player Kyrie Irving. The most dangerous big three in the NBA is born.
Why Houston does this: They get the young star(s) they wanted as well as a load of picks. Caris LeVert last season averaged 18.7 points, 4.2 rebounds, 4.4 assists, and 1.2 steals last season with 43/36/71 shooting splits. After averaging 25 points with two 30+ point performances when the season resumed, LeVert was given the honor of Second Team All-Bubble alongside stars such as Giannis Antetokounmpo and Kawhi Leonard. Jarrett Allen will provide Houston with a young traditional big man that, if developed correctly, can be a dominating force in the paint. Dinwiddie and Prince will provide current support, but Dinwiddie will probably be a one year rental. The amount of picks that Houston would receive is up in the air, but Brooklyn will have to pay the premium.
New York Knicks receive: Russell Westbrook
Houston Rockets receive: R.J. Barrett, Frank Ntilikina, Julius Randle, and (once again) a massive amount of picks
Why New York does this: They get a former MVP in Westbrook and will finally be able to (probably) give the impatient Knicks fanbase a playoff run. Westbrook is happy because he's the undisputed number one option in New York, and the Knicks can finally be competitive again.
Why Houston does this: R.J. Barrett looked promising in his first year in the NBA last year, and although he doesn't generational superstar potential, he does give whoever has him a lot of hope. He averaged 14.3 points, 5.0 rebounds, 2.6 assists, 1.0 steals per contest with 40/32/61 shooting splits. Though he didn't live up to his expectations after getting drafted eighth overall in the 2017 NBA Draft, Ntilikina is still a great defender. Randle is only here to make the money situation work. The Knicks picks may not become as valuable as they are at this exact moment, but first-rounders are always valuable regardless. Especially if Westbrook doesn't mesh well when he gets to the Big Apple.
Conclusion:
The Rockets have finally accepted that Harden is no longer interested in playing for them, and that it is time to move on. Westbrook was a failed experiment, and the Rockets need to think about the future. They did their best, including going all in on "Moreyball." They have a great opportunity in front of them to become better than they previously were. They just need to find their way through the swamp first.