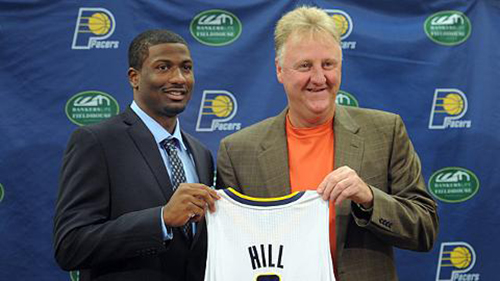 As July winds down and August looms on the horizon, the start of the 2013-14 NBA season is a little less than 100 days away! That's a happy thought that can help fight off those NBA cravings late at night when us Midwestern ballers are looking for a West Coast game.
With that said, the NBA Summer League managed to generate some interesting storylines as far as the Indiana Pacers are concerned. The two leading scorers on the team were Orlando Johnson, the 24-year-old shooting guard out of UC-Santa Barbara, who finished 10th in scoring in the Summer League, and Solomon Hill, the 22-year-old small forward out of Arizona, whom Indiana selected 23rd overall in this year's draft.
Both young men performed strongly during Summer League play. The camp, which ended on July 22nd, showcased several young players for the blue and gold whom Larry Bird may want to take a second look at. Miles Plumlee was spotlighted on the official NBA website with several different impressive plays and finished second in the Orlando Summer League in rebounding. Donald Sloan, the impressive youngster from Texas A&M, logged good minutes and averaged 10 points per game.
Several of these players will be involved in the future of the team, and the future seems to be now. After pushing the Miami Heat to the brink, the Pacers have evidently carefully assessed what was needed to bring about a more favorable outcome against the two-time defending NBA champions. They have proven that they can compete, and with the Chicago Bulls getting healthy and the Brooklyn Nets getting ugly, they need to continue to adjust and stay relevant. This will undoubtedly keep Larry Bird awake into the wee hours of the night.
Indiana looks poised to really make an impact. They re-signed David West to a three-year, $36 million dollar contract to be the muscle-guy down low and no matter what happened with him in New Orleans, coming to Indiana has breathed new life into his career and given Indiana exactly what they needed in a dominant physical presence. They also will not allow Paul George to be stolen by the likes of the Los Angeles Lakers. According to interviews, both he and the team are happy with one another and he wants to remain with a winner. His re-signing with the Pacers is… well, hear that sound Kobe? That's the sound of inevitability. Better look elsewhere to find someone to fill Dwight Howard's role.
All is well in Pacerville. Things look bright, and the upcoming season holds nothing but promise for this franchise. One hundred days and counting. Tick. Tick. Tick.