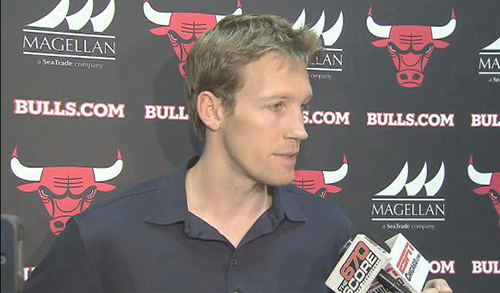 The Chicago Bulls have been extremely quiet this offseason, besides the amazing and wall-shattering acquisition of MJD! No, not Maurice Jones-Drew, but rather the irreplaceable Michael Joseph Dunleavy, Jr. Sarcasm aside, Dunleavy Jr. is actually a decent pickup.
He fits the system, unlike Marco Belinelli. Marco would drive Bulls fans crazy with his inconsistency and horrible shot selection at times. Mike Dunleavy Jr., on the other hand, is a far more consistent player, especially on the defensive end. Although the 32-year-old forward won't have explosive games like the Italian did last season for the Bulls, Dunleavy Jr. does bring a reliable jump shot and a high basketball IQ. He may not be the same caliber of a shot creator as Belinelli, but he can get to the basket and create mismatches with his length. The signing makes sense and it was at the right price for the Bulls. With Derrick Rose coming back, and hopefully being somewhere close to his MVP form, Dunleavy Jr. can be a deadly weapon for the team.
The biggest factor for the Bulls signing the former Duke product instead of re-signing Belinelli was the huge differential in three-point shooting. Dunleavy Jr. shot 42.8% last year while Belinelli only shot 35.7%. Also, MJD gets assists and his teammates involved more effectively. The former Milwaukee Buck averaged three assists per 36 minutes for his career. For comparison, Belinelli only averaged 2.4 assists over his career. Keep in mind that Marco plays a more "ball in his hands" style of game, while MJD Jr. is a more "spot-up shooter" type.
Dunleavy Jr. also has a career Player Efficiency Rating of 14.5, much better than Belinelli's 11.6 career PER. The new Chicago Bull is also a fairly efficient scorer with an effective field goal rate of 51.1 percent for his career, and last season posted a mark of 54.5 percent. Looking at the win shares statistics, Dunleavy Jr. bests Belinelli, offensively and defensively. Keep in mind that Belinelli was a very important cog for the Bulls last season. Marco only contributed 1.3 offensive win shares and 1.6 defensive win shares (his highest in his career, more than likely thanks to head coach Tom Thibodeau) last season, while Dunleavy Jr. posted 2.7 offensive win shares and 1.7 defensive win shares that same year.
It may not have been the big name or the big splash that the fans wanted, but it was an extremely smart addition to the 2013-14 Bulls squad. Mike Jr. will be filling the void that Rip Hamilton and Marco Belinelli left in the offense. Expect him to be moving without the ball, coming off of screens and splashing jump shots, along with camping out on the perimeter and making threes effectively while Derrick Rose, and to a lesser extent Jimmy Butler, collapse the defense. The NBA is not all about pizzazz. Champions are built on solid pickups.