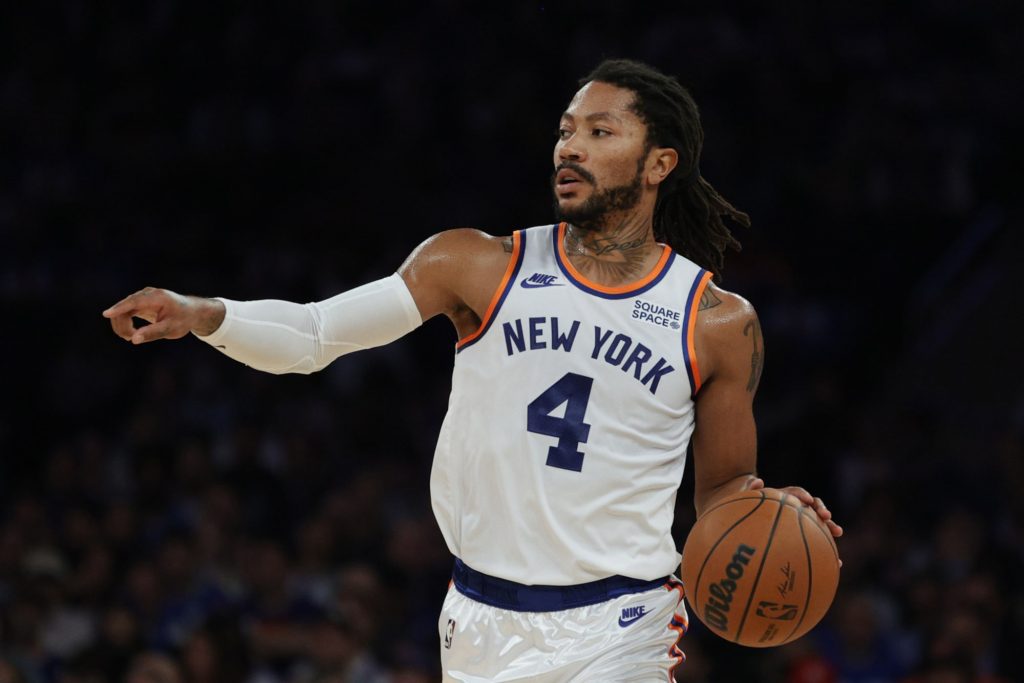 Derrick Rose Could Return After All-Star Break
The New York Knicks have been without veteran guard Derrick Rose for over a month now.
Rose suffered a right ankle injury in the Knicks' 116-103 road win over the Houston Rockets. Six days later, Rose underwent surgery.
Speaking to reporters about a possible return on Monday, D-Rose revealed that he's targeting a return at some point after the All-Star break.
"A little bit after All-Star," Rose said, per Marc Berman of the New York Post. Taking my time still. It sucks right now. I had to get my mind right for this grind. I've been here numerous times."
The All-Star Game, featuring Team LeBron vs. Team Durant, will be held at the Rocket Mortgage FieldHouse in Cleveland, Illinois on Feb. 20. NBA regular season action will resume on Feb. 24, with the Knicks returning to the court for a Feb. 25 home tilt against the Miami heat.
The Knicks were the NBA's biggest surprise team a year ago, finishing as the No. 4 seed in the Eastern Conference with a 41-31 record. The dream season ended, however, when Trae Young's Atlanta Hawks needed just five games to oust the Knicks in the first round of the playoffs.
Tom Thibodeau's team opened the season with 2022 championship odds of +6600 at Fox Bet, but it'll take a strong second half just for New York to reach the play-in tournament. Knicks fans who want to bet on games should know that the  Caesars New York Sportsbook is now legal sports betting in the state.
The 33-year-old Rose averaged 12 points, three rebounds and four assists per game in 26 contests before his injury. The Knicks' offense has been sluggish all season, and the absence of Rose has certainly complicated matters. They rank a woeful 27th in points per game and 23rd in offensive rating.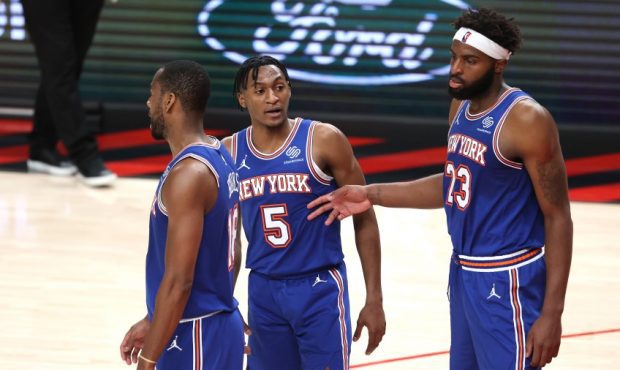 Knicks Reportedly Open To Trading Several Veterans
The Knicks, in the thick of the play-in race, could always look to bolster their roster ahead of the trade deadline.
But a trade deadline firesale seems far more likely. And according to ESPN's Brian Windhorst, the struggling Knicks are open to trading some of their notable veteran players.
"In conversations this week with teams the Knicks have expressed a willingness to trade some of their veteran players," Windhorst said on NBA Today last Thursday, via Ben Stinar of Sports Illustrated. "That includes Kemba Walker, Evan Fournier, Alec Burks, guys like this."
Walker was widely regarded as a bargain signing last offseason. The former All-Star point guard was unhappy in his role with the Boston Celtics, and he was traded to the Oklahoma City Thunder in a blockbuster deal that brought Al Horford back to Beantown.
The Thunder then bought out Walker, who signed a deal with New York that was reported to be worth $18 million over two years.
But the former Charlotte Hornets' star has been hampered by knee injuries over the past three years. A consistent threat to put up over 20 points per game, Walker is barely averaging over 12 PPG this season.
It's quite evident that Walker would benefit from a change of scenery. A championship contender like the Brooklyn Nets (currently without Kevin Durant), or the struggling and playoff-hopeful Los Angeles Lakers make sense as potential landing spots.
In the offseason, Fournier signed a massive four-year deal worth up to $78 million. Though the 29-year-old has provided ample scoring and superb three-point shooting, the Knicks certainly expected better.
The fact they're not even in the playoff picture right now gives the front office good reason to dump salary, and Fournier should have a good amount of interest on the open market.
Any playoff contender with cap space and a need for better shooting could use Fournier's services. But his hefty contract will surely limit the quantity of possible suitors.
The veteran Burks has been his usual reliable self for the Knicks this season. Though his shooting numbers have dipped (he shot above 42 percent from the field last season), Burks remains a reliable secondary scoring option.
Needless to say, it'll take a hot winning streak of some sort for the Knicks to get back into the playoff hunt. At this time, however, it makes the most sense for them to sell at the deadline.