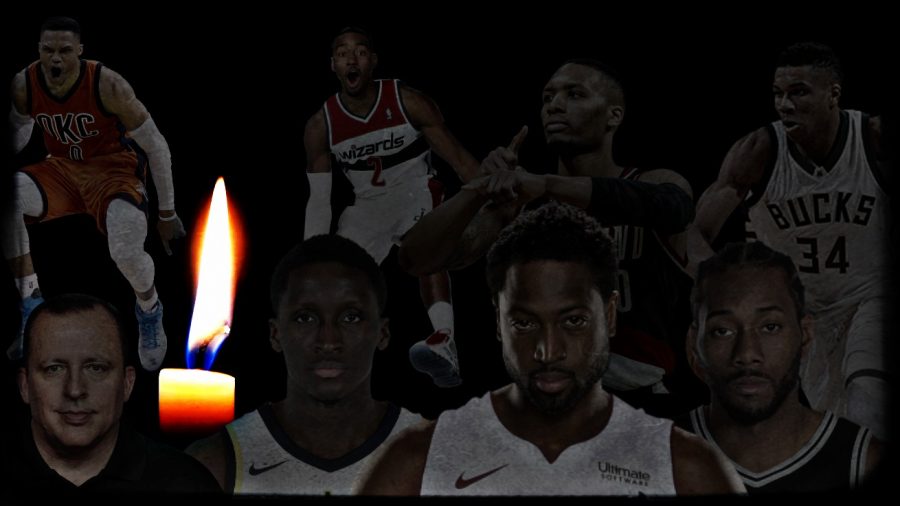 Now that all four 2nd-Round NBA Playoff match-up's are underway, it's time to properly remember the eight teams that have already been eliminated from the postseason.
Portland Trail Blazers (3rd Seed, Western Conference) 
Cause of Elimination – A sweep at the hands of a team that is about to be swept in Round 2 by the team that nearly swept the entire NBA Playoffs last year.
One Big Offseason Question – Should the Portland Trail Blazers blow it up? Let's reserve all questions related to "blowing it up" for the Washington Wizards. Be patient. Thanks.
One Not Quite As Big Offseason Question – Wait though, the Blazers don't really have a way to improve their roster in a meaningful way since they handed out $150 million to Meyers Leonard, Maurice Harkless and Evan Turner in 2016 … so how would they even blow it up? Well, they would have to send out future 1st Round Draft Picks just to coax teams into taking on some of their iffy contracts, and I'm not sure that Blazers would be keen on doing that just to shed salary. With that said, the Blazers will have to pay a hefty price to keep Jusuf Nurkic this Summer, and if they lose Nurkic, they're back to where they were two years ago prior to the Nurkic trade … a middle of the road team in the Western Conference that will finish somewhere between 7th and 10th.
The price of paying Nurkic insane money is that we know what the Blazers ceiling looks like. Damian Lillard, C.J. McCollum and Nurkic max out as trio that can win you close to 50 games and maybe one Playoff round depending on the match-up. Is that really a team ownership wants to spend $140 million on annually?
Miami Heat (6th Seed, Eastern Conference) 
Cause of Elimination – A hard-fought and admirable effort in defeat versus the young Philadelphia 76ers, who didn't flinch once during that series despite Miami's best efforts to muck up the game, play rough, and make the series as chippy as possible.
One Big Offseason Question – Will Dwyane Wade retire? My guess is no, but if so, I'd like to tip my cap to D-Wade, a player I've had a tricky relationship with over the last fifteen years. It always bothered me that Wade was considered an equal to LeBron James (not as much as it bothered me with Carmelo Anthony, but still), and that didn't stop once LeBron and Wade — and Chris Bosh — joined forces in South Beach in 2010. Despite the fact that LeBron's catalog of clutch moments from 2010-2014 was much larger than Wade's, there's this notion that it was Wade who was the crunch-time killer for the Heat. It's just not true, and even when the Heat tried resting Wade in spots during the last two regular season's LeBron spent in Miami, Wade still wore down during the postseason and left LeBron to do the majority of the heavy lifting.
It turns out that Wade wore me down over the years. I have nothing but respect and admiration for the guy now, and I've got to say, when he hit a few big shots down the stretch of the Game 4 loss to Philly that I was in the building for, I was smacked in the face with a familiar feeling of nostalgia. It'll never get old seeing Wade pump fake dudes into oblivion when they should obviously be staying down, or how when he gets going during Heat home games it's one of the few times when an occasionally disinterested Heat crowd will actually go apeshit.
Honest to God, I'll miss that stuff if Wade, one of the four greatest Shooting Guards ever and in my opinion, somewhere between the 6th and 8th best NBA player of the 21st Century, calls it a career.
One Not Quite As Big Offseason Question – What is Hassan Whiteside's trade value? The reason this wasn't chosen as the "Big Offseason Question" is because I don't suspect that Whiteside has much trade value, and therefore Miami's likely haul for him won't be that great. In addition, I don't think too many Heat fans are going to lose sleep over Whiteside's departure. It was a nice three and a half years for Whiteside in Miami, but he belongs to a different era of basketball.
San Antonio Spurs (7th Seed, Western Conference) 
Cause of Elimination – A classy and respectable five game outing against the defending NBA Champions, who like the Spurs, were short-handed. Only unlike the Warriors, we don't have a single clue why San Antonio's star player actually missed the series.
One Big Offseason Question – Is Kawhi Leonard a San Antonio Spur at the beginning of the 2018-19 NBA season? I apologize for the cop out answer here, but your guess is as good as mine. Read this piece by ESPN's Ramona Shelbourne and Michael C. Wright if you want as much insight on the dynamics of the situation as are available. But even after reading it over twice, I still don't have a good read on what will happen this Summer.
One Not Quite As Big Offseason Question – Is there any avenue for the Spurs to get in the mix for a meeting with LeBron James? Two avenues, or rather, one avenue that could require a bunch of moving parts. If the Chris Paul to Houston deal last summer taught us anything, it's that players have all the power, and if two or more players collude in the offseason, they can make a partnership or superteam come to life. It's like the old saying, "If there's a will, there's a way."
Let's assume that LeBron James really wanted to play for Gregg Popovich — the one coach in the league we know LeBron admires and respects — and we could also assume Pop would want to coach LeBron James  — the one player in the league who, unless flanked by human garbage cans, almost guarantees that your team will be in contention for an NBA Title — then that is what would happen. No matter how many moves had to be made to open up the cap space to sign LeBron AND acquire suitable running mates for him, nothing would prevent that from happening if both sides agreed that's what they desired to happen.
Now the question is, what would be the appeal of playing in San Antonio for LeBron when there are intriguing options in Philadelphia, Houston and Los Angeles too? I suppose the relationship with Pop is the starting point. Maybe the allure of a James/Popovich Presidential ticket in 2024 is there too. Or perhaps this is LeBron's master plan to make Skip Bayless' head actually explode on live television, an event I would love to be tuned in for.
Minnesota Timberwolves (8th Seed, Western Conference) 
Cause of Elimination – A traditional Gentleman's Sweep at the hands of the Houston Rockets, who emphatically shut down any ideas the Wolves may have had of this becoming a long series with a Get All The Way The Eff Out of Here 50 point 3rd quarter in Minnesota in Game 4.
One Big Offseason Question – Is Tom Thibodeau the right coach for this team? Honestly, I'm not so sure that he is. Where are the improvements defensively that we all thought we'd see when he took this team over two years ago? Why does it feel like, in some ways, Andrew Wiggins is regressing? Why is Karl-Anthony Towns only getting fourteen shots per game?
I know there were technically four questions up there, but don't get caught up in that. I'm really only concerned about the first one, because I just don't know that Tom Thibodeau is the right coach for any team in the modern NBA. He coaches like the Wolves are playing in 2010, and the league has change so much in the last eight years.
One Not Quite As Big Offseason Question – During the offseason, will the Wolves introduce some purple in their "City Uniforms" to pay homage to Minnesota's own Prince? I mean seriously, if the Mavericks can take inspiration from the Bank of American building in Dallas, the Wolves can surely be inspired by the greatest musician of all-time.
Washington Wizards (8th Seed, Eastern Conference) 
Cause of Elimination – A slow, painful death … via Dinosaurs.
One Big Offseason Question – Have the Wizards reached their ceiling with this group? Yes. What is this, 2016? Let's move on.
One Not Quite As Big Offseason Question – Out of curiosity, what would a good John Wall trade look like? Well, here's the thing, Wall can't be traded until July 26th, 2018, so nothing could "officially" happen until that date or after. That's not to say two teams couldn't agree to a deal before that date. The Kevin Love/Andrew Wiggins trade of 2014 is a perfect example of this … work out the details of a trade, agree in principle to the details of the trade, and just wait.
Even though Wall looked excellent in Washington's short-lived postseason appearance, there was enough tension all season long between Wall and the rest of the Wizards that it's entirely possible Washington would entertain the idea of trading him if the right offer came along. Wall's return to form in the postseason would only help raise his trade value, and if last Summer is any indication, then that means more teams will be active in June and July than they are in January and February.
It goes without saying, but I obviously have no clue whether the Wizard will entertain a deal for Wall this Summer, or if 29 other teams will be eager to spend a ton to acquire him. Either way, here are three trades that make at least a little sense and could happen after July 26th:
John Wall and Markieff Morris to Minnesota … Andrew Wiggins and Jeff Teague to Washington
-Minnesota might need to throw in a protected 2019 1st Round pick to make this one work. I was hesitant to include it, but my opinion might be skewed because I spent the majority of the season so down on both John Wall and Andrew Wiggins.
John Wall to Brooklyn … Spencer Dinwiddie, DeMarre Carroll, 2019 Top 10 Protected 1st Round Pick, 2021 1st Round Pick to Washington 
-It would be interesting to see if Brooklyn would give up on their slow build back from the post-Boston trade for what could turn out to be the 2018 version of the Deron Williams trade that started this whole spiral.
John Wall and Jason Smith to Los Angeles … Patrick Beverley, Tobias Harris, 2019 1st Round Pick to Washington 
-This is my favorite Wall deal out there. Beverley and Harris would keep the Wizards in the Playoff mix in the East next year. Beverley, when healthy, is a legitimate NBA starting point guard and Tobias Harris could take some of the scoring burden off of Brad Beal's shoulders. Wall's arrival in LA would fast-track a rebuild in the second biggest market in the league.
Oklahoma City Thunder (4th Seed, Western Conference) 
Cause of Elimination – All of the talk that the Oklahoma City Thunder might be a sleeper NBA Champion candidate really, ahem, struck a chord with the Utah Jazz players, who played inspired basketball and ousted the Thunder after six games. Get it, struck a chord? Jazz music? Music chords?
My bad.
One Big Offseason Question – Does Paul George bolt to Los Angeles after a 1st Round exit in Oklahoma City? George has said all of the right things so far, and credit to him for that, but man, standing around and watching Russell Westbrook's one-man show in the final game of the Thunder season wasn't a good note to go out on.
One Not Quite As Big Offseason Question – What's the conversation about Russell Westbrook going to be this Summer? Last year during the Playoffs I compared Westbrook to Tony Montana (Scarface), as Russ, like Tony, was standing alone, leaving no ammunition left in the chamber, going down in a blaze of glory in a final scene shootout that concluded with our protagonist bullet-riddled and face down in a fountain (both theoretically and literally).
When the Thunder acquired Paul George and Carmelo Anthony in the offseason, we were supposed to be able to retire the Westbrook/Scarface comparisons, but the comp surprisingly worked even better this year. Paul George assumed the role of Manny, Tony's best friend who was absent from the final shootout because Tony killed him for sleeping with his sister, and Carmelo Anthony plays Angel, the guy in Tony's crew who was dismembered by a chainsaw in a shower wayyyyyy earlier in the movie.
In Game 6, Westbrook didn't get any back-up from his OK3 running mates; George and Anthony had 12 points combined and shot 5-23 from the field, but in fairness, Steven Adams contributed 19 points and 16 rebounds and the Thunder couldn't possibly have expected Melo's hologram to contribute much. Anyway, Russ strolled into Vivint Smart Home Arena with machine gun in hand (a theoretical machine gun), and once it was clear that he wasn't getting much help from Playoff P or Melo, he started firing (his machine gun theoretically, and shots literally) right until the final buzzer.
Westbrook took an absurd 82 shots (with 28 three pointers attempts!) in the final two games of the series … it brought to light the best and worst aspects of his game. He doesn't die easy, but his recklessness in attack can kill the Thunder. When Oklahoma City wins (as they did in Game 5), Westbrook's grit is glorified, but when Oklahoma City loses (as they did in Game 6), he's vilified for playing the same exact sort of game. It's a thing people seem to have a hard time getting a grasp of.
Milwaukee Bucks (7th Seed, Eastern Conference) 
Cause of Elimination – Brad Stevens won his chess match against Joe Prunty, who was playing checkers, in just as convincing fashion as almost everyone expected. Seriously, I'm pretty confident that Giannis would be the MVP of the league and the Bucks would be the best team in the Eastern Conference if Brad Stevens were Milwaukee's Head Coach.
One Big Offseason Question – Who is on the bench in Milwaukee at the beginning of the 2018-19 NBA season? As someone who is very hopeful that over the next decade of Giannis Antetokounmpo's career we'll see his talents maximized to the furthest possible extent, I'm very hopeful that Milwaukee doesn't settle for some retread former head coach who was dismissed at his last stop because he was woefully behind the times. I'm looking right at you, Mark Jackson.
One Not Quite As Big Offseason Question – Is there any way for the Bucks to improve the roster around Giannis? Honestly, there isn't a clear path for a roster overhaul, but man, this team needs it. Bucks not named Antetokounmpo or Khris Middleton had a rough go of it against Boston. The Eric Bledsoe experiment turned out to be a total disaster. Malcolm Brogdon and Thon Maker weren't quite ready for the stage. Jabari Parker might just never get there. And Jason Terry and Shabazz Muhammad were playing crucial minutes in this series … 40 year old Jason Terry and exiled-from-Minnesota Shabazz Muhammad. C'mon man. The Bucks management staff owes it to Giannis and Middleton to put a better team around them.
Indiana Pacers (5th Seed, Eastern Conference) 
Cause of Elimination – LeBron James. Plain and simple, the greatest basketball player alive was nearly solely responsible for eliminating the Indiana Pacers from the Playoffs. It's a tough way to go out, but also a somewhat understandable way to go out.
One Big Offseason Question – Will Victor Oladipo make another leap in the offseason, or was this peak Oladipo — aka, Ola-Peak-O? If Oladipo raises his game to another level it's found money for the Pacers, but based on what we have heard about his work ethic, I wouldn't rule it out.
And please, forgive me for Ola-Peak-O. 
One Not Quite As Big Offseason Question – Will Myles Turner make the leap everybody expected from him this Summer, or is that just never coming? Turner was banged up this year, and Oladipo assumed the spot as the legitimate go-to-guy with Indy's offense, but even without the expected increase in role and responsibility, this was a relatively down season for Turner. If he can become the floor-spacing, rim-protecting, double-double guy Pacers fans expected, Indy is in great shape heading into the 2018-19 season.