2013-14 NBA SEASON PREVIEW CONTENT LIST
Atlantic: Celtics | Nets | Knicks | 76ers | Raptors | Division Preview 1 and 2
Central: Bulls | Cavaliers | Pistons | Pacers | Bucks | Division Preview
Southeast: Hawks | Bobcats | Heat | Magic | Wizards | Division Preview
Pacific: Warriors | Clippers | Lakers | Suns | Kings | Division Preview
Northwest: Nuggets | Timberwolves | Thunder | Trail Blazers | Jazz | Division Preview
Southwest: Mavericks | Rockets | Grizzlies | Pelicans | Spurs | Division Preview
Top 10 by Position: PG | SG | SF | PF | C
Top 10 Lists: Sixth Men | Sophomores | X-Factors | Intensity | Under 25 | Comeback | GMs | Europeans | Overrated | Contenders | Wild Predictions
Fantasy Basketball | NBA Fandom Games | League Preview | Ultimate Season Predictions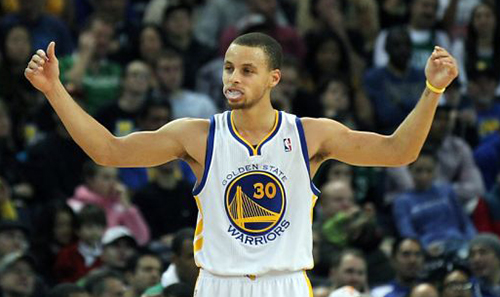 Long gone are the days when the NBA was dominated by towering patrons of the post. Due to rule changes and a lack of center talent, among other things, the game has migrated to the perimeter. Now, the league's rulers reside in the land beyond the arc and the shot callers are of smaller stature. Today, the NBA is dominated by point guards.
Never before in NBA history has there been so much skill at the point guard position. The talent pool is top-heavy, boasting many of the league's elite players, but deep as well. Likewise, talent isn't restricted to a certain demographic; players both young and old are scattered throughout the list of the position's best. Below are the cream of the crop.
10. Mike Conley, Memphis Grizzlies
Conley played a crucial role for the Memphis Grizzlies last season and helped fuel a playoff push into the Western Conference Finals. It was sort of a revelation for Conley, who many thought was overpaid by Memphis a couple of years ago. Now his contract looks spot-on as he's one of the top point guards in the NBA. While to say Conley bested Chris Paul in the first-round playoff matchup with the Los Angeles Clippers would be a stretch, he did go toe-to-toe with Paul and pressed him defensively.
Memphis doesn't have one of the league's most prolific offenses, but Conley does a fine job of running it and getting the ball in the hands of its intimidating frontcourt players. What really makes Conley valuable is his great perimeter defense coupled with a strong offensive skill set. Since being drafted after his freshman year at Ohio State, Conley has matured into a good all-around point guard and floor general.
9. Ty Lawson, Denver Nuggets
Over the past couple of years, the Denver Nuggets have reached unprecedented heights, finishing impressive seasons ahead of teams in the West starring players ranging from Kobe Bryant to Chris Paul. Perhaps what's most impressive is that they've done so without any discernible "stars" (whatever that means). Though the Nuggets haven't boasted any NBA All-Stars recently, they aren't without talent, and Lawson has been the leader of the band of misfits in Denver since Carmelo Anthony's departure.
Under head coach George Karl, the Nuggets always finished at or near the top of the league in number of possessions. But with Lawson at the wheel, they've transformed into one of the league's most efficient offenses as well. Since Lawson joined the Nuggets they've never finished below eighth in offensive efficiency and peaked at third two seasons ago. There are few players in the league that could run the Denver offense better than Lawson, who commands the floor at breakneck speeds. He's an unselfish player who can score and makes up for his lack of size with quickness and tenacity.
8. Deron Williams, Brooklyn Nets
Since his final season with the Utah Jazz, Deron Williams has earned the label of a coach killer. Displaying diva-like behavior and leaving three coaches in your wake in as many seasons will do that to you. Such conduct is acceptable in the world of sports, though, if your play can back it up, which is where Williams has failed. He experienced a slide after his move to the New Jersey Nets, posting some of the worst numbers of his career. Years ago, Williams vied with Chris Paul for a different label: the best point guard in the league. But after a rocky start to his career as a Net (and signing a sizable contract), Williams was able to regain his footing last season.
He posted scoring and efficiency numbers that we grew used to him putting up when he led the Jazz, however he also registered the lowest assist rate of his career. Brook Lopez's emergence and the addition of Joe Johnson likely helped in easing the strain on Williams last season and he'll get even more help this season. The big acquisitions of Paul Pierce, Kevin Garnett, Jason Terry and Andrei Kirilenko give the Brooklyn Nets plenty of depth and surround Williams with plenty of weapons.
7. Rajon Rondo, Boston Celtics
Somehow the Celtics were able to hold on to their playoff spot after Rondo, their best player, went down with a torn ACL. The injury will cut his 2013-14 season short and hinder him, but one thing it won't affect is his court vision. Since winning the 2008 NBA Finals, Rondo has grown into one of the league's best passers. When he went down in January, he led the NBA in assist rate as well as assists per game. He's a great defender and rebounder for his position—two things that will surely be limited this season while he recovers—but his inability to shoot the ball restricts his scoring primarily to dribble penetration. Rondo is a good all-around player and possibly the NBA's best distributor, a skill that's sort of important when discussing point guards.
6. Kyrie Irving, Cleveland Cavaliers
Irving's reputation skyrocketed during All-Star Weekend in February when he won the three-point shootout, wowed at the Rising Stars Challenge and even made an appearance in the weekend's marquee event. Irving has been hindered by injuries for years, which, along with the fact that he plays on a bad team, are likely reasons for his delay in becoming a household name. Make no mistake, though: Irving is the real deal. He particularly excels when it comes to scoring. With a wide array of talents—a great handle (ask Brandon Knight), sharpshooting (45.2 percent from the field and 39.1 percent from three last season) and ability to get to the rim (4.6 attempts per game last season)—Irving gets his points in almost every conceivable way.
Defense is his biggest shortcoming, but Irving can be hidden on opponents' lesser threats, but is showing some improvement on that end. Irving has already done enough to establish his place on this list, and with his potential, expect him to continue to climb and become one of the league's next superstars.
5. Stephen Curry, Golden State Warriors
After a year of being crippled by injuries, Curry realized his potential last season, specifically in the second half when he set nets across the nation ablaze. Curry showed a three-point-crazed league what the true meaning of obsession was as he launched 600 shots behind the arc and sank 272 of them. (His 45.4 percent shooting from three is more than most guards' field goal percentage, including his own.)
While Curry is known mostly for his scoring (and doing "The Bernie" in Madison Square Garden), he's also a more than capable passer. Playing off pick-and-rolls and the threat of his offense, Curry finished nearly a third of his possessions with assists and averaged 6.9 a game. The league has moved from the paint out to the perimeter and Curry, a point guard with vision and in-the-gym range, is one of the best suited players to take advantage of the polar shift.
4. Russell Westbrook, Oklahoma City Thunder
Often on the receiving end of criticism, Westbrook's fiery attitude and style of play can draw him some flak. However, his absence in the playoffs—perhaps more so than his performance on the court—revealed the extent of his talents and importance to the Oklahoma City Thunder's chances at a title. One of the fastest and most explosive players in the league, Westbrook packs an elite athletic punch into a 6'3″ frame. Go ahead and make the argument that Westbrook is better suited as a shooting guard. Done? He's still playing point guard for the Thunder and his speed and size make him one of the most overwhelming covers in the NBA.
3. Derrick Rose, Chicago Bulls
Millions of basketball fans held their collective breath when Rose fell, untouched, to the floor in a 2012 playoff series. Fast forward over a year—after months (on months, on months) of rehab, caution and speculation—and the 2011 NBA MVP is primed for his comeback tour. When he was last on the floor, Rose was the league's most imposing point guard and one of its most elite players. Now, after such a debilitating injury, he'll start a few lanes over with something to prove. With all the precautions Rose and Co. put into his return, it's assumed that he's back at 100 percent. I'm gullible enough to believe that he will return to form sometime in the 2013-14 season, but it will take at least a little time before he does.
It will be interesting to see how hesitant Rose is, if at all, to test his knee in real game situations. If everything is right, though, and he becomes comfortable once more, there's a good chance he tops this list a year from now.
2. Tony Parker, San Antonio Spurs
Year in and year out, fans and pundits alike (myself included) discount the San Antonio Spurs because of their advanced age, but Parker has proven to be San Antonio's fountain of youth. As stars like Manu Ginobili and Tim Duncan dim near the ends of their careers, Parker propels the team to contender status and he's become one of the least recognized stars in the NBA. He's fast, but not quite as quick as Westbrook. He's athletic, but not as explosive as Rose. He's a good passer, but doesn't rack up the assists like Rondo.
Parker's skill set is much more subtle than the typical superstar NBA point guards, but just as impactful. He takes care of the basketball and runs the pick-and-roll better than nearly anyone in the league. As someone whose prowess doesn't quite show up in his stat line like his peers, the most tangible measure of Parker's ability may be the success the Spurs have experienced in recent years, something that would be impossible without their Frenchman floor general.
1. Chris Paul, Los Angeles Clippers
His name has been mentioned on this list a few times already as a point of reference, and for good reason: he's as pure as point guards get. A floor general unlike any other, for years he was able to keep the mediocre New Orleans Hornets' heads above water. With the Los Angeles Clippers, he's been the fulcrum of a turnaround that's culminated in making one of the league's least historically significant franchises more relevant than the Los Angeles Lakers. Paul's ability to elicit the best of each of his teammates is his top priority on the floor and the reason for the Clippers transformation.
Last season, Paul led the NBA in assist rate, ending 37 percent of his possessions in assists. Meanwhile, he only ended 8.7 percent of his possessions in turnovers; his differential between assist rate and turnover rate was the best in the league by a landslide. The season before Paul arrived, the Clippers were the league's 22nd most efficient offense, and the last two seasons they've ranked fourth. His prowess is undeniable. While his game is more traditional and less flashy than some combo guards that dominate the modern NBA game, it's every bit as effective and more. Surrounded by plenty of weapons this season, Paul has the ability to lead the Clippers further than they've ever gone before.