2013-14 NBA SEASON PREVIEW CONTENT LIST
Atlantic: Celtics | Nets | Knicks | 76ers | Raptors | Division Preview 1 and 2
Central: Bulls | Cavaliers | Pistons | Pacers | Bucks | Division Preview
Southeast: Hawks | Bobcats | Heat | Magic | Wizards | Division Preview
Pacific: Warriors | Clippers | Lakers | Suns | Kings | Division Preview
Northwest: Nuggets | Timberwolves | Thunder | Trail Blazers | Jazz | Division Preview
Southwest: Mavericks | Rockets | Grizzlies | Pelicans | Spurs | Division Preview
Top 10 by Position: PG | SG | SF | PF | C
Top 10 Lists: Sixth Men | Sophomores | X-Factors | Intensity | Under 25 | Comeback | GMs | Europeans | Overrated | Contenders | Wild Predictions
Fantasy Basketball | NBA Fandom Games | League Preview | Ultimate Season Predictions
Media Day: Lakers | Clippers | Kings | Knicks | Bucks | Suns | Pacers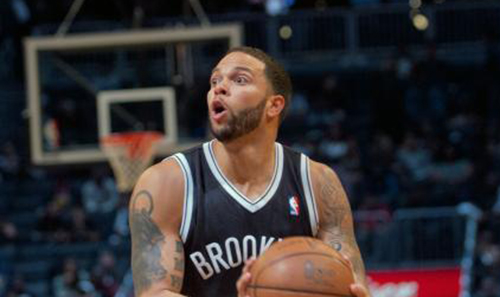 'Tis the season of prognostication, of lining up the league's eggs before they hatch, sorting through the tea leaves, staring into misty, crystal balls – all that jazz. Everybody covers the potential MVP, the eventual champion and the expected contenders; here at Baller Mind Frame, we dig deeper with predictions centered on entertainment and absurdity rather than athletic excellence. Maybe you weren't expecting such a hard twist, but hey, this ain't USA Today. On to the fun.
Most Likely to Require Group Therapy: New York Knicks
This past postseason, while the Knicks battled the against-the-ropes Boston Celtics for two games too long because of their undue arrogance, the team seemed ripe for psychological fissure, ready to break into a soft focus confession or street brawl at any given moment. When you combine Carmelo Anthony, the league's premier diva, and a star best known for striking inanimate objects, Amare Stoudemire, you're asking for trouble already. Throw in bizarro tough man Tyson Chandler, an unbridled J.R. Smith and a recently signed world champion of folly, Metta World Peace, and you have a recipe for utter madness. No matter how they play on court, this team will be the most fun to watch and provide the best narrative arc over the season. Implosion or triumph, psyches will be shattered and memories made. I can't wait.
Biggest Gap Between Media Front and Backstage Reality: Houston Rockets
I know what you're thinking: the Los Angeles Lakers fan, the Dwight Howard hater, is calling out the Rockets. Big surprise. But follow me on this one. Howard could not get along with the nicest man in basketball, Steve "Gatsby" Nash, even inciting a shouting match after a particularly inept possession. The Rockets culture will be more welcoming than Kobe Bryant's Thunderdome, but the predominant source of roster friction stays within Howard, and it remains up to him to work out his disrupting petulance. In the meantime, he's saying all the right things, buddying up to his new teammates and and talking up the possibility of the pick-and-roll, maybe moving down to power forward to make way for Omer Asik to start. Really? The guy who wouldn't play with an elite pick-and-roll point guard, Nash, who couldn't adjust for one of the most skilled big men in the league, Pau Gasol, will all of a sudden wise up for Jeremy Lin and Asik? That's the company line? Good luck, Houston, you're going to need it.
Most Likely to Die by Their Own Hubris: Miami Heat
Maybe I'm only wishing on a star to fall, whistling for collapse, hanging on nothing more than a dream, a distant reality not soon to pass. Still, I can't help but think these guys have it coming. Too much has gone right, too many goals actualized, for them not to misstep, to make a crucial error in the blinding light of their own hubris. Be it injury, internal chemistry, or general catastrophe, they're due for something. Mark my words: the Heat will not three-peat.
Most Likely to Alter Legacy: Kobe Bryant
Coming to TV this fall, "Black Mamba IV: The Last Kill," the long awaited sequel to "First Blood, Lone Warrior," and "New Pack." It might be self-inflicted, passed on by domineering competition or twisted fate, even come in the form of one or two more conquests; whatever's next, it will dramatically alter the way we view Kobe Bryant. He's the hero, back for more rings and records, or the unfortunate casualty of injury and circumstance. The Lakers won't be adding any banners this season or next without significant personnel upgrades, but the core pieces are in place to make another run at the Larry O'Brien. Unlikely as that reality may be, it's possible, and even if it never comes to pass, the Mamba will put on one hell of a final act.
Hottest Seat: Deron Williams
Throughout his career, Deron Williams has always had a valid excuse for not living up to his potential: the lack of a strong supporting cast. This season's Brooklyn Nets feature more offensive weapons than he's played with apart from his time on Team USA, leaving him no wiggle room for failure. We used to believe he lived in the same realm as Chris Paul, that he competed for the crown of best point guard. Those days long gone, Williams now has to prove himself to justify again why we held him in such esteem. The pieces are in place, but will Williams rise to the occasion? How he responds will determine whether or not we remember him in ten years.
Most Blatant Tanking: Philadelphia 76ers
In the clearest league-wide move yet for the lottery rights to incoming wunderkind Andrew Wiggins, the 76ers traded their best player, Jrue Holiday, for an injured rookie and a first-round pick in next year's draft. No longer maintaining any semblance of contemporary competition, Philly's management pulled the trigger on a freefall, praying for a few good hands and a quick rebuild. While a lot of chance and loss remain in the way of the 76ers's salvation, no team has more blatantly sought a spot in next year's lottery. Not yet.
Most Likely to be Traded Before the Deadline: Rajon Rondo
If any team outdoes the 76ers, it will be the Boston Celtics. Fresh from the fire sale of Paul Pierce and Kevin Garnett for garbage and picks, the Celtics are one step from total commitment to burning down the present for the future. That step? Trading their brightest star, Rajon Rondo, for more prospects. Rondo may force his way out in frustration, unable to stomach a full bottom-out, or Danny Ainge could ditch him in a last minute push to last, but don't be surprised to see Rondo in another jersey this season.
Biggest Blog Bait: Golden State Warriors
The Denver Nuggets, as we knew them, are over. Long held as the league's highest example of team ball and player buy-in, their strongest asset, Andre Igoudala, signed with the Warriors and the Nuggets fired mastermind George Karl, replacing him with unproven coaching talent Brian Shaw. They will compete for a playoff seed, certainly, but the spark that drew the blog circuit has passed and we look to a new squad for near idyllic play and fluid chemistry. Who would that be, you ask? None other than Igoudala's new team, the soon-to-be (not really) San Francisco Warriors. Loaded with emerging young guns and ripe for a breakthrough season, their perimeter shooting and athletic finishes at the rim will inspire countless online raves and rambles, fueling the Internet media destined to fall on the deaf ears of the general public.
Least Graceful Retirement: David Stern
Plenty of veteran players fight Father Time too long, marring their legacy in heart-wrenching defeat and lackluster performance. While the curve is not quite the same for administrators, David Stern has stayed in the league far past his expiration date. Not to discount any of his accomplishments, as the league has soared to new heights, both competitively and financially, under his watch, but Stern no longer carries the respect or understanding necessary for the position of NBA Commissioner. Rather than step down and let Adam Silver gracefully take over, Stern announced his impending retirement a year ago in order to maximize the weight of his victory lap. Until his exit at the NBA All-Star break, expect lingering waves, breathless appraisals and heaps of smug self-satisfaction.
Worst Dressed: Craig Sager
Has he ever lost? We might as well give him a lifetime achievement trophy and retire the award.