2013-14 NBA SEASON PREVIEW CONTENT LIST
Atlantic: Celtics | Nets | Knicks | 76ers | Raptors | Division Preview 1 and 2
Central: Bulls | Cavaliers | Pistons | Pacers | Bucks | Division Preview
Southeast: Hawks | Bobcats | Heat | Magic | Wizards | Division Preview
Pacific: Warriors | Clippers | Lakers | Suns | Kings | Division Preview
Northwest: Nuggets | Timberwolves | Thunder | Trail Blazers | Jazz | Division Preview
Southwest: Mavericks | Rockets | Grizzlies | Pelicans | Spurs | Division Preview
Top 10 by Position: PG | SG | SF | PF | C
Top 10 Lists: Sixth Men | Sophomores | X-Factors | Intensity | Under 25 | Comeback | GMs | Europeans | Overrated | Contenders | Wild Predictions
Fantasy Basketball | NBA Fandom Games | League Preview | Ultimate Season Predictions
Media Day: Lakers | Clippers | Kings | Knicks | Bucks | Suns | Pacers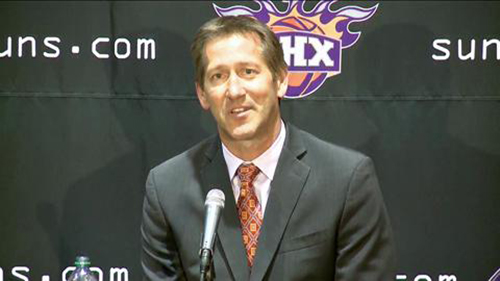 The goals new Phoenix Suns general manager Ryan McDonough has for this season are simple. There is no talk of playoffs like last season, or competing for a division title. Indeed, the goals and expectations have been scaled down.
"My expectation for success (this season) is just to get better—to improve from now through the end of the year," McDonough said Monday at the Suns Media Day at US Airways Center. "We have a very young team. We have a lot of new guys. The most important thing for me is establishing a culture conducive to winning. I think the good teams have that.
"So we can't try to rush the process or let our record kind of blur the lines about what we're trying to do. We've just got to keep getting better, keep pushing, keep developing our players and find guys who are keepers for the next great Suns team."
A key member of that core is point guard Eric Bledsoe, who was acquired in the offseason in a three-team trade with the Milwaukee Bucks and Los Angeles Clippers, who sent fan-favorite Jared Dudley to the Los Angeles Clippers. Bledsoe will team with Goran Dragic in the backcourt, each able to bring the ball up the court and start the offense or operate off the ball.
The versatility of the Phoenix backcourt is something new head coach Jeff Hornacek hopes to build around going forward.
"The versatility we have with this team, especially in our backcourt, is something we are excited about going into training camp and the season," Hornacek said. "We have options with either Goran or Eric being able to push the ball up the court. It gives us options."
While the backcourt is set, the only other position set heading into training camp, according to Hornacek, is the starting center position with Marcin Gortat. With 18 players in camp, the hope among Suns management is the open spots will create a healthy competition for playing time in training camp.
"From Guy 18 to Guy 1, they should know that if they go out there and outplay another player that they're going to get the time," Hornacek said. "That spurs on the competition."
Competing with Gortat for minutes will be rookie Alex Len out of Maryland, who was taken with the No. 5 pick in the draft. Len has had a busy offseason, undergoing surgeries on his left ankle in May and his right ankle in July. According to McDonough, he resumed light work on the court in August and participated in limited five-on-five scrimmages last week with no pain.
"My ankles feel good. No pain," Len said. "I just have to get my wind back. My ankles feel a little weak because I haven't done much for five months but I'll get it back. The goal is to do everything I can at camp."
It will be a training camp that features 10 new players, and while the organization is perhaps best known for its up-tempo style of offense, Hornacek hopes to establish a defensive mindset among his players. Which is why Mike Longabardi, who was Boston's defensive coordinator last season, was one of Hornacek's first hires as head coach.
"The big key for us is to establish a defense mindset," Hornacek said. "It's just going to be repetition. The thing we're trying to get across to them is the better we are defensively, the better we will be offensively."
Spearheading the defensive attack will be Bledsoe, among the better defensive guards in the league coming off the bench last season.
For Bledsoe, who backed up Chris Paul with the Clippers, the opportunity to start and lead a team is an opportunity he relishes.
"I learned a lot from Chris the last few years, how he leads a team and how hard he competes," Bledsoe said. "I feel like I'm ready for this. And I'm just going to go out and compete as hard as I can, use my slashing ability and try to lock in defensively every game. It's real exciting right now being here in camp."