2013-14 NBA SEASON PREVIEW CONTENT LIST
Atlantic: Celtics | Nets | Knicks | 76ers | Raptors | Division Preview 1 and 2
Central: Bulls | Cavaliers | Pistons | Pacers | Bucks | Division Preview
Southeast: Hawks | Bobcats | Heat | Magic | Wizards | Division Preview
Pacific: Warriors | Clippers | Lakers | Suns | Kings | Division Preview
Northwest: Nuggets | Timberwolves | Thunder | Trail Blazers | Jazz | Division Preview
Southwest: Mavericks | Rockets | Grizzlies | Pelicans | Spurs | Division Preview
Top 10 by Position: PG | SG | SF | PF | C
Top 10 Lists: Sixth Men | Sophomores | X-Factors | Intensity | Under 25 | Comeback | GMs | Europeans | Overrated | Contenders | Wild Predictions
Fantasy Basketball | NBA Fandom Games | League Preview | Ultimate Season Predictions
Media Day: Lakers | Clippers | Kings | Knicks | Bucks | Suns | Pacers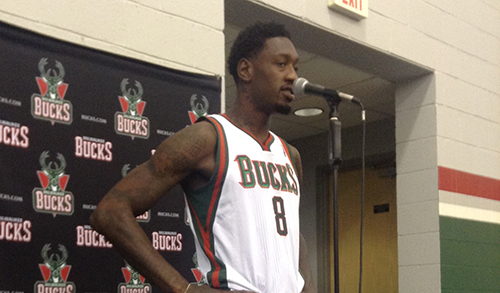 Cameras snap pictures. Reporters grab quotes.  Interns shuffle around the team facility, guiding players from station to station for photos and interviews. It's Media Day in the NBA and that means the season is underway.
For many teams, Media Day is an opportunity to generate excitement by reintroducing themselves to the fans via media correspondence. It's a time to showcase offseason acquisitions, discuss goals for the season and plans for the future. For the Milwaukee Bucks, the event holds true to form, but just beneath the political, clichéd responses exists a quiet confidence that this franchise has been lacking for many seasons.
The Bucks spent the offseason revamping their roster by recruiting players that wanted to play in Milwaukee. Now that may seem like a stretch, but it's true. There were players excited about playing for the Bucks organization. In fact, a total of 11 players filled in the vacancies, while only four returned from last year.
Every person, from owner Herb Kohl to rookie Nate Wolters, who stood in front of the team's logo backdrop, echoed the same idea – the importance of coming together as a team. This notion should inspire the fans for the upcoming season.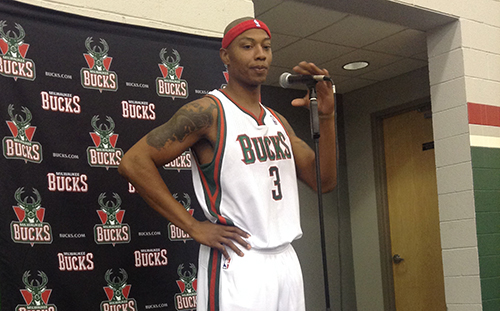 In the NBA small market teams fall to the wayside and become fodder for padding stats. Kobe Bryant's 88-point game against a lackluster Toronto Raptors team springs to mind. But to find a team constructed based off of talent, as pieces to a puzzle, is a formula for success. It's been documented in the book, "Moneyball: The Art of Winning an Unfair Game" by Michael Lewis, regarding the Oakland A's. A team, carefully organized based on specific talents and attributes, can be victorious, once it jells.
There's no movie deal with Brad Pitt or Jonah Hill set to star, but the cast for this Bucks team can receive similar accolades and praise if everyone puts their best effort forward, sacrificing themselves for the betterment of the team. This doesn't automatically mean NBA Finals either. Potentially, a higher seed in the NBA Playoffs, with a winning record, preferably above .500, would be realistic. It could happen.
O.J. Mayo, who agreed to a three-year, $24 million contract with Bucks this summer believes it.
"Last year, we were the eighth seed but at the same time it was a losing season," Mayo said. "Hopefully we can get to a fifth or sixth seed this year and continue growing, show we're making improvements and strides."
It's just a matter of getting everyone on the same page. Now this doesn't mean there is a long list of expectations. The team plans to attack head coach Larry Drew's goals and condition themselves for the season, but it begins with connection and camaraderie among the players.
Veteran Caron Butler, a Wisconsin native, who joined the team via trade from the Phoenix Suns, made it a point to reach out to his new teammates before the start of training camp in order to "establish a tone."
"We just talked about expectations and where did we see this team going," Butler said about their meeting. "We felt real good about what we can get accomplished here in Milwaukee. We had a good energy, a good vibe."