2013-14 NBA SEASON PREVIEW CONTENT LIST
Atlantic: Celtics | Nets | Knicks | 76ers | Raptors | Division Preview 1 and 2
Central: Bulls | Cavaliers | Pistons | Pacers | Bucks | Division Preview
Southeast: Hawks | Bobcats | Heat | Magic | Wizards | Division Preview
Pacific: Warriors | Clippers | Lakers | Suns | Kings | Division Preview
Northwest: Nuggets | Timberwolves | Thunder | Trail Blazers | Jazz | Division Preview
Southwest: Mavericks | Rockets | Grizzlies | Pelicans | Spurs | Division Preview
Top 10 by Position: PG | SG | SF | PF | C
Top 10 Lists: Sixth Men | Sophomores | X-Factors | Intensity | Under 25 | Comeback | GMs | Europeans | Overrated | Contenders | Wild Predictions
Fantasy Basketball | NBA Fandom Games | League Preview | Ultimate Season Predictions
Media Day: Lakers | Clippers | Kings | Knicks | Bucks | Suns | Pacers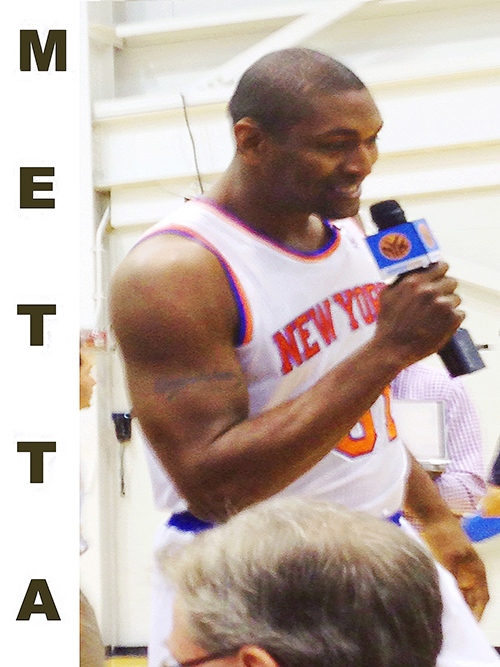 In response to the shakeup of Glen Grunwald being usurped as president and general manager of the New York Knicks by Steve Mills, a former executive of the Knicks, newly acquired Metta World Peace remarked Monday, "What shakeup? The only thing I shake up is my milk."
As the full roster of players and head coach Mike Woodson came and went across the dais for Media Day, Metta, in his brief stand, was unequivocally the star. Entering stealthily from a side entrance, his first impressions were made wielding a microphone—for himself, interviewing members of the press. Only upon taking a seat on stage next to Raymond Felton did he finally resort to answering, not asking the questions.
"In terms of being comfortable (with the team), I'm most comfortable in bed … preferably one of those beds where you bounce in them, and put the liquid in."
"He means sleeping, by the way," Felton assured.
Seriously though, folks, when the time came, all eyes were inevitably glued to Carmelo Anthony. While he skirted a scope of questions pertaining to his upcoming free agency—with regard to his perspective of this year's team, he remained thoroughly genuine.
"It's hard for me to say what's a successful season…. Not just making it to the playoffs, but making a run. I'm not gonna tell you it's championship or bust. I want us to go out there and take it one day at a time. For us, a key thing is to just stay healthy."
The quote of the day, however, came from guard Iman Shumpert. Responding to his assumed role as a defensive stopper, he made the declaration, "I've said this before…. It's not that I love defense—I just want to score so bad that I'm willing to snatch the ball outta your hand. The game of basketball is about scoring points. In order to do that, I have to snatch the ball away."
Injuries across the board are on the mend; the option on coach Mike Woodson's contract has been picked up; the whole roster wants Carmelo to stay, and for a variety of reasons; and, due to a recent violation of the league's substance abuse policy, the suspension of J.R. Smith has been forgiven and ostensibly forgotten by all mentionable parties. This year's Knicks are free-styling and fun-loving, loaded with both talent and chemistry, and ready to make their attack on the standings of a stacked Eastern Conference.