2013-14 NBA SEASON PREVIEW CONTENT LIST
Atlantic: Celtics | Nets | Knicks | 76ers | Raptors | Division Preview 1 and 2
Central: Bulls | Cavaliers | Pistons | Pacers | Bucks | Division Preview
Southeast: Hawks | Bobcats | Heat | Magic | Wizards | Division Preview
Pacific: Warriors | Clippers | Lakers | Suns | Kings | Division Preview
Northwest: Nuggets | Timberwolves | Thunder | Trail Blazers | Jazz | Division Preview
Southwest: Mavericks | Rockets | Grizzlies | Pelicans | Spurs | Division Preview
Top 10 by Position: PG | SG | SF | PF | C
Top 10 Lists: Sixth Men | Sophomores | X-Factors | Intensity | Under 25 | Comeback | GMs | Europeans | Overrated | Contenders | Wild Predictions
Fantasy Basketball | NBA Fandom Games | League Preview | Ultimate Season Predictions
Media Day: Lakers | Clippers | Kings | Knicks | Bucks | Suns | Pacers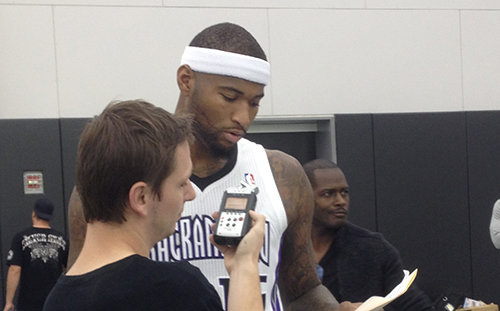 There was something in the air at the Sacramento Kings Media Day on Monday. No, it wasn't the blaring groan of a fire alarm or DeMarcus Cousins' attempts at a falsetto — though both made appearances. There was optimism and plenty of it.
Emphasizing the silver lining is a staple of the preseason, before anything goes wrong or expectations aren't met, but with so much offseason turnover, the Kings' claims of excitement for the future held more weight than usual.
"There's so many new faces. Not just on the basketball court, but the coaching staff, ownership — everything… It feels like it's a new team, like I got traded somewhere," Isaiah Thomas said. "Things are just different around here, period. Whether it be that there's food after workouts now or it just be guys working hard; the air is different."
Recent changes prompted comments of excitement and clean slates from most everyone, but wishful thinking alone doesn't turn a franchise around or win games.
While much of the talk Monday regarded leaving off-court issues behind them, Michael Malone, who wasn't shy in his assessment, was more focused on abandoning on-court tendencies, starting on the defensive end.
"They weren't really doing anything you can speak positively about. Defense starts in transition and we were last in the league last year in fast break points allowed," Malone said of the Kings, who gave up nearly 17 points per game in transition.
While fast break defense may be Sacramento's biggest weakness, it's just one of many. The Kings finished 29th in the NBA in defensive efficiency last season, allowing high shooting percentages around most of the floor. Sacramento was particularly susceptible to giving up easy shots down low last season (opponents shot a league-high 70.2 percent at the rim), something Malone will focus on addressing and look to build his defense around.
"Once we get set, I want to make teams beat us from the perimeter. I want to try to protect that paint as much as possible and make teams beat us with contested jump shots," Malone said.
Collective team progress is the goal, but it begins with individual improvement. Tuesday marked the beginning of training camp, where Sacramento officially began piecing the on-court puzzle together, but it's just the next step in preparation. Over the summer, players dispersed across the country to relax and work on their own games before returning for voluntary September workouts in Sacramento.
Patrick Patterson, ahead of what figures to be a tightly contested position battle at power forward, said he spent much of the offseason working on his on-on-one defense and rebounding in hopes of augmenting his strengths, pick-and-roll defense and shooting.
Jimmer Fredette focused on improving his agility in order to help him defend better and score more efficiently.
Thomas said he was in the best shape of his life.
(Look below for videos from Media Day and check out Baller Mind Frame's YouTube channel for more.)
However, it would be difficult to imagine anyone was able to improve an area of their game so much as Cousins did his bank account. A few hours before Media Day, the Kings made official their extension of Cousins' contract. Management had stated repeatedly since the sale of the team that they intended to build the franchise around Cousins, and by signing him to another four years for around $62 million, they've put their money where their mouth is.
"I'm in the software business and we bet on people, so for me, it's natural," Vivek Ranadivé said at a press conference Monday. "To me, he's one of the best, if not the best, big men in the business."
Now more than ever, expectations of Cousins will increase as he's tasked with being the leader of the Kings. Malone said he's been active in challenging the young center to realize his talent in his newly solidified role.
"He's a franchise player and I congratulate him on his new contract, but now there's even more responsibility and the challenge becomes greater," Malone said. "I'm a big movie guy. Like in the movie 'A Bronx Tale,' the saddest thing in life is wasted talent. I don't want him to be the guy that Calogero talks about. I want him to fulfill all of his potential."
Malone hopes that if and when Cousins falls in line, the rest of the team will follow, laying the foundation for the vision he and his staff have of the future of the Kings.
"You can't do the same thing over and over and expect different results, that's the definition of insanity," Malone said. "I don't want a bunch of insane guys, I want guys that buy in and realize that we have to do things differently."
***
Patrick Patterson spoke about the position battle at power forward and his offseason.
Jimmer Fredette on his offseason and expectations for this season.
Isaiah Thomas opened up on the point guard competition and DeMarcus Cousins.