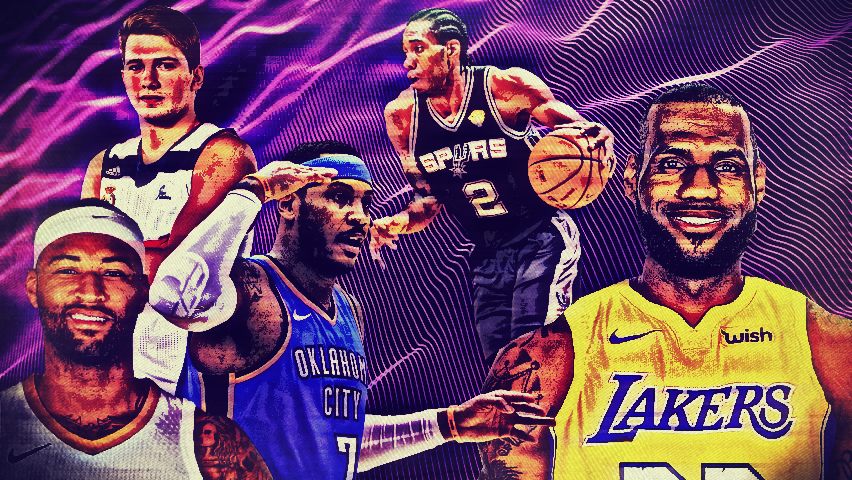 Though the dust hasn't totally settled just yet, enough of the chaos of the NBA offseason is behind us that it feels like it's now an appropriate time to speculate how the landscape of the NBA has changed over the course of the Summer. Of course, there is no way to know whether mid-Summer evaluations will be proven correct in the upcoming season. Once upon a time, the Los Angeles Lakers acquired Steve Nash and Dwight Howard in a 40 day span during the 2012 offseason. Those two acquisitions prompted this now-hilarious Sports Illustrated cover …
… and convinced nearly every NBA media outlet — SI included — that it was a safe bet to pencil the Lakers into the 2013 NBA Finals. To almost everyone's surprise, the Lakers finished 7th in the Western Conference and were swept out of the 1st Round of the Playoffs by the San Antonio Spurs the following season. It was anything but a "fun" year for the Lakers and their fans, and nobody saw it coming.
Only time will tell whether or not any of the moves made this summer have been misinterpreted by the masses to that degree. Until then, consider these the winners and losers of the NBA offseason.
Winner: Golden State Warriors
Winner: DeMarcus Cousins 
In less than a month's time, the Warriors won their 3rd NBA Title in four years, re-signed their reigning two-time NBA Finals MVP (Kevin Durant), and in the single most surprising move of the NBA offseason, signed All-Star Center DeMarcus Cousins to an incredibly and comically cheap one year deal worth less than $6 million. Cousins' value dipped because of an achilles tear that will likely keep him out at least half of the regular season. There's no guarantee that Boogie will return to peak form once he's back on the floor, but even still, this is the prime example of the rich getting richer.
Naturally, this signing irked everyone outside of the Bay Area. As I've already voiced on Twitter, I understand the vitriol. I can't say I wouldn't have preferred Cousins to sign elsewhere. I felt the same way — even moreso actually — about Kevin Durant's decision to join the Warriors in 2016. The Warriors already have a loaded roster … they didn't need the deck stacked in their favor. It would be like if a card counter had a blackjack dealer on his payroll in Vegas, or something like that. Once Cousins returns to action the Warriors will boast a starting five made up of five All-Stars and their sixth man (Andre Iguodala) is a former Finals MVP and former All-Star himself. Seriously, isn't this just overkill at this point?
But with that said, we can't really blame the Warriors or Cousins for this. It's not up to the Warriors to make sure there is competitive balance within the league, nor is it their fault that the salary cap wasn't smoothed back in 2016, a misstep by the Players Association that allowed Golden State to sign Kevin Durant when they otherwise would haven't been able to. Cousins didn't get any big money, long-term offers once free agency began … should he have settled for a short-term, low-money offer elsewhere? Is there a better place to rehab yourself and look good in a return to the court than with the Golden State freaking Warriors?
Cousins will be spoon-fed easy buckets and feast on wide open looks once he returns from injury. There will be minimal pressure for him to perform at a high level immediately upon his return, and if he outperforms expectations then it only serves as an additional negotiating chip next summer when Cousins hits Free Agency again. He'll be collecting a championship ring and a massive payday within a few weeks of each other. Not a bad outlook for your next calendar year.
Loser: DeMarcus Cousins
Fans of the Warriors will preach that rather than being salty and unappreciative of how great we expect that the 2018-19 Warriors will be, they should embrace the opportunity to watch a team with such talent. Half of that assessment of the situation is correct. Fans can appreciate the greatness of the 2018-19 Warriors — and the Warriors of the past four seasons for that matter — and still look at Golden State's acquisitions of Durant and Cousins and prefer that they didn't join a 73-win juggernaut and a two-time defending NBA Champion respectively. Nobody is obligated to be happy for DeMarcus Cousins or like what he did. Whether it's fair or not, Cousins will be looked at differently amongst guys in and out of the league, and so will the Warriors.
Loser: Kawhi Leonard
Loser: San Antonio Spurs 
Thus far, there have been no winners in the Kawhi Leonard saga. The Spurs are stuck with a disgruntled All-Star Forward who wants no part of playing in San Antonio, and it remains unclear how aggressive they've been in pursuing a trade to get him out of the Lone Star State. Kawhi Leonard is stuck in San Antonio, mostly because potential suitors have no clue about, A) His health, or B) His willingness, or lack thereof, to re-sign on a long-term deal with whoever trades for him. It's been a very awkward cold war between the two sides, and we have no clue if it will end tomorrow, in February at the trade deadline, next July, or somewhere in between.
And for the record, Kawhi Leonard only has himself to blame for being in this mess. Since Gregg Popovich took over as the Head Coach of the Spurs in 1996, San Antonio has been the most tight-lipped, steady, drama-free and successful franchise in professional sports. There's a very well-established culture there … The Spurs Way, if you will. Kawhi Leonard is the one guy in twenty years who has seriously rocked that boat. Shit, the Spurs managed to weather the storm in quieter fashion when Tony Parker was sleeping with Brent Barry's wife, and they were teammates at the time.
Based on the information that's available, it seems like the relationship between Kawhi and the Spurs started going downhill when Kawhi hired his Uncle, Dennis Robertson, to be his business manager. Not long after a schism was formed. There was first mistrust between Kawhi and the Spurs medical staff, then Kawhi and his Spurs teammates — Tony Parker didn't exactly do his part in attempting to mend this relationship when he put Kawhi on blast back in late March — and then between Kawhi and the Spurs organization as a whole. It's mostly irrelevant whether you think that this has more to do with Kawhi's injury and how it was handled internally, or with Kawhi's rumored interest in playing in Los Angeles, because once the trust was broken it was all over. No franchise values that sort of organizational, top to bottom trust than the Spurs do.
"There's got to be a synergy where there's a trust. There are no walls. There is no territory," Gregg Popovich said in 2014. He continued: "Everything is discussed. Everything is fair game. Criticism is welcome, and when you have that, then you have a hell of an organization. That free flow through all those people is what really makes it work. And that includes everything from draft to O's and X's. Nothing should be left to one area – only to the president, only to the GM, only to the coach – or the culture just doesn't form. At least that's what's worked for us."
Kawhi Leonard put walls up, and the Spurs aren't in the demolition business.
Winner: Los Angeles Lakers
The Rajon Rondo, Lance Stephenson and JaVale McGee signings were curious. Lonzo Ball will undergo knee surgery tomorrow and there's no guarantee he'll be back for training camp. Based on everything we know, the Lakers aren't going to be in a hurry to gut their roster to acquire Kawhi Leonard. And yet, the Los Angeles Lakers signed the best basketball player alive, an acquisition that carries far more weight than any other move that any other team made over the Summer, so therefore, we can safely call the Lakers a winner of the offseason.
With that said, early expectations should be tempered. A ninth consecutive Finals appearance for LeBron James would be a truly shocking outcome for the 2018-19 season. At the moment, the Lakers might not be one of the four best teams in the even-more-loaded-than-usual Western Conference. Regardless, the profile of the Lakers franchise has been raised, L.A. will be back in the Playoff picture when they otherwise wouldn't have been, and next summer when nearly half of the players in the league are free agents — including quite a few big names — the Lakers will be major players.
Loser: Cleveland Cavaliers 
It's difficult to imagine that the Cavaliers will be major players in anything other than the Draft Lottery for the foreseeable future. LeBron James lifted this subpar franchise out of the murkiest corner of the league's basement and turned them into the class of the Eastern Conference for four consecutive years simply because he was born 40 miles away and spent the first seven years of his career as a member of the Cavaliers. The revolving door of Coaches and General Managers and below average players, and the overall incompetence of Dan Gilbert was hardly a recruiting pitch back in 2014, and the allure of playing with a young "star" like Kyrie Irving was likely overstated.
LeBron James took his talents to South Beach in 2010 and led the Miami Heat to four consecutive NBA Finals appearances while the Cavaliers were stumbling to a 97-215 record in his absence. They had the #1 pick in the NBA Draft three times. There wasn't a less successful or more poorly ran franchise in professional sports in those four seasons. LeBron went back to Cleveland because he had promised the fans of the region a Championship and he wanted to deliver it. There was unfinished business. It took him only two years to handle it.
The Cavaliers were 262-120 — Playoffs included — in games that LeBron played in during his second tenure in Cleveland, but only 4-23 in games when he was inactive. That's a .148 win percentage compared to a .685 win percentage. This wasn't a roster that was built to contend for the NBA Title. It was a roster that was built to be O.K. enough to be dragged to the Finals by the best basketball player alive. There's a big difference between the two.
I have very little faith in the Cavaliers brass moving forward. With the exception of LeBron James in 2014, there is no history of signing any truly relevant free agents. There is no track record of developing players, or even keeping players that they've drafted on their roster — the only player that Cleveland drafted during LeBron's four-year Miami stint who is still on the roster is Tristan Thompson, and he's dating a damn Kardashian — and if there was any reason to think that new-ish General Manager Koby Altman was going to turn things around, faith was lost when the Cavaliers reportedly turned down an offer from the Atlanta Hawks that would've allowed them to move up in the NBA Draft and possibly select Luka Doncic with that pick.
Losers: Sacramento Kings and Atlanta Hawks
Winner: Dallas Mavericks  
I'm all the way in on Luka Doncic, and truthfully I can't get a grasp on what people are looking at if they aren't in on him too. Just watch the highlights … it's all there. Go ahead and harp on his "lack of athleticism" if you'd like, but when you have the feel for the game and the ability to score at all three levels like Doncic has, you don't need a lightning quick first step or a 40 inch vertical to succeed. Instincts and IQ and skill trumps measurable "athleticism" every time.
Fans of the Kings and Hawks will have nightmares about their teams passing on him. Those who passed on the opportunity to draft Doncic or trade up in the Draft to select him will eventually lose their jobs because of decisions like that.
Winners: Boston Celtics and Philadelphia 76ers 
With the exception of the Los Angeles Lakers, no other teams benefited as much from LeBron's exit from Cleveland than the Boston Celtics and Philadelphia 76ers. Sure, LeBron's westward expansion made the path to the NBA Finals easier for fourteen Eastern Conference teams, but with all due respect to the remaining thirteen teams in the Eastern Conference — in particular, the Indiana Pacers, who made some nice under the radar summertime moves … the Milwaukee Bucks, who should be improved now that they've hired a real, living, breathing, intelligent Head Coach in Mike Budenholzer … and the Toronto Raptors, who are a DeMar DeRozan and Pieces for Kawhi Leonard trade away from getting me to re-evaluate their Playoff prospects in a big way — the odds-on favorites to play in the Eastern Conference Finals next May are still the Celtics and Sixers.
Winner: Denver Nuggets 
Very few people reading this care about the Denver Nuggets (shout out to H&H writer/Colorado resident Dalton Baggett), but I feel compelled to give some credit where credit is due. The Nuggets re-signed their franchise Center to a five-year deal, dumped salary — not necessarily a win for players or fans of the team, but it prevented the Kroenke family (billionaires) from having to pay the luxury tax, thank God — signed Isaiah Thomas for cheap (1 year, $2 million) and drafted Michael Porter Jr. with the 14th pick when everyone agreed that if he gets healthy he could be among the top three or five best players in the 2018 draft class. This was one heck of a Summer for a 46-win team that missed the Playoffs in the Western Conference last year.
Losers: Other Fringe Playoff Teams in the Western Conference 
Here's a preview of what the Western Conference Playoff race is going to look like this season:
(That's a bloodbath.)
(It's going to be a bloodbath.)
(Sigh.)
Winner: Oklahoma City Thunder
Loser: Carmelo Anthony
Oklahoma City's biggest victory of the Summer was obviously re-signing Paul George to a four-year, $137 million max contract when six months ago nearly every insider agreed it was a virtual certainty that George would end up in Los Angeles. This was despite a somewhat up-and-down season that concluded with a 1st Round Playoff exit at the hands of the Utah Jazz. The culture in Oklahoma City and the appeal of a partnership with Russell Westbrook won Paul George over, and frankly, it's better for basketball that George is remaining in Oklahoma City.
Oklahoma City's second biggest victory of the Summer will come when the team finally comes to terms with whether to stretch the rest of Carmelo Anthony's contract or to negotiate a buyout with the 10-time All-Star. The Thunder didn't give up a ton for Anthony — Enes Kanter, Doug McDermott and a 2018 2nd Round Pick — but there's no way to sugarcoat it: Carmelo Anthony sucked in his one season with the Oklahoma City Thunder.
I've been accused of Carmelo-bashing in the past, and from time to time I'll admit I have been critical of him, but that's only because for a very long time many individuals considered Carmelo an equal of LeBron James, and if that's the standard we're holding him to then he never met those expectations. The pro-Melo/anti-LeBron crowd tricked themselves into believing this a long time ago, and if there were still any stubborn members of that camp heading into last season, Melo's disheartening season with the Thunder forced them all to vacate their campground.
Carmelo was never able to find a groove playing off the ball so much in Oklahoma City. During the regular season Anthony shot 40 percent from the field and scored only 16 points per game (both career lows), and when he was given the opportunity to iso he didn't score nearly as efficiently as he did in his peak years with the Nuggets and Knicks. The Thunder were outscored by 5 points per 100 possessions when Anthony was on the floor.
Things got even worse in the Playoffs. Anthony's offense — 12 points per game, 38 percent shooting from the field, 21 percent from 3 point range — was nearly as bad as his defense, and he should've been unplayable, yet Billy Donovan still found 32 minutes per game for Anthony in OKC's six game series versus Utah. The Thunder were outscored by a staggering 16 points per 100 possessions when Anthony was on the floor against the Jazz. The Charlotte Bobcats were outscored by the same amount of points per 100 possessions when Byron Mullens was on the floor for them during their 7-59 2011-12 season.
The Houston Rockets and Miami Heat are considered the front-runners to sign Anthony once he eventually becomes a Free Agent this Summer. Feel free to add whichever team signs Carmelo to the list of Losers of the Offseason.
Winner: The National Basketball Association 
The narrative heading into each of the previous three NBA seasons was that it was a foregone conclusion that the Warriors and Cavaliers would once again meet in the Finals, and that the lack of unpredictability in the end result of the season was somehow damaging the league as a whole. This narrative was hammered into the ground for three solid years, so much so that if you did nothing but watch/listen to talking heads morning shows on ESPN, FS1, NBA TV or wherever, you would've thought that the league was facing some sort of fork-in-the-road crisis.
And yet, by all of the measures that truly matter, the NBA is in incredible shape, and the outlook is only getting brighter. The league has continued to evolve into a 12-month-a-year sport and it's popularity continues to climb after a decade-long post-MJ swoon. One of the two teams that plays in the second biggest television market in the United States just signed the best basketball player in the world. The Eastern Conference is up for grabs for the first time in nearly a decade — so much for predictability. A Lakers/Celtics rivalry will again be relevant thanks to LeBron's move out west. Adam Silver is the best Commissioner in professional sports, and whoever is in second place isn't within shouting distance. Rising young stars, both American made and internationally born, fill the league and set the NBA up for success in both the present and the future in the United States and overseas. I feel like I'm beating a dead horse when I say this, but just for those who are hearing impaired, I'll throw this out there one more time … there is a Golden Age of talent in the NBA right now, and it's coinciding with a stylistic revolution that make those ugly rock fights of the late 90's and early 00's feel like they were played one thousand years ago.
The five teams that play in the three largest TV markets — Los Angeles, New York, Chicago — all missed out on the Playoffs, yet TV ratings the board all season long. Viewership was up 17% on ABC, 13% on TNT, 4% on ESPN and 1% on NBA TV from last season. Local broadcasts saw a 3% increase too. NBA League Pass saw a 63% increase in the number of subscribers from the 2016-17 season to the 2017-18 season. In addition, merchandise sales are up, NBA franchise values are up, league revenue is up, and the NBA's social media presence is far greater than that of the NFL's, MLB's or NHL's.
So here's a tip: don't waste your time fretting about the NBA's present or future, and certainly don't make the mistake of suggesting that the NBA isn't in good shape. It's mid-July and you've just read over 3,000 words about the National Basketball Association. The league is doing just fine.