2013-14 NBA SEASON PREVIEW CONTENT LIST
Atlantic: Celtics | Nets | Knicks | 76ers | Raptors | Division Preview 1 and 2
Central: Bulls | Cavaliers | Pistons | Pacers | Bucks | Division Preview
Southeast: Hawks | Bobcats | Heat | Magic | Wizards | Division Preview
Pacific: Warriors | Clippers | Lakers | Suns | Kings | Division Preview
Northwest: Nuggets | Timberwolves | Thunder | Trail Blazers | Jazz | Division Preview
Southwest: Mavericks | Rockets | Grizzlies | Pelicans | Spurs | Division Preview
Top 10 by Position: PG | SG | SF | PF | C
Top 10 Lists: Sixth Men | Sophomores | X-Factors | Intensity | Under 25 | Comeback | GMs | Europeans | Overrated | Contenders | Wild Predictions
Fantasy Basketball | NBA Fandom Games | League Preview | Ultimate Season Predictions
Media Day: Lakers | Clippers | Kings | Knicks | Bucks | Suns | Pacers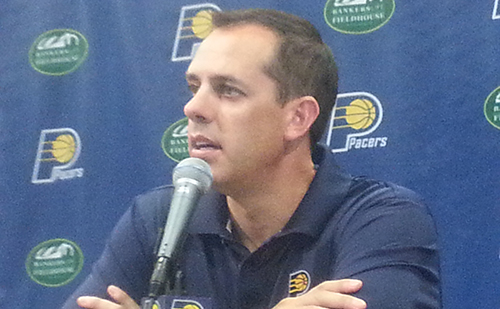 The Indiana Pacers kicked off their 2013-14 season "officially" on Friday, September 27th with their Media Day activities. It included a group interview with the starting lineup, along with head coach Frank Vogel, and then moved into the practice facility for photographs and some general meet-and-greet.
I was pretty stoked to participate in something seemingly so clandestine. It was an opportunity to meet people and interview people that I previously had only seen on television or heard on the Internet. Even if I had to pay to park — BMF owes me $6.00, but don't tell them I said that — it was the opportunity of a lifetime.
The mood seemed upbeat and positive during the interviews, with many of the players commenting on the new people that the team had brought in over the summer to help restock an already formidable array of talent. David West, when asked if he will be able to play more aggressively now that the bench is shored up, said, "I don't know if it will change my approach. I think it strengthens our group. I think it give us a bonafide go-to guy in the second unit," referring to the team landing Luis Scola during the offseason.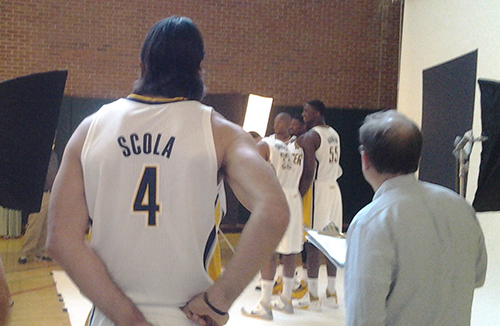 Coach Vogel seemed very excited about having depth available to him as he begins his third full year at the helm of the club. "When you trade away a future first and one of your young players like we did to bring in a veteran like Luis Scola, I think you send a little bit of a message like this is not a 'go for it year' but a 'go for it time' in Indiana Pacers history." That answer was in direct response to a question that yours truly was able to ask.
On October 26th, 1985, I was able to sing the National Anthem at an Indiana Pacers opening night game with a group I was in during high school. I know Indiana Pacers history. (Keep the Glee comments in the bag.) Clark Kellogg, of the Ohio State Buckeyes, played on that team. On Friday, I had the pleasure of meeting him. A genuine man, with the same easygoing personality in real life as he has on television. That's the kind of day it was.
Coach Vogel's quote is the kind of thing the diehard fanbase in this state has been waiting to hear. The team is excited, the fans are excited, heck, even the guy at the gate who gave me directions to the media access door seemed chipper.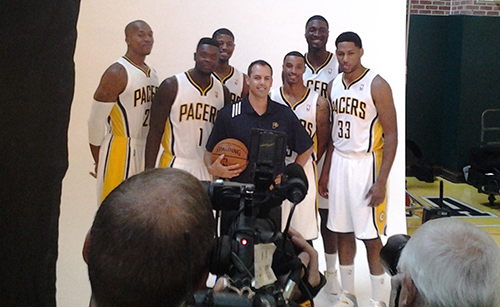 Trying to write about such a tremendous opportunity is difficult. I was giddy, excited and overwhelmed. All of my electronics ran out of battery power halfway through the two-and-a-half-hour event. I took over 170 pictures and about 10 videos. The Indiana Pacers were gracious enough to provide media credentials to a novice reporter who has written only a handful of articles, and for that I'm grateful.
The Pacers are excited to get the season started, that much is certain. I am excited to be a fan, as well as a totally biased writer. It's going to be a great season!