2013-14 NBA SEASON PREVIEW CONTENT LIST
Atlantic: Celtics | Nets | Knicks | 76ers | Raptors | Division Preview 1 and 2
Central: Bulls | Cavaliers | Pistons | Pacers | Bucks | Division Preview
Southeast: Hawks | Bobcats | Heat | Magic | Wizards | Division Preview
Pacific: Warriors | Clippers | Lakers | Suns | Kings | Division Preview
Northwest: Nuggets | Timberwolves | Thunder | Trail Blazers | Jazz | Division Preview
Southwest: Mavericks | Rockets | Grizzlies | Pelicans | Spurs | Division Preview
Top 10 by Position: PG | SG | SF | PF | C
Top 10 Lists: Sixth Men | Sophomores | X-Factors | Intensity | Under 25 | Comeback | GMs | Europeans | Overrated | Contenders | Wild Predictions
Fantasy Basketball | NBA Fandom Games | League Preview | Ultimate Season Predictions
Media Day: Lakers | Clippers | Kings | Knicks | Bucks | Suns | Pacers
There are some high expectations for the Los Angeles Clippers this coming NBA season, and, from the vibe they gave at their media day, it seems like the team is fully focused on turning those expectations into reality.
Media day for the Clippers was busy to say the least. The team walked in sporting their familiar white home jerseys, later changing into the new baby blue short-sleeve alternate jerseys that hits stores on October 14. The team happily took care of their media tasks for the day, doing interviews, posing for a hive of cameras, and signing plenty of fresh NBA basketballs.
Head coach Doc Rivers calmly took the stage first, having a seat to discuss the 2013-14 NBA season with us. Although the expectations are high for this particular team, as they look golden on paper, Doc knows that there's plenty of work to do.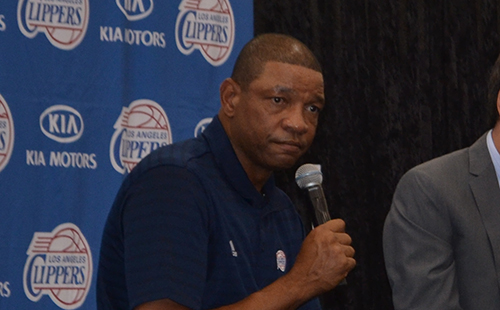 "This is a new group, a new team, and we have to find our way, ourselves. We have to find our own path, and that's what we're going to do," Rivers said.
Even though Rivers hasn't worked with the team in depth, he's already noticed how hungry the players are. Rivers put a spotlight on one of the leaders of the team, Blake Griffin.
"I knew he was a worker, I didn't know he was the worker to the extent that he's worked this summer. He's put in a lot of time. I've been impressed with his scheduling. Nothing gets in the way of his basketball, and that shows me a great sign of maturity for a young player that's pulled in a lot of directions."
Rivers also praised the very talented Chris Paul, and his MVP-like play, while knowing that even he's able to improve his game in ways he hasn't touched upon yet.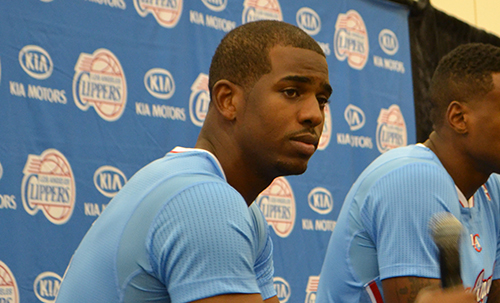 "He's an All-Star and a genius, and I'm dumb enough or smart enough not to get in the way of that, but we can help him too and we want to make things easier for him, especially in transition offensively. Defensively, I know I can help him do some things differently."
As each Clippers player took the stage, they brushed upon flourishing as a team and improving their defense from last season. It's been said over and over again, but defense wins championships, and it's only common to say because it's true. But recognizing it is only half the battle. Executing air-tight, cohesive defense takes hard work, and the Clippers are looking to make hard work the only kind of work they do.
Rivers can definitely help in that area, as his defensive-minded coaching led the 2007-08 Boston Celtics to a championship.
When Griffin was asked about how the Clippers can improve from last year, his response was on-point: "Transition defense, we can do a better job. Also, defending the three, we can do a much better job. I know right from the beginning at training camp that's going to be our main focus."
"I need to step up and really be one of these guys you can count on at the end of games," Griffin added. "Not just scoring-wise, defensively."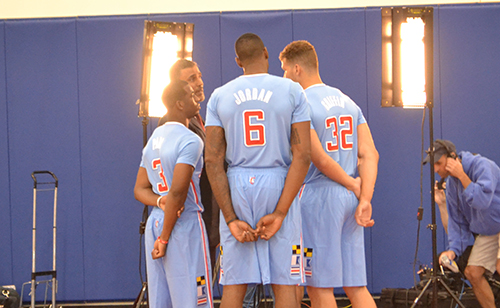 A similar thought came from DeAndre Jordan. "Defense as well, along with rebounding. Our pick-and-roll defense has to get a lot better," Jordan said. "That's all going to start with communication and us being able to talk."
Communication and honesty are keys to any relationship, and basketball is about building relationships, especially with your coach. It seems that Paul and Rivers have started off on the right foot. With Rivers presenting a motivational reality check to Paul, he's already started to make an impact.
"The first meeting I had with Doc, he pretty much told me that I wasn't anything. He told me that I hadn't done anything in this league and he was right. You don't always want somebody who's going to tell you everything that you want to hear," Paul said.
The Clippers team also welcomed their new additions, which include J.J. Redick, Jared Dudley, Darren Collison and Byron Mullens. Each of them adds depth to an already amazing cast of players. The only mystery is how well they will mesh into the system.
"I think those guys can fit right in, seamlessly. Those guys are high-character guys, they've been around, they're talented, they understand the game, and they look at the big picture as well," 14-year veteran Jamal Crawford said.
Perhaps this particular team was brought together for a purpose. Doc Rivers sure is an attraction, as sharpshooter J.J. Redick expressed that Doc is the reason he came aboard. Everyone's excited to have Rivers as their new mentor, Griffin going so far as to say that this is the most excited he's been for the NBA season to start.
No one knows for sure if the Clippers can be title contenders with a slightly different roster, a different coach, and different system. However, if they all have the same drive, and same hunger, they're going to the same place: the top.