2013-14 NBA SEASON PREVIEW CONTENT LIST
Atlantic: Celtics | Nets | Knicks | 76ers | Raptors | Division Preview 1 and 2
Central: Bulls | Cavaliers | Pistons | Pacers | Bucks | Division Preview
Southeast: Hawks | Bobcats | Heat | Magic | Wizards | Division Preview
Pacific: Warriors | Clippers | Lakers | Suns | Kings | Division Preview
Northwest: Nuggets | Timberwolves | Thunder | Trail Blazers | Jazz | Division Preview
Southwest: Mavericks | Rockets | Grizzlies | Pelicans | Spurs | Division Preview
Top 10 by Position: PG | SG | SF | PF | C
Top 10 Lists: Sixth Men | Sophomores | X-Factors | Intensity | Under 25 | Comeback | GMs | Europeans | Overrated | Contenders | Wild Predictions
Fantasy Basketball | NBA Fandom Games | League Preview | Ultimate Season Predictions
Media Day: Lakers | Clippers | Kings | Knicks | Bucks | Suns | Pacers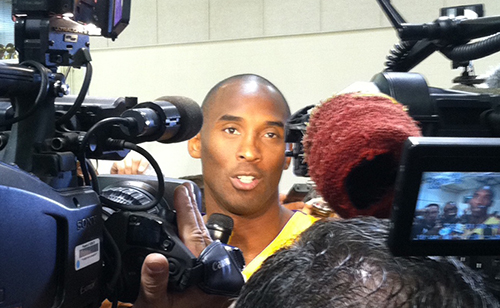 There was a renewed sense of excitement in the Los Angeles Lakers practice facility this past Saturday morning; everything just felt a bit lighter. Even before the team made its way into the gym one could visibly notice a collective feeling of freshness emitting throughout the surrounding media and press. It was almost as though the air had been purified and the negative energy surrounding the happenings of last season had been eradicated. Maybe it had something to do with the great Kurt Rambis gracing the hardwood in El Segundo that morning, smiling with a beacon of glowing confidence that made the entire day feel, well, promising. It can be said that Dwight Howard's exit was a crippling occurrence for the city of Los Angeles, but if one had to determine the validity of that statement based on the 2013 Lakers Media Day-vibe, one could easily assess that his non-presence has freed the franchise of the former funk it felt last season, rejuvenating the synergy of the organization.
When the 2013-14 roster began filtering on to the court, the most noticeable feature throughout had to have been the genuine smiles displayed on the players' faces. Jordan Farmar, Nick Young and Wesley Johnson were joking around like a group of 13-year-old boys getting together for their first practice of youth basketball. Robert Sacre, Jordan Hill and Steve Blake all shared similar sentiments and the image was quite refreshing. One of the most poignant aspects of the official introduction had to have been Kobe Bryant's demeanor and the team's reaction to it when he made his slightly delayed entrance. There was a respect that I didn't see last year, a type of adoration that showed the esteem that this man is now held in. This current group knows very well who their leader is and even more importantly, they seem happy to play for him. This roster is not only motivated to win for Kobe, but is clearly honored to be in the position to do so.
Last season there was a lack of cohesiveness, and it was obvious in every facet of the team's performance. The defense was unorganized, the passing game was uncoordinated and the energy was muted and sparse. I believe this disjointed style of play spawned from an internal identity crisis. The 2012-13 line-up didn't know who their leader was and therefore who they were as a collective unit. There was a watered down sense of camaraderie and the addition of Howard was the immediate cause. Think of a child who travels back and forth from divorced parent's homes, constantly having to choose sides and adjust behaviors to please their respective authority figure. I believe the players had to do this very same thing, only their authoritative models were always in the same room, at the same time.
Dwight's presence was viewed as a necessity for success, making his role quite important. However, Kobe's role is always the most critical in the vein of success and importance, and because Howard didn't realize or wouldn't accept his place in the hierarchy, he created a divide amongst the team. As he struggled to gain the acceptance of L.A. and the title of "franchise player," he manifested a strange, misplaced feeling in the locker room. When one internally battles with whom they should try and please, self-confidence and awareness diminish. Because Kobe and Dwight didn't get along, the surrounding bodies had to constantly choose, pick and decide between the two: who's our captain? Who's our leader?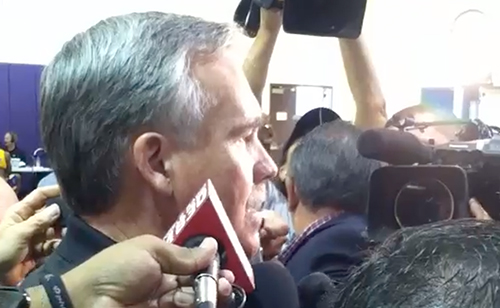 If there is any question as to whether the absence of chemistry was the team's downfall last year, one can reference the majority opinion of the current Los Angeles Lakers organization, who were all asked what had happened in the 2012-2013 season. Chris Kaman, a veteran ball player with an insightful view of the game, remarked, "It wasn't like a talent or a skill thing, looked more like a chemistry thing. Something didn't gel, or someone just didn't get along with someone." Kaman had an instant reaction that not only notes these issues, but also speaks to the fact that this feeling of incoherency seems to now be gone. This type of perspective was mirrored all over the facility. Even head coach Mike D'Antoni brought up the juxtaposition of last season's atmosphere versus this year's and why his current roster will be more suited to compete on the offensive and defensive end. "To me a lot of defense is chemistry, in the sense of, if you feel good about the team and trust your teammates, then your energy level's up, and your not pouting on the defensive end. Last year I thought we pouted a little bit, and so then you get distracted and you don't play as hard. This year I think the chemistry will be good, I think guys will be battling, they'll compete on the defensive end if they do that, yeah we'll be much better."
It really feels like the Lakers have come full circle. The wounds have been inflicted, the pain has indeed been felt and now the healing is well underway. Tabula Rasa may be the theme for the Lakers' journey towards a title: a blank slate with plenty of room for an epic story. With the players feeling the relief of the passing Dwightmare and the Mamba feeling the relief of his Achilles injury, the team looks as if it's on the up and up. We may even see Bryant mystify us all with an opening day performance, one that wouldn't come as a huge surprise albeit the severity of his wound. Even Rambis, a level-headed, non-showy guy believes that Kobe is in fact, "ahead of schedule," saying so with an ear-to-ear smile. I think coach knows something we don't.
There's no question now as to who the team's leader is. No issue of split loyalty and the psychological harm that it can inflict on a group that's supposed to work together. No one will have to be choosing sides. This can be said about the coaching staff as well being that it's apparently obvious that Rambis and D'Antoni are happy to work with one another and are eager to combine, learn and grow with one another as a whole. As for the talks about Dwight, I think we're all just about finished with that garbage. Kobe said it best when the D12 questions kept getting in the way of other pertinent inquiries last Saturday, clouding the cleared atmosphere of its revitalizing state. "Basically he didn't give you the confidence to say (he was staying)" remarks the interviewer last Saturday, and without letting him go any further, Kobe interjects, "Honestly man, I really don't give a sh*t." And you know what, here in Los Angeles, neither do we. LET'S GO LAKESHOW.